Colorado State University Pueblo Mourns the Loss of Beloved Mascot
Release Date: March 14, 2020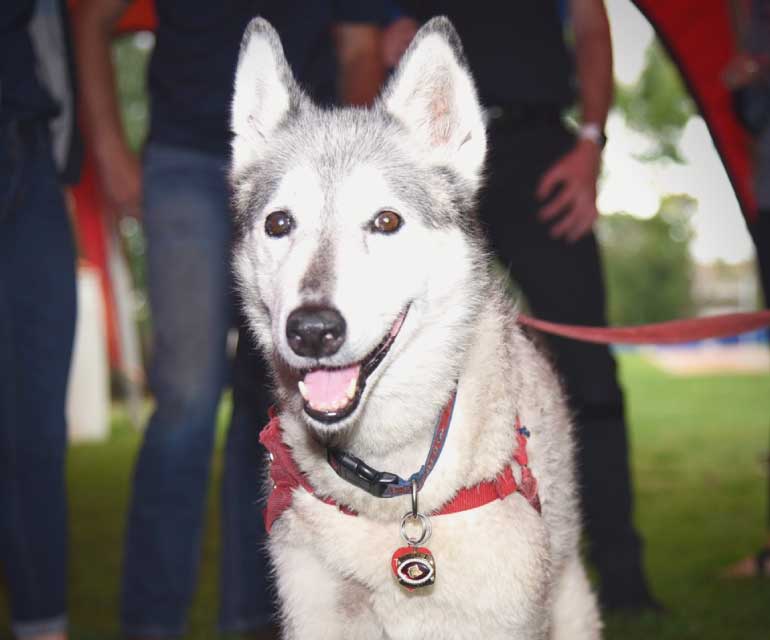 Colorado State University Pueblo mourns the loss of beloved ThunderWolves mascot, Tundra.  Tundra was a greyhound, husky mix but if you ask any CSU Pueblo alum, faculty, staff, student or community member she was a full blooded ThunderWolf.
Carol Rickman, A'83, biology, and husband Mark are known as Team Tundra on the CSU Pueblo campus and fondly called "Tundra's parents." Tundra was a rescue dog of the Rickmans from Colorado Springs All Breed Rescue. 
"Team Tundra feels especially blessed with all of the love received over the years from our Pack Family," said Mark and Carol Rickman.
Tundra became CSU Pueblo's mascot in 2008 and epitomized the legendary animal which was envisioned in CSU Pueblo's legend of a ThunderWolf, "a regal and majestic animal [that] evolved into the wisest and strongest of all."
Tundra never missed a home football game during her tenure with the ThunderWolves.  After each home football game, Tundra's traditional post-game treat included a cheeseburger.  She also never turned down a treat from a friend or Pack fan.  
The beloved mascot gained national attention during the CSU Pueblo Football team's playoff run in 2014, when #FreeTundra became a trending hashtag due to the NCAA regulations restricting live mascots on the field during post-season competition.  She was, however, known to watch many Pack Athletics events via live-stream when unable to join team on the road for competition.
Team Tundra was part of the fabric of CSU Pueblo, attending at least one home event for each sport with Pack Athletics, student orientation, Discover Downtown, commencement and countless other events.  Tundra could be seen on campus during midterms and finals weeks as she was a therapy dog and no one could turn down a chance to pet the campus mascot.
Tundra taught the CSU Pueblo ThunderWolf howl to thousands over the years. Tundra's ability to howl on command with the ThunderWolf hand signal, brought joy to everyone.
"Tundra connected our campus to the community in a very important way," said CSU Pueblo President Timothy Mottet. "To young children, she was CSU Pueblo. She was our ambassador. She walked the campus and engaged others in a very regal and majestic manner and always lifted our students," said Mottet.
February of 2020, Tundra was honored as Animal Hero with the American Red Cross of Southeastern Colorado.  She was recognized for her work as a life-enhancing therapy dog as well as her official ThunderWolves mascot title. Team Tundra was recognized at the 2016 President's Gala for distinguished service to the university. Tundra also had a statue dedicated on May 1, 2017 to celebrate her birthday.  Her statue is located on CSU Pueblo's campus in between Massari Arena and the Occhiato Student Center. 
"We are going to miss Tundra's presence on our campus," said Mottet. "Her loyalty, humility, gentle and inquisitive personality reflects what it means to be a Thunderwolf. She made our campus extra special. She loved all people and all people loved her. She inspired our students in a way that I have never seen before."
In addition to Team Tundra's Mark and Carol Rickman, Tundra is survived by her brother Sam, a mixed breed and well-loved dog of the Rickman family.
On behalf of Tundra, "When you remember me don't do so in a moment of silence, but howl loud and proud!"
Team Tundra has established a scholarship in Tundra's honor, "Tundra – The Spirit of the Pack" Scholarship. Individuals are able to contribute to the scholarship through the CSU Pueblo Foundation.  For more information about the scholarship and donations please contact Sandy Lundahl, Director of Foundation Scholarships, at 719-549-2965 or sandy.lundahl@csupueblo.edu.