Career Center Suiting Up Future Professionals with Career Workshops and Outfits
Release Date: February 14, 2020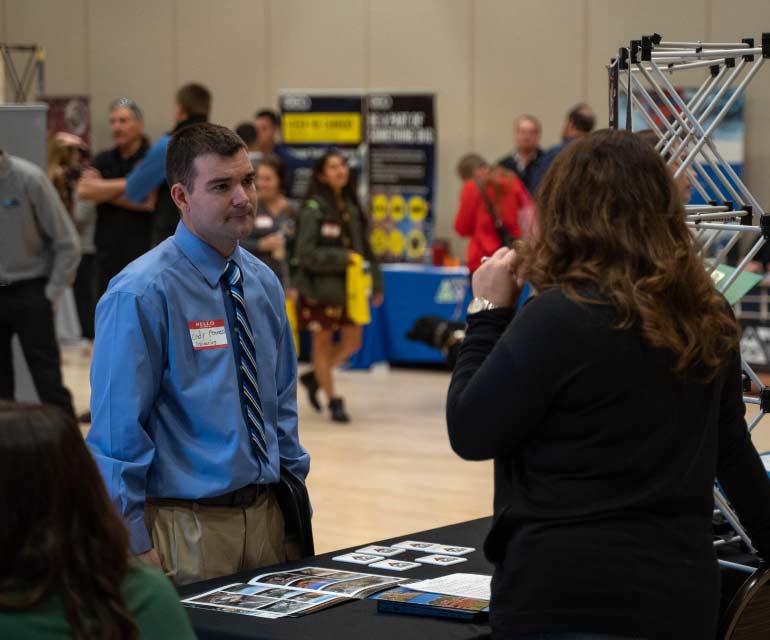 The Career Center at Colorado State University Pueblo has teamed up with the local JCPenney store to provide a significant discount on the purchase of professional attire for students, faculty, and staff.
The Suit-Up event will offer participants significant discounts off the last marked price on men's and women's career dress apparel and shoes. The Suit-Up event is from 5:30-8:00 p.m. on Sunday, February 16. Students and staff must show a CSU Pueblo ID in order to receive the special discount. The JCPenney Store is located in the Pueblo Mall at 3301 Dillon Drive.
"We hope this event will give students a jumpstart on their professional careers by providing business professional outfits at a discounted price," Michelle Gjerde, Director of the Career Center at CSU Pueblo said. "These students going to their interviews will be dressed for success and will surely shine at their interviews."
The Career Center teamed up with the junior class of the President's Leadership Program to staff and promote this event. The junior class will act as greeters and guides during the event.
Following the Suit-Up event there will be an entire week of career building events leading up the "Create Your Story" Career Fair. Monday, February 17, includes a mock interview workshop in the Occhiato Student Center (OSC) room 217. Tuesday, February 18, a Nachos & Networking event takes place, providing students the opportunity to practice an "elevator pitch." Wednesday, February 19, there will be a training for the online student job board entitled Handshake. Thursday, February 20, is Resume Café, in the OSC lobby, for students to get resumes workshopped by the Career Center and HR representatives. Friday, February 21, offers Resume Rush, the last chance to get a resume reviewed before the Career Fair.
The Career Fair on February 26, entitled "Create Your Story" is from 11:00-3:00p.m. in the OSC Ballroom and reaches to all students, not just graduates. Students can network with local, state and national employers about internships, full-time positions and seasonal opportunities. Professional dress is required. The Alumni Office will be hosting a networking event in collaboration with the Career Center from 11:30-1:00 p.m.
To find out more about the Career Center, contact Michelle Gjerde, Director of Career Center, at 719-549-2980 or michelle.gjerde@csupueblo.edu. The Career Center is located in the Library and Academic Resource Center on the CSU-Pueblo Campus, 2200 Bonforte Blvd. Students are encouraged to schedule one-on-one appointments.