12th Annual Festival of Winds February 13-15
Release Date: February 11, 2020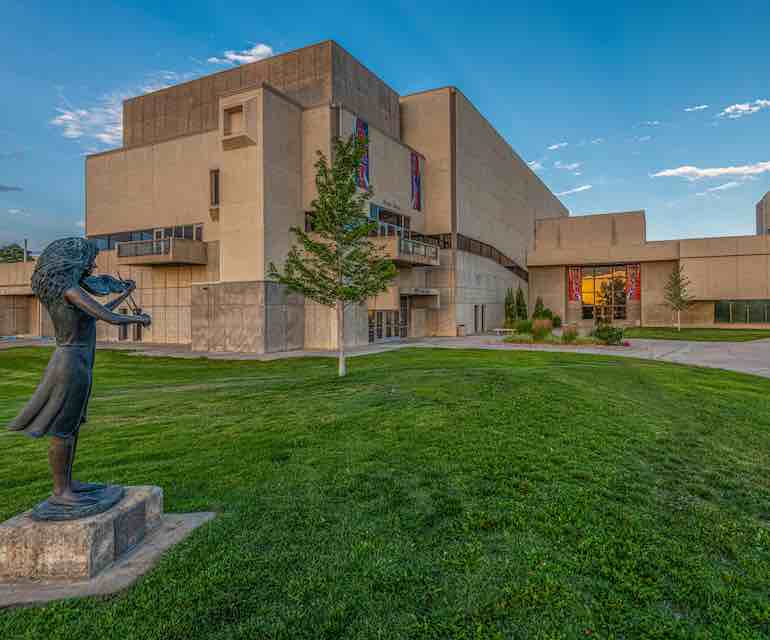 Colorado State University-Pueblo's Department of Music is hosting more than 350 high school musicians and faculty representing 44 high schools across Colorado as part of the 12th annual Festival of Winds, Feb. 13-15.
The three-day event will feature four high school honor bands as well as a world premiere performance written by Roger Zare, instructional assistant professor of music theory and composition at Illinois State University, and performed by the University Wind Ensemble.
"We are excited to be performing two works by our Composer-In-Residence, Roger Zare, at the Festival this year. "Mare Tranquillitatis" commemorates the 50th anniversary of the landing on the moon, while the premier performance of "We Choose To Go To The Moon" anticipates a growing desire to return to and colonize the moon," said Alan Mills, Festival director and Professor of Music at CSU-Pueblo. The concert will be performed in Hoag Recital Hall Saturday, Feb. 15, 10:45 a.m. – 12 p.m. The concert is free.
In addition to four music director-recommended High School Honor Bands, the festival also features master classes, graduate credit for participating directors, and exhibition concerts by the Heritage High School Concert Band at 4 p.m. on Thursday, the United States Air Force Academy Concert Band at 7:30 p.m. on Thursday, and the Top of The Hill Director's Band on Friday at 10:15. Each of these concerts are also free and will take place in Hoag Recital Hall.
Students are selected through a recommendation by their high school band teachers. This year's event brought in over 550 director recommendations from across the State of Colorado.
This year's guest conductors include Ken Singleton, director of bands emeritus, University of Northern Colorado; Yixin Wan, associate professor at the Nanchang University School of Music in China; Patrick K. Carney, associate professor of Music Education and Director of Instrumental Music at Limestone College in Gaffney, and Nikk Pilato, Associate Director of Bands at Indiana State University.
The Honor Bands Finalé Concert is scheduled to perform at Pueblo Memorial Hall, Saturday, Feb. 15,
4-6:30 p.m. Admission for this event is $8 adults, $5 students, seniors, and veterans, and children age 5 and under are free.
Established in 2009, the CSU-Pueblo Festival of Winds, has continued to grow in size and participation from the very beginning. Starting with just one honor band, the Festival has expanded to include four director recommended honor bands by its sixth year, with more than 350 high school students representing high schools across Colorado and neighboring states.
The philosophy of the festival is based on the idea that band directors from all high schools know who their deserving students are. It is up to the high school band directors to recommend up to 15 students for participation. All directors who submit names are ensured to have at least two students selected for participation. Selected students are then given performance materials to prepare for their audition, which takes place at the start of the festival.
Those students who rate highest in the audition process are placed in one of two equally weighted Wind Orchestras. Students who are not selected for a Wind Orchestra are placed in one of two Symphonic Bands, which are also equally weighted in ability based on audition results.
This Festival of Winds enriches the experience for all students through small group rehearsals and master classes with the CSU-Pueblo applied faculty and all participants enjoy a weekend concert series.
Schools participating this year include:
Bennett High School
Buena Vista High School
Cañon City High School
Cheraw High School
Cherokee Trail High School
Colorado Springs Christian School
Crowley County High School
Denver School of the Arts
Elbert High School
Elizabeth High School
Ellicott High School
Fleming High School
Florence High School
Fountain-Fort Carson High School
Heritage High School
James Irwin Charter School
Kiowa High School
La Junta High School
Lamar High School
Manitou Springs High School
Miami Yoder High School
Mitchell High School
Mountain Vista High School
Mountain Vista Home School Academy
Pueblo Centennial High School
Pueblo Central High School
Pueblo County High School
Pueblo East High School
Pueblo South High School
Pueblo West High School
Rocky Ford Junior Senior High School
Rye High School, Sand Creek High School
Sierra High School
South Park High School
Strasburg High School
Swink High School
The Classical Academy
Trinidad High School
Vanguard High School
Vista Ridge High School
Widefield High School
Woodland Park High School
Wray High School
Headshots of guest conductors can be found here. 
For more information or to see a complete list of events, visit the Festival of Winds website, or contact CSU-Pueblo music professor, Dr. Alan Mills, Festival Director directly at: alan.mills@csupueblo.edu or 719-549-2521.