Hasan School of Business Professor Receives CSU System Board of Governors Excellence in Teaching Award
Release Date: February 07, 2020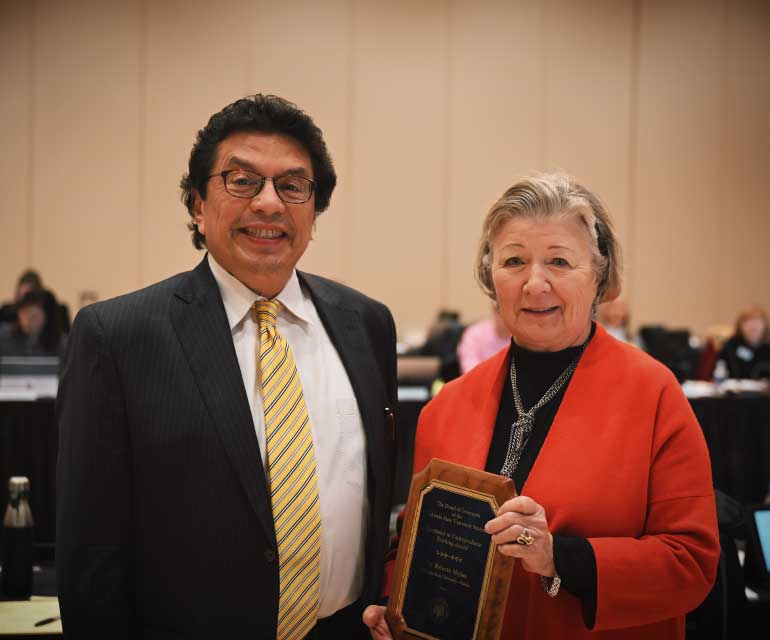 Roberto Mejias, associate professor of computer information systems in the Hasan School of Business (HSB) and director for the Center of Cyber Security Education and Research (CCSER), is the recipient of this year's Colorado State University System Board of Governors Excellence in Teaching Award.  Mejias also received the Colorado State University-Pueblo 2019 University Award for Faculty Excellence in Teaching/Student Learning. 
Mejias works diligently to promote CSU-Pueblo through cyber security research, teaching success and mentorship of the university's award winning National Cyber League (NCL) CyberWolves team.  As the NCL Coach for CSU-Pueblo, Mejias has trained students on a wide range of cyber threats and cyber-attacks that his students study and practice for during the bi-annual NCL Cyber Security games.
For the past two years, the CSU-Pueblo CyberWolves have been ranked among the top 10 NCL teams in the nation, ranked sixth in fall of 2019, competing with over 700 university and college teams and over 4,000 cyber security individuals. 
"Dr. Mejias brings positive attention to CSU-Pueblo with his commitment to the cyber security discipline," said Mohamed Abdelrahman, Provost and Executive Vice President for Academic Affairs for CSU-Pueblo.  "This award is a testament to his commitment to the university and to the NCL CyberWolves, he's so passionate leading on our campus.  This a well-deserved honor for Dr. Mejias and we're grateful to the Board of Governors for their recognition."
The CSU-Pueblo CCSER and the CyberWolves under the leadership of Mejias have hosted over 80 local and southern Colorado high school students and teachers to the CSU-Pueblo campus for "NCL high school training days." During these campus visits, high school students are exposed to a range of NCL cyber security challenges in order to create interest and excitement for the many opportunities in the STEM and cyber security fields.
"It is exciting to have the privilege of attracting and training our Southern Colorado students to become the next generation of Cyber Warriors that will protect our nation's physical and cyber security," said Mejias.
The CSU-Pueblo cyber security program with the assistance of Mejias, has successfully placed over five CSU-Pueblo graduates with full ride graduate scholarships and living stipends at several nationally ranked graduate programs in cyber security.  These programs include the University of Arizona, Mejias' alma mater, and the University of New Mexico.
The CSU-Pueblo Cyber Security program is not interfacing with other programs to recruit CSU-Pueblo cyber security graduates for graduate programs upon degree completion.  Mejias continues to bring new opportunity for CSU-Pueblo students outside the walls of his classroom and beyond completion of a degree from the university.