Professor Accepted into 2020 Cohort Fellowship of the Latino Leadership Institute
Release Date: January 09, 2020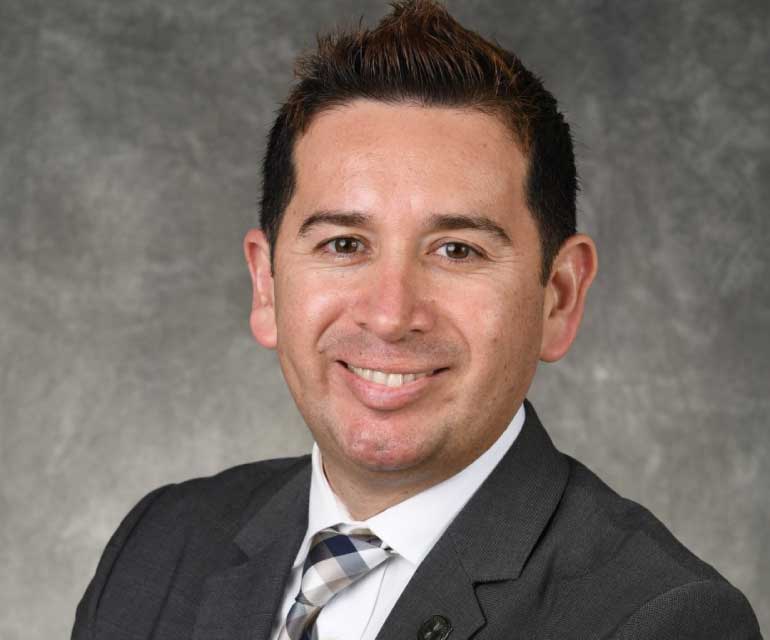 Danilo León, Assistant Professor of Spanish at Colorado State University-Pueblo, was recently accepted as a Fellow for the Latino Leadership Institute at the University of Denver as part of the 2020 Cohort.

Latino Leadership Institute Fellowship Program is a nine month professional development experience specific for Latino professionals in the state of Colorado. This Fellowship prepares Latino professional for elevated roles of influence in varying industries including education, government, non-profit, and private sectors. León is the first individual from CSU-Pueblo to be chosen to participate in the Latino Leadership Institute Fellowship Program, which is in its fourth year of existence.

"I am honored and humbled to be a 2020 Latino Leadership Institute Fellow and to represent CSU-Pueblo," said León. "This institute, hosted at the University of Denver, will be a great professional development opportunity."

Professional development continues to be a high priority for CSU-Pueblo in line with the Vision 2028 guiding principle of develop people. CSU-Pueblo develops people who have meaningful lives and make significant contribution to their families, communities, and world.

"Faculty development is an important CSU-Pueblo priority," said Mohamed Abdelrahman, Provost and Executive Vice President for Academic Affairs for CSU-Pueblo. "Dr. León's participation in the Latino Leadership Institute reflects a strong commitment on his part to developing as a faculty and as a leader. I am excited to see how Danilo will utilize this opportunity to support his students, colleagues and CSU-Pueblo in general."

The Fellowship experience focuses on Latino culture, history and pride. Curriculum focuses on personal and professional development, leadership skills, confidence, business acumen, public policy and board service. Latino Leadership Institute emphasizes four competencies including Cultural Intelligence (CQ), Emotional Intelligence (EQ), Social Intelligence (SQ) and NeuroLeadership Intelligence (NQ).

In addition to training, the Fellowship provides access to networking with other Latino professionals. The Latino Leadership Institute also offers foundational understanding of Colorado economy, state budget, non-profit management, and philanthropy. The Institute offers one Fellowship per year and each cohort includes up to 30 Fellows. Courses run one Friday afternoon and full-day Saturday for nine consecutive months.

"I can't wait to learn from the instructors and from other Colorado Latino professionals," said León. "My ultimate goal is to learn as much as possible in order to better serve our CSU-Pueblo community, particularly our Hispanic/Latino students."

The Latino Leadership Institute is led by an advisory board comprised of accomplished leaders who represent multiple sectors and industries in Colorado. A total of 179 Fellows have gone through the Fellowship program. For more information about The Latino Leadership Institute or the Fellowship please visit www.latinoslead.org/fellowship.