CSU-Pueblo's English Department Chair Is An Award Winning Author
Release Date: October 04, 2019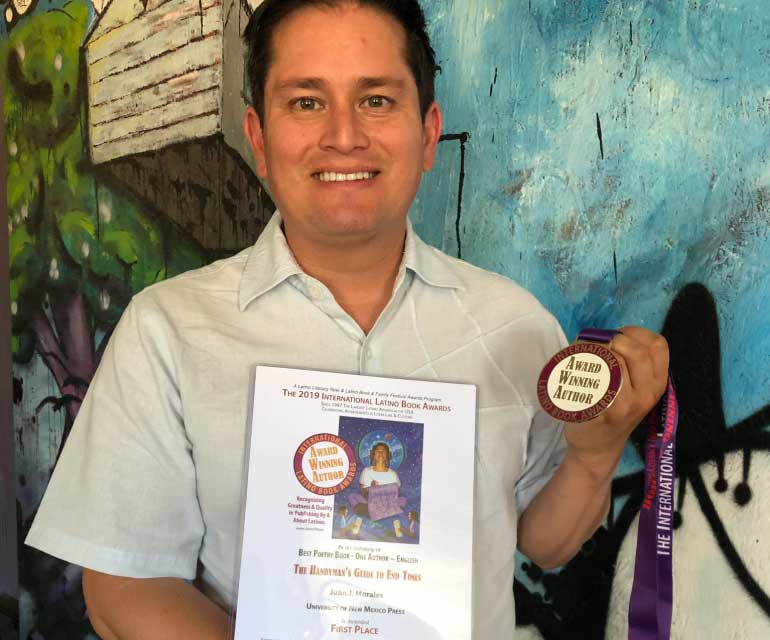 Juan J. Morales, Department Chair of English and Professor at Colorado State University-Pueblo, recently received recognition on his book, "The Handyman's Guide to End Times."  Morales' book won the 21st International Latino Book Award for Best Poetry Book.
"The Handyman's Guide to End Times" is the third book Morales has written and published.  The book was published September of 2018 and recently gained attention in the Los Angeles area with one of the largest awards in the USA celebrating achievements in Latino culture and literature.  There were 261 finalists in 95 categories with the International Latino Book Awards.  The Awards are produced by Latino Literacy Now, a non-profit organization co-founded by Edward James Olmos and Kirk Whisler.
"I was shocked to win and didn't actually believe I had at first until I saw it on social media," said Morales.  "Even after I saw it on social media, I talked to my partner and she confirmed I won.  I just didn't expect it."
Morales was attending the Oklahoma Book Festival with a scheduled reading of the book.  This was a trip he had planned with his publishing company prior to knowing he was a finalist in the best poetry book competition in L.A.  This followed a reading at the sixth annual Latino/a Book Festival here in Pueblo in September.  Morales has more readings planned in the near future including:
October 5th—Poetry 719 in Colorado Springs, Colorado
October 10th—UCCS, Kraemer Family Library/El Pomar Center
November 5th—University of Notre Dame
"My first two books were about family and cultural tradition.  This third book is more personal," said Morales.  "This is a personal way to explore relationships, home improvement projects, and love.  My book explores fear and humor, and the balance between the two," explained Morales.
For more information about "The Handyman's Guide to End Times" contact Juan J. Morales at
juan.morales@csupueblo.edu
or 719-549-2082.  A copy of the book can be purchased at the CSU-Pueblo Bookstore, Barnes & Noble Booksellers or El Pueblo History Museum.