CSU-Pueblo Expands Colorado Springs Location
Release Date: October 03, 2019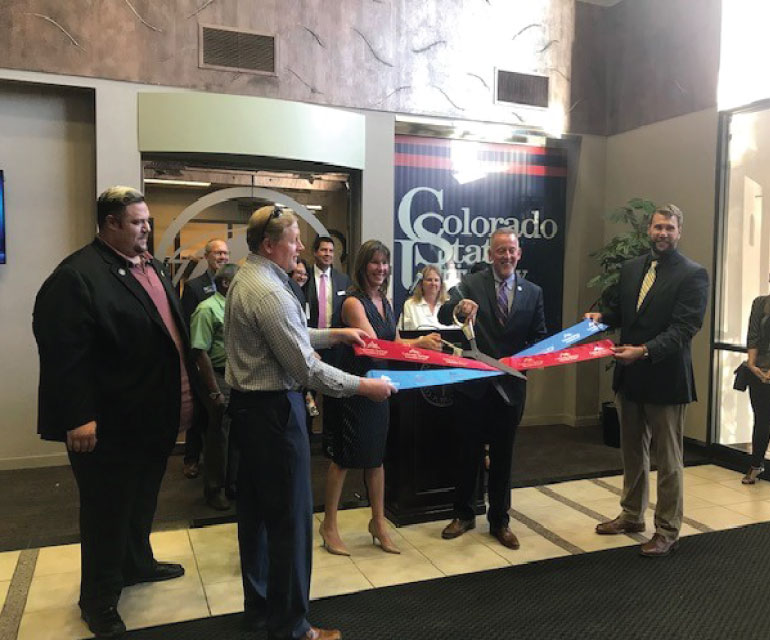 Colorado State University-Pueblo hosted a ribbon cutting ceremony at the Colorado Springs location, located at 2864 S. Circle Drive, on Monday, September 30. Many gathered to see the reveal of the new signage on the building and to see the newly expanded location. 
"CSU-Pueblo is excited to celebrate our expansion in Colorado Springs," said Dr. Kristyn White-Davis, Dean of Extended Studies.  "CSU-Pueblo programs have served El Paso county students for more than 50 years, and I'm confident our Tower location will provide even more students increased access and more affordable pathways to a degree in higher education. None of this would be possible without our hardworking CSU-Pueblo faculty and staff who are committed to serving our region right here in Colorado Springs."
The newly expanded Colorado Springs location will offer more space with a study lab for students.  The expansion of the floor plan includes the first and second floors of the building with over 13,000 square feet of space.  It boasts a total of seven classrooms all outfitted with technology, one of which is now the lab for the Hasan School of Business' (HSB) Cyber Security degree.  This lab includes 24 computers and is Zoom video communications capable to accommodate online students' participation.  It is fully outfitted to connect students in Colorado Springs with their peers in Pueblo for inclusive learning.
"This expansion will allow us to continue to offer undergraduate and graduate programs in social work, social sciences and education and expand to offer new programs such as those focused on business and sciences including cybersecurity, software development and others," said Dr. Mohamed Abdelrahman, Provost of CSU-Pueblo. 
In addition to the new labs and other offices at the Colorado Springs location, CSU-Pueblo has expanded the resource center known as the Tower Academic Resource Center (TARC), which opened last year as a quiet study space for students.  This offers students access to library resources, printing, and other essentials for their learning needs. The Colorado Springs location also welcomed Military and Veterans Success Center (MVSC) as one of the visiting department.  MVSC occupies an office within the main administrative offices, where veteran and dependent students can meet with a MVSC representative and gain access to their education benefits. 
"CSU-Pueblo has maintained presence in the Colorado Springs area for a long time.  The expansion of our presence in Colorado Springs is a reflection of our desire to enhance our existing partnerships including those with Pikes Peak Community College, Harrison School District and form new partnerships to better serve Southern Colorado," said Provost Abdelrahman. "The expansion is also a reflection of our commitment as a Purple Heart university to serve our active military personnel and veteran population and their families.  It is definitely in line with our Vision 2028 to become the people's university of the Southwest United States."  
The Colorado Springs location also provides the Huddle Room, which is Zoom capable to accommodate online meeting and classroom needs.  Staff and faculty now can connect with their colleagues in Pueblo and attend meetings as needed, without incurring the travel time back and forth from locations. 
For more information about CSU-Pueblo at Colorado Springs location please visit online at www.csupueblo.edu/extended-studies or you can contact Michael Aragon, Site Manager of at michael.aragon@csupueblo.edu or 719-549-6902.  Classes are available in accelerated 8 and 15 week formats, and are typically held one or two times per week in the evenings. Other classes are scheduled on weekends to provide maximum flexibility.