Colorado State University-Pueblo Allocated $1.9 Million for Upgrades to ThunderBowl and Massari Arena
Release Date: October 03, 2019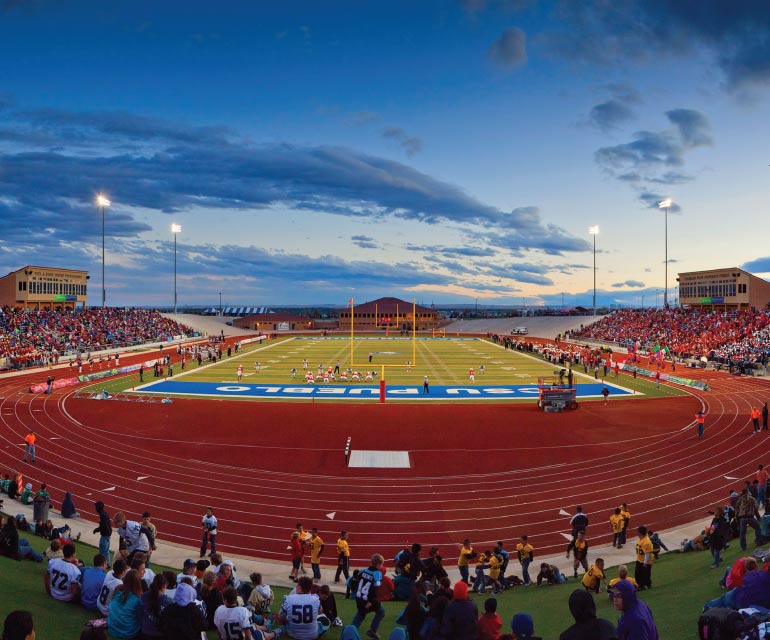 The Colorado State University-Pueblo Athletic Department has received $1.9 million for facility improvements to the Neta and Eddie DeRose ThunderBowl and Massari Arena. The commitment to Pack Athletics comes as part of CSU-Pueblo's Vision 2028, a 10-year strategic plan to establish CSU-Pueblo as the "people's university of the Southwest." In August, Vision 2028 was supported unanimously by the Colorado State University System Board of Governors with a total investment of $7.8 million to CSU-Pueblo for initiatives outlined in the 10-year strategic plan.
"We are in the process of transforming our university. Our plan includes a number of student success initiatives, a differentiated undergraduate experience, a set of new enrollment drivers, and upgrades to infrastructure, including a renovated Psychology Building and upgrades to our athletic facilities," explained CSU-Pueblo President Dr. Timothy Mottet.
CSU-Pueblo Director of Intercollegiate Athletics, Dr. Paul Plinske, knows that the investment in the student athlete experience is an significant one for the Belmont campus. "Over the past year, Athletics has focused on aligning its mission, vision, and core values with Vision 2028. We are passionate about our University and believe wholeheartedly in the future of CSU-Pueblo."
The ThunderBowl track will undergo resurfacing, and the concourse area will receive structural improvements. According to Dan DeRose, Friends of Football (FOF) has invested nearly $17 million dollars in CSU-Pueblo by developing and building the Neta and Eddie DeRose ThunderBowl and the Leomiti Warrior Center and by establishing annual scholarship support.  "This is a unique relationship between a group of donors and a university and their governing system — one that is not found anywhere else in the country. Friends of Football is thankful that the system is committed to maintaining that important relationship," DeRose said.
Track resurfacing will be done to improve structural, groundwater ,and drainage problems on the north and west side of the track. Base remediation and drainage improvements along with installation of a new surface will be completed by spring 2020. 
In Massari Arena, the game day and fan experience will be upgraded with a new video board, sound system, and LED front-row scoring tables from Daktronics. The 35-foot wide indoor board is the largest in the RMAC and will be used to positively impact Convocation and Commencement activities as well as Pack volleyball, basketball, and wrestling. Installation will occur in December 2019 and will be completed by January 3, 2020 when the ThunderWolves host a basketball doubleheader.
A custom audio system will also be installed and integrated into the production system to provide clear, intelligible speech to engaged fans and spectators. It will feature new speakers and subwoofers throughout the venue and will be used during special events with separate audio controls for different uses.
"Massari Arena is one of the best venues in the RMAC, and we just made it one of the most outstanding venues in NCAA Division II," Plinske said. "Our partnership with Daktronics, one of the nation's leading companies, is essential to our mission. We know this enhancement will bring a new level of excitement in Massari Arena to our student-athletes, spectators, and fans."
According to Dr. Donna Souder Hodge, CSU-Pueblo's Chief Strategy Officer and project manager for the Vision 2028 implementation, "Our student athletes offer stellar examples of the agility we want to foster in all our graduates: they succeed in their academic lives, they work, and many of these students juggle numerous family and personal obligations – all while being champions on the field or on the court."
Developing a differentiated student experience for every new ThunderWolf welcomed to Pueblo is at the heart of Vision 2028. President Mottet explained, "Upgrading our athletic facilities allows us to attract high-achieving student athletes. Student athletes currently comprise over 15% of the overall student population. This investment also increases our ability to generate revenues by renting out our facilities when they are not in use. As part of Vision 2028, we are working to optimize both student success and revenue streams to the university."
For media requests, please contact Dax Larson, Associate Athletic Director for Communications at 719-549-2022, or via email at dax.larson@csupueblo.edu. 
To find out more about #VISION2028 contact Dr. Donna Souder Hodge Chief Strategy Officer, Office of the President, Administration 301, at 719-549-2282, or via email at donna.souder@csupueblo.edu.