Fit Fast Strong CSU-Pueblo Intern Working for a Stronger Future
Release Date: July 26, 2019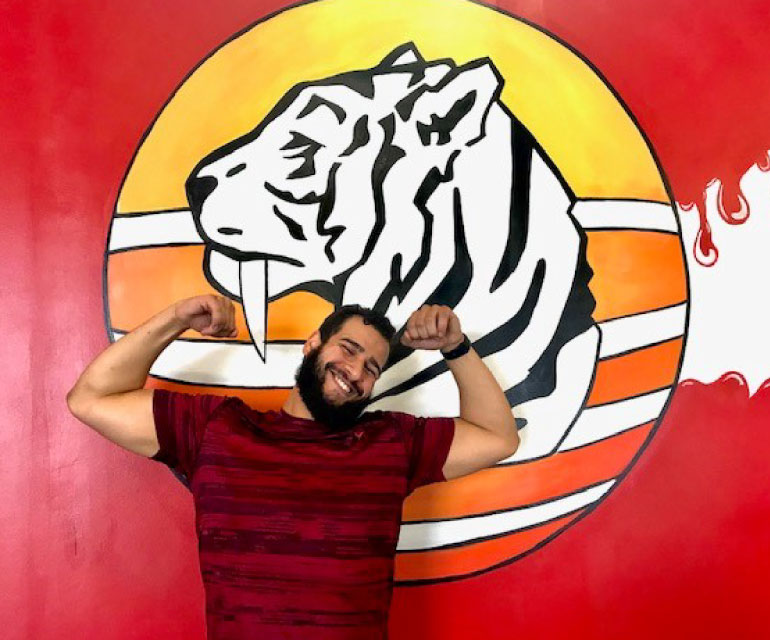 Ivan Palou of Guaynabo, Puerto Rico, is a senior Exercise Science major at Colorado State University-Pueblo. Palou first attended CSU-Pueblo with hopes of making the football team, however after a meniscus tear and change in position from center to fullback, his focus shifted.
Out of high school, Palou played semi-professional football where there were no weight class limits to those playing. As a 200 lb. center, he met face to face with guys tipping the scales at 300 lbs. and above. He suffered from a L5 S1, the lowest vertebral segment of the lumbar spine, disk bulge.
"Chiropractic [care] saved my life," said Palou. A chiropractor was able to help Palou manage his pain and get him back to health again. "They change lives. I was thinking another path originally either software development or video game development. So it changed my path completely," said Palou.
Currently on his new path, Palou is training teens in Pueblo West at a local gym called Fit Fast Strong CrossFit. This is where his experience in the gym is laying the groundwork for his future aspirations to open a multiplex of health. Fit Fast Strong CrossFit, located in Pueblo West, is owned and operated by Chris and Teresa Campos, a husband wife duo.
Chris Campos '03, sociology, wanted his CrossFit Teens program offered on Monday, Wednesday and Fridays at 8 A.M. to get off the ground and looked within his own gym for someone to help him do so. He spoke to a fellow member at FFS and current CSU-Pueblo student, Tyler Lancaster '21 Physical Education K-12, about helping him coach, however Lancaster had other commitments and suggested to Campos that he look into contacting CSU-Pueblo for an intern.
"Having young coaches and younger guys in the gym is important. Plus youth respond well to younger guys," said Chris Campos.
Most of the teens range from 13 to 17 years old and the class size varies from 8-10 individuals per class. The youth in the teens program vary from having a sports background, to having no prior experience in the gym. FFS starts everyone with the basics, teaches the fundamentals, and explains to the teens how weight shifts in their body before introducing actual weights to the workout.
"It's good for these young guys to work on their communication. Some people know how to talk to kids but don't know how to adapt physical programming for youth," said Chris Campos.
Chris Campos does the programming and then sends it to Ivan to carry out the programming in class with the teens. Both Chris and Teresa Campos offer coaching critique and corrective tools to help Palou improve his communication and his coaching style.
"Ivan has been good. He's very friendly and I think he'll do great with his future," said Theresa Campos.
"This kind of level of CrossFit I've never done before but I've done Crossfit in Puerto Rico. This is my first internship," said Palou. He also understands the benefit an internship can have for his future. "This is a fundamental thing for my career. I want to have a triad of experience with strength and conditioning, once I graduate I want to do massage therapy for six months, then chiropractor school," said Palou.
Palou has begun thinking about his future as a chiropractor and his dreams to one day open a multiplex of health. Palou envisions fully functioning gym with massage therapy, his chiropractic office, a nutritional and health bar, and a team around him to accomplish this. His internship with FFS Crossfit and Chris and Teresa Campos is a foundation for the future.