Foundation and Reisher Scholars Program to Partner Benefitting CSU-Pueblo Students
Release Date: July 10, 2019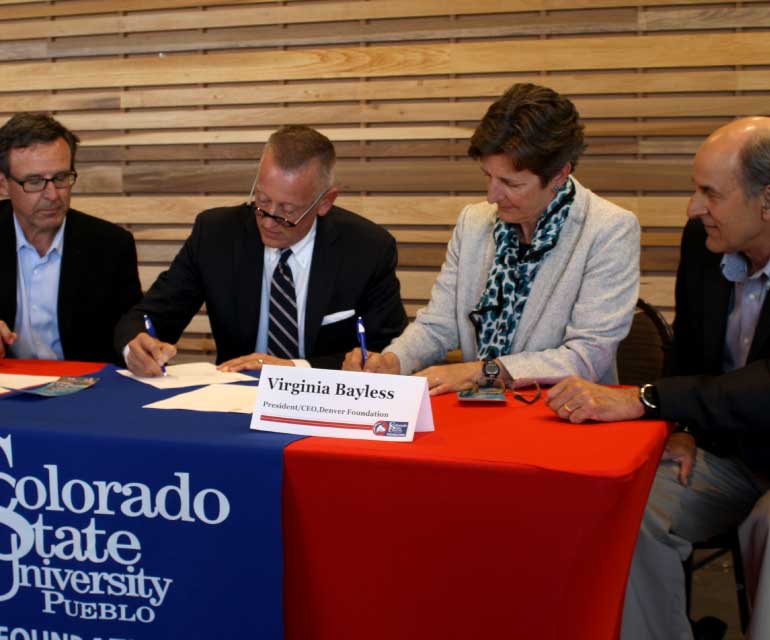 The Colorado State University-Pueblo Foundation is partnering with the Reisher Scholars Program to provide scholarship funding for Colorado students with demonstrated financial need and proven academic merit.
The Reisher Scholars Program, a fund of the Denver Foundation, seeks to help promising Colorado students earn their undergraduate degrees without incurring additional educational debt. CSU-Pueblo was recently selected through work of the CSU-Pueblo Foundation to become a Reisher Scholars Program partner university.
"This is an exciting opportunity because the Reisher Scholars Program focuses on rising college sophomores and transfer students from community colleges," said CSU-Pueblo Foundation CEO/President Todd Kelly. "For CSU-Pueblo continuing and transfer students with demonstrated academic and leadership potential as undergraduates, this scholarship program will ensure they can finish their degree program without incurring additional debt."
The official partnership will be commemorated with a signing ceremony on Wednesday, July 10 at 3 p.m. at the CSU-Pueblo Occhiato Student Center Ballroom Foyer. Prominent officials from the Denver Foundation, the Reisher Scholars Program and CSU-Pueblo will be in attendance.
The program was established in 2001 by the Reisher family. Roger and Margaret Reisher came from modest means and were the first in their families to attend and graduate from college. Appreciating how much their education impacted their lives and success in the banking industry, the Reishers established the program to help fill a gap in Colorado student financial aid. While many scholarships help students get started on their college journey, the Reisher Scholarship is designed to help provide students with the financial means to complete their undergraduate degree.
CSU-Pueblo will join six other Colorado public universities who partner with the Reisher Scholars Program. Students who have completed their freshman year at a partner university or who are transferring into one of the universities from community colleges for their junior year may apply. Applicants must meet a variety of eligibility requirements, including a G.P.A. of 3.0 or better, demonstrated financial need and involvement in service activities.
"We are very excited to offer the Reisher Scholarship to the southern Colorado region through CSU-Pueblo. This scholarship changes lives and allows high-achieving students to complete their college degrees coming out of school with little to no debt," said Denver Foundation Director of Scholarship Programs Sharon Harper.
Reisher Scholar awards are full, unmet need scholarships and now range from $4,000 to $11,000 per year. From 2001 to 2015, over 1,000 students from a wide variety of backgrounds have received Reisher support, with a total of $15.7 million in scholarships. The Reisher Scholars Program continues to grow, expanding its reach and impact to help Colorado college students reach their goals.
"This scholarship will be a monumental offering to our region. The Reisher Scholarship will help to provide affordability and accessibility to education. This program will be life-changing for many in our community," said CSU-Pueblo President Timothy Mottet.
The Reisher Scholars Program will be implemented at CSU-Pueblo in the fall of 2020 with the mission to provide educational opportunities for promising and economically qualified Colorado undergraduate students. Scholars are highly motivated, goal-oriented, responsible, and/or likely to make a contribution to society as evidenced by community service, leadership activities, work experience, or unusual experience.
The selection process is competitive through the CSU-Pueblo Foundation Scholarship Application process and there will be a limited number of awards available.
For more information, call the CSU-Pueblo Foundation at 719-549-2380.