Commencement on Campus for the First Time in Over Two Decades
Release Date: May 10, 2019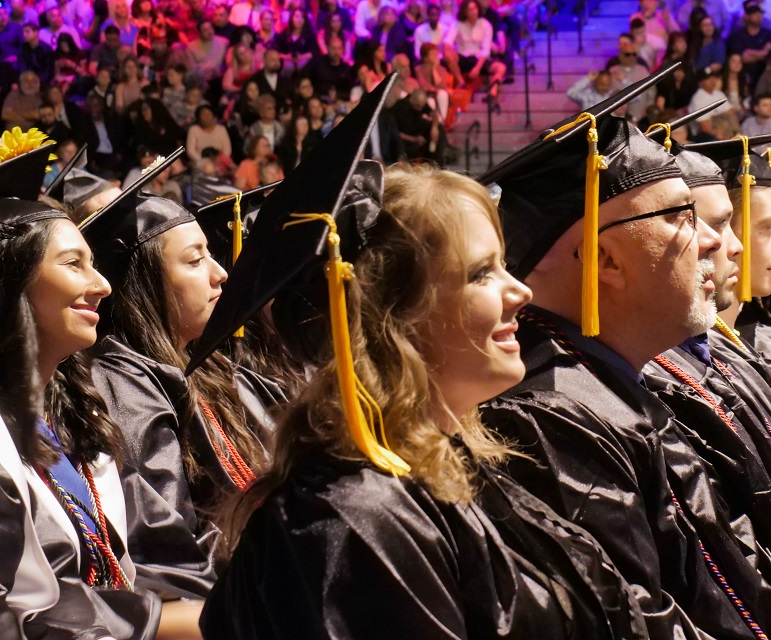 Colorado State University-Pueblo celebrated more than 1,000 graduates on Saturday, May 4.  Commencement was split into two ceremonies, one beginning at 10 a.m. and another that followed at 3 p.m., both were held in Massari Arena on CSU-Pueblo's campus in the Health, Exercise Science, and Recreation building. This year's theme for the ceremonies was "Celebrate Achievement. Celebrate Commencement."
During the first ceremony, graduates from the College of Education, Engineering, and Professional Studies and the College of Science and Mathematics.  The second ceremony included the College of Humanities and Social Sciences and the Hasan School of Business. 
Parents, friends, family members, faculty and staff, and fellow students cheered for one another as graduates walked across the stage. The congratulatory applause echoed in Massari Arena filled with nearly 5,000 in attendance.
Senate President Leroy Garcia, D-Pueblo, served as the commencement speaker for graduates of both commencement ceremonies.  Garcia shared his words of wisdom with background from his own life, road of education, and current political success.  Garcia also spoke about growing up on Pueblo's east side and the struggles his family endured to pay for a college education, which then helped him make his decision to enlist in the United State Marine Corps.  He then went on to receive his undergraduate degree and later earned his master's degree.  He spoke about failure and the lessons it taught him to make him successful today.
"I hope you will continue to work hard in the years ahead and not only reach, but exceed the goals you have set for yourself.  I hope that if you meet failure, that you will overcome it stronger and more successful than before," said Garcia.
During the afternoon ceremony Governor Jared Polis also delivered a commencement address to students.  Polis opened with remarks letting students know that he too had received an undergraduate degree and that it served him well as an entrepreneur, during his time in education, and now while serving as the Governor of Colorado.  The message of failure and success proved to be a common theme throughout the day.
"The most successful people in this world have failed, time and time again," said Polis.
Although failure was spoken about frequently, success was celebrated throughout the day.  After ceremonies concluded students, their families, friends, and faculty and staff of CSU-Pueblo celebrated under the big red tent on the east lawn of the administration building near the historic landmark fountain on campus.  Once students walked across the stage they were welcomed into the CSU-Pueblo Alumni Association, starting the next chapter of their legacy here on campus.