2019 President's Medallion Recipients
Release Date: April 19, 2019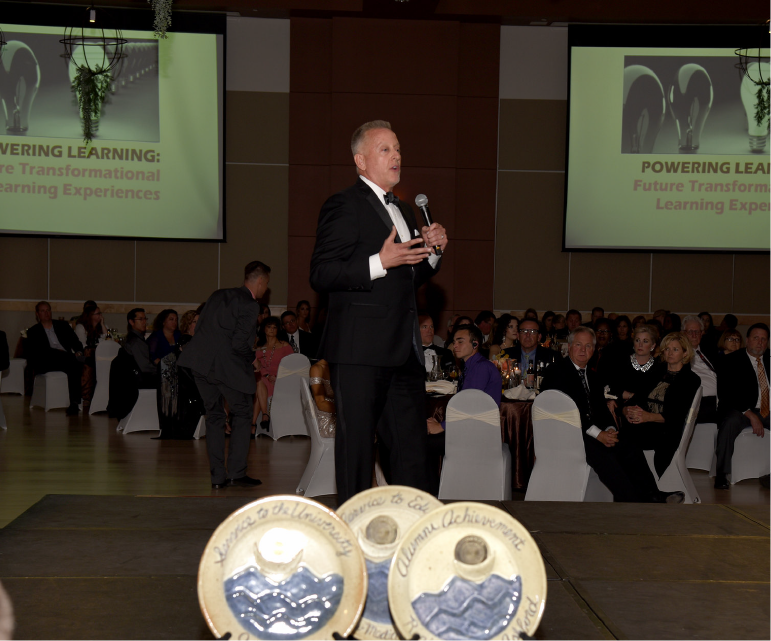 CSU-Pueblo to Honor Dr. Adolph and Bernadette Padula, Pepsi Bottling Company, Dr. Janet Barnett and Mark DeRose at President's Gala on May 18
Dr. Janet Heine Barnett, Pepsi Bottling Company, Mark DeRose, Dr. and Mrs. Adolph, and Bernadette Padula, will be honored as President's Medallion recipients during the Colorado State University-Pueblo 2019 President's Gala on Saturday, May 18. Proceeds from the Gala directly benefit future generations of CSU-Pueblo students through scholarships and programs.
The 2019 President's Gala will begin at 6 p.m. with cocktails in the Occhiato Student Center Ballroom Foyer. Tickets for the 2019 President's Gala are $125 per person or $1,500 for a corporate table of eight. Information on tickets, sponsorships and corporate tables is available through the CSU-Pueblo Foundation, 719-549-2380 or at https://www.csupueblo.edu/foundation/events/presidents-gala/index.html
Entertainment for the evening will include the CSU-Pueblo Jazz Choir and ragtime jazz with a blend of rock and roll by Atlanta Georgia's Blair Crimmins and the Hookers. For the seventh year, through the generosity of alumnus Chris Turner, a reunion of former Associated Students' Government will begin at 5 p.m.
Dr. Janet Heine Barnett will receive the President's Medallion for Distinguished Service to Education to honor her 27 years of service to the CSU-Pueblo as Professor Emerita of Mathematics. A native of Pueblo, Dr. Heine Barnett joined the mathematics faculty at CSU-Pueblo in 1990. Throughout her tenure at CSU-Pueblo, she sought to improve the quality of mathematics education in the Pueblo region by recruiting, training, and mentoring K-12 teachers of mathematics. Her teaching efforts have been recognized previously with the Deborah and Franklin Tepper Haimo Award for Distinguished College or University Teaching of Mathematics by the Mathematical Association of America, the Burton W. Jones Award for Distinguished College or University Teaching of Mathematics from the Rocky Mountain Section of the Mathematical Association of America in 2015, the CSU-Pueblo Outstanding Faculty Award in the College of Science and Mathematics in 2002 and 2010 and the University-wide Faculty Excellence Award in Teaching at CSU-Pueblo in 2006 and again in 2013. She also received the University-wide Faculty Excellence Award for Scholarship at CSU-Pueblo in 2016. She resides in Pueblo with her husband George Heine.
Dr. and Mrs. Adolph "Rudy", '59, and Bernadette "Berni" Padula will receive the President's Medallion for Distinguished Service to the Community to honor their dedication and philanthropic support of Pueblo. Dr. Padula was born to Italian immigrant parents in 1939. He attended Pleasant View Middle School and Pueblo County High School. After graduation in 1957, he enrolled at Pueblo Junior College, now CSU-Pueblo, and went on to the University of Denver. He graduated in 1964 from Creighton University School of Dentistry. Bernadette DeRose Padula was born in Pueblo, graduated from Centennial High School and went on to become a dental hygienist in her brother's dental practice where she met and then married Rudy in 1966. They have three children and eight grandchildren. After 42 years in dentistry, Rudy retired. Rudy and Berni continue to support their many philanthropic endeavors including Friends of Football, YMCA, Home of Heroes, CSU-Pueblo, Pueblo Economic Development Corporation, Sangre de Cristo Arts Center, Colorado State Fair and Center for American Values. Dr. and Mrs. Padula have a deep love for Pueblo.
Pepsi Beverages Company will receive the President's Medallion for Distinguished Service to the University for their continued support of CSU-Pueblo. PepsiCo is a team of changemakers, propelled by local partners, like CSU-Pueblo, informed by decades of experience and driven by passion to do more. Pepsi has been a valued University partner for nearly three decades, providing support for University events, scholarships and athletics. Pepsi has a long history with CSU-Pueblo and even a longer history within the Pueblo community. The Occhiato family began distributing Pepsi products in Pueblo in 1938 and ran the Pepsi Bottling Group until 1982. Pepsi provides financial support to various initiatives as well as donated product to a myriad of campus events and programs. 
Mark DeRose, '84, will receive the President's Medallion for Distinguished Alumni. DeRose received a bachelor's degree in Communications from the University of Southern Colorado (USC), now CSU-Pueblo, and is the Chief Executive Officer at ServiceStar Capital Management. He was USC's football team captain in 1982 and was named to the All-RMAC team twice and earned 1st Team NAIA All-District 7 in 1982. DeRose was invited to the Denver Broncos training camp in 1983 and played linebacker for a season. He started for the Denver Gold, a member of the USFL at linebacker during the 1984-85 season and played for the Los Angeles Express (Linebacker) during the 1985 season. Mark was inducted into the Pueblo East High School Athletic Hall of Fame in 2007 and the Greater Pueblo Sports Hall of Fame in 2009. His contributions to CSU-Pueblo have been significant, Mark was a founding member of Friends of Football, regularly donates to Pack football events and supports the University's on-the-road athletic events. Mark lives in Centennial, CO with his wife, Lanette.
Photos of the honorees can be found at the following: http://bit.ly/2019-presidents-medallion-recipients