Physical Education Program for Homeschooled Children is Win-Win
Release Date: November 06, 2017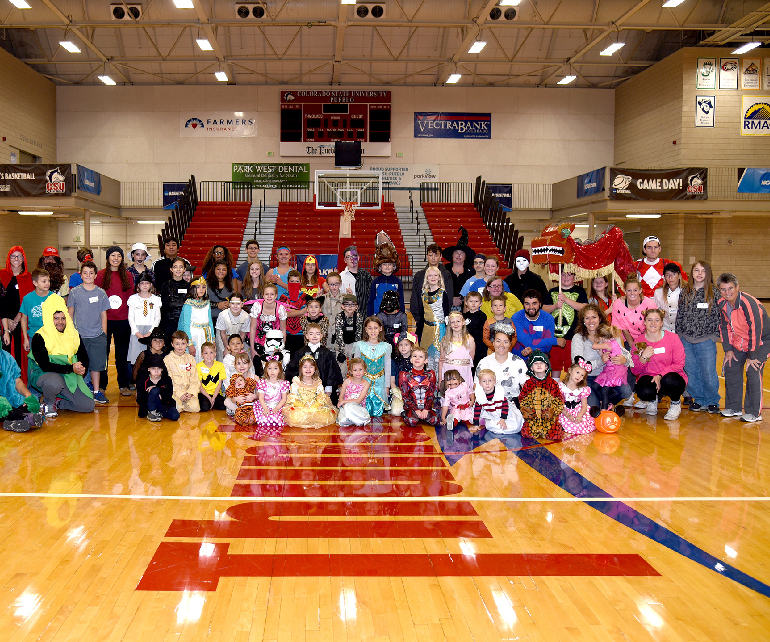 CSU-Pueblo Physical Education Program for Homeschooled Children is Win-Win
PUEBLO – A program offered this fall through the Exercise Science Health Promotion and Recreation department at Colorado State University-Pueblo is helping homeschooled children ages 3-17 keep fit while providing critical clinical field experience to teacher education students.
Twice a week, CSU-Pueblo teacher education students in the Methods of Elementary and Secondary Physical Education class greet 90 children and their parents in Massari Arena who have come from as far as Canon City and Williamsburg to experience a spectrum of sports and physical activities from bowling and climbing to basketball and yoga.
Instructor Karen Marley said the course prepares the prospective teachers to maximize student learning, to utilize resources, and plan, implement, and then revise lesson plans. Students are required to complete 30 contact hours at both the elementary and secondary levels. Marley began the program after hearing of similar program successes at a conference and realizing that the program would be a win-win here as well. She said the mutually beneficial program already has produced happier, more active children and better prepared educators.
Marcello Rodriquez, a junior physical education major from California, said the alternative to this program was to get field hours at an off-campus school where he would spend the majority of his time watching the classroom teacher. The students learn not just from their own instruction but by watching their peer handle a situation and realizing that there may be multiple paths to teaching the same skill.
"Here I teach in front of my professor and get immediate critiques and a debrief right after the class period," he said. "At an off-campus school, I may get to teach a couple days, but here I'm responsible for 14-16 different lesson plans."
Kristina Havlat, a graduate student from Junction City, Kansas said the experience uncovered a passion for teaching younger children.
"With seven years of experience teaching dance and substituting in high schools, I entered this opportunity with a fear of 3-10 year olds and no confidence that I possessed the patience required," Havlat said. "I have since realized that all students of any age just need a positive facilitator, encouragement, and games that promote skilled locomotor movements to create an effective learning environment."
Melanie Steves, a junior physical education major from Pueblo West, said she appreciates the blending together of age groups and how that mix causes her to adapt both her teaching and assessment skills. 
Homeschooling parents Stacy Trujillo and Patricia Martin, who both hold teaching credentials from CSU-Pueblo, said they learned of the program through a social media post. Both parents had different reasons for deciding to homeschool their children, but said it came down to what worked best both for their families and the children's progress. They had attempted to fill the activity portion of their curriculum by going to parks or a nearby gym. They have appreciated the individual attention and social interaction the classes provide as well as the diversity of activities that are taught to state and national standards. As an example, Trujillo pointed to one of the day's Halloween-related activities, learning Michael Jackson's Thriller dance.
Trujillo's 10-year-old son has autism along with a compromised immune system, which was causing him to fall behind due to repeated absences. The program provides social interactions and motor skills coordinating activities that she cannot.
Martin said the student instructors tend to reinforce much of what the parents are saying at home like that physical activity is good.
"It gives our children someone else to listen to besides us," Trujillo said.
Parents interested in the program may contact Marley at karen.marley@csupueblo.edu or 719.549.2449.
Colorado State University-Pueblo is committed to excellence, setting the standard for regional comprehensive universities in teaching, research, and service by providing leadership and access for its region, while maintaining its commitment to diversity.
--CSU-Pueblo--