Colorado State University System gift brings ThunderTron to CSU-Pueblo ThunderBowl
Release Date: August 24, 2017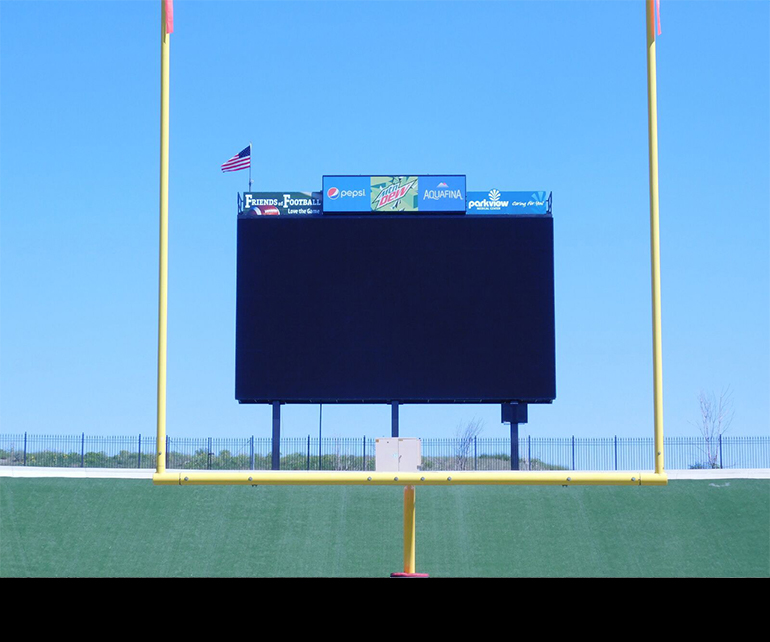 Colorado State University System gift brings ThunderTron to CSU-Pueblo ThunderBowl
PUEBLO – The Colorado State University System has provided a significant gift between its sister schools as it funded the transfer of a video display board and sound system from Hughes Stadium in Fort Collins to the Neta and Eddie DeRose ThunderBowl at Colorado State University-Pueblo. Fans will get a chance to see the three-story video board when the #12 ranked ThunderWolves take on #16 Colorado Mines at 6 p.m. on Thursday, Aug. 31.
CSU System Chancellor Tony Frank said plans for the new on-campus stadium in Fort Collins included a new video board, which left the question of what to do with the board at Hughes Stadium. The Rams' new stadium will see its first action Aug. 26 against Oregon State.  
"Being able to put it to use within the CSU System to support CSU-Pueblo and its successful football program was an easy solution and one that the board was more than happy to accommodate," Frank said.
CSU-Pueblo Director of Athletics Joe Folda said the 48' by 28' Daktronics scoreboard, originally valued at more than $550,000 and now known as ThunderTron, will address issues he has heard through the years regarding the lack of instant replay and inadequate audio and video capabilities. The installation also came with a one-year service contract and training for CSU-Pueblo employees.
The CSU System funded the deconstruction, transport, and installation of the sound system and scoreboard to the tune of more than $512,000 and pitched in an additional $124,000 for related equipment for the system, including a scoreboard on the south end of stadium, new delay of game clocks and time clocks in the locker room and officials' room. Last fall, the system pitched in nearly $300,000 for the installation of new turf at the ThunderBowl.
According to CSU-Pueblo President Timothy Mottet, the transfer of the scoreboard from CSU in Fort Collins to the ThunderBowl at CSU-Pueblo reflects the benefits of being partners in a higher education system.
"Our ability to leverage resources within a system is one of the many ways we are being fiscally responsible," Mottet said. "We are grateful to the CSU System for a gift that will improve our fan experience and allow the ThunderBowl to retain its reputation as one of the finest athletic facilities in Division II."
Colorado State University - Pueblo is committed to excellence, setting the standard for regional comprehensive universities in teaching, research, and service by providing leadership and access for its region, while maintaining its commitment to diversity.
--CSU-Pueblo--