Top CSU–Pueblo graduate earns prestigious history scholarship
Release Date: June 28, 2017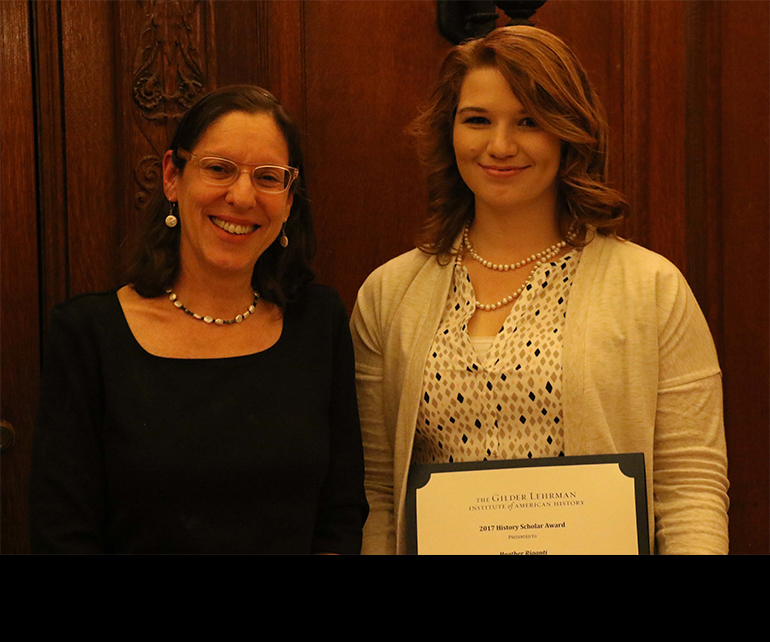 Top Colorado State University–Pueblo graduate earns prestigious history scholarship
PUEBLO – Heather Riganti of Colorado Springs, 2017 recipient of Colorado State University-Pueblo's top student honor, spent six days in New York City June 4-9 as one of 15 recipients of the Gilder Lehrman History Scholar Award.
Riganti, recipient of the 2017 Threlkeld Prize for Excellence in April, graduated summa cum laude (4.0 GPA) in May with degrees in history (secondary education emphasis) and psychology and a minor in sociology.  The Gilder Lehrman History Scholar Award is awarded to 15 juniors or seniors who meet the standards of academic excellences in American History and are pillars in their communities. Gilder Lehrman Scholars demonstrate academic excellence in American history or American studies as well as a commitment to public service, leadership, and community involvement. Applicants are required to submit two letters of recommendation (one letter must be from an American history or American studies professor), a personal statement in the form of a 500-word academic autobiography giving special attention to achievements in American history and public service, and an unofficial transcript.
Riganti spent her week meeting renowned scholars, touring the Gilder-Lehrman Archives, visiting museums and monuments, archiving letters of a WWII sailor, and participating in a tour of famous revolutionary sites. She also participated in an exclusive behind-the-scenes tour of a unique archive of primary sources at the Gilder-Lehrman Archive Collection with the New York Historical Society. The recipients also were honored at a celebratory dinner hosted at New York University.
Riganti said the opportunity allowed her to meet some of the distinguished historians whose work she had read for classes over the last few years at CSU-Pueblo.
"Aside from touring the historic aspects of New York City, I was able to visit museums and see original historic documents and artifacts including a Declaration of Independence, a U.S. Constitution, and James Madison's hair that Dolly Madison cut and sent to a relative shortly after his death," Riganti said. "The Gilder-Lehrman History Scholar Award put me in contact with 14 distinguished history students and amazing mentors who are dedicated to providing me with resources and opportunities to be successful in my teaching career."
In the fall, Riganti will teach 11th grade American history and 9th grade government courses at Kendrick High School in the Muscogee County School District in Columbus, Georgia.
Riganti is a veteran of the U. S. Army, active from 2011-2013, a mother to a young child, and spouse of an active military service member, who was deployed often during her time at CSU-Pueblo. Riganti volunteered many hours to the Fort Carson community which earned her Order of St. Joan D' Arc award for her significant voluntary contributions to the morale, spirit, and welfare of the Calvary and Armor communities.
 Colorado State University - Pueblo is committed to excellence, setting the standard for regional comprehensive universities in teaching, research, and service by providing leadership and access for its region, while maintaining its commitment to diversity.
--CSU-Pueblo--