CSU–Pueblo honors Riganti with Threlkeld Prize as top senior
Release Date: April 20, 2017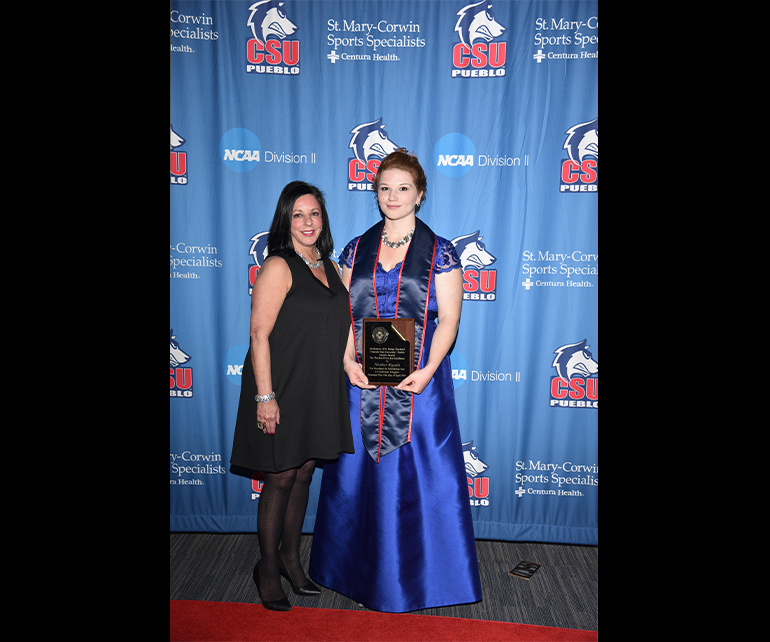 Colorado State University – Pueblo honors Riganti with Threlkeld Prize as top senior
PUEBLO – A veteran and Fort Carson community volunteer has been named the 2017 recipient of the Threlkeld Prize for Excellence at Colorado State University-Pueblo. As the Threlkeld recipient, Heather Riganti, Colorado Springs, will receive the first diploma of the ceremony when she graduates with a bachelor's degree in history (secondary education emphasis) and psychology and a minor in sociology on Saturday, May 6 at the Southwest Motors Events Center at the Colorado State Fair.  
Named for the late Budge Threlkeld, a former administrator and professor, the award is presented to a graduating senior who demonstrates excellence in academic and co-curricular activities as well as in service to the University and to the community. Riganti was selected from four finalists for the Prize, and the winner was honored at the Student Involvement and Leadership Awards ceremony at CSU-Pueblo on Wednesday, April 19 in Hoag Recital Hall.
To be considered for the Threlkeld Prize for Excellence, nominees must be a graduating senior (fall 2016, spring 2017, or summer 2017) who will have completed at least four semesters at CSU-Pueblo; have at least a 3.7 grade point average for the three full-time semesters prior to nomination; and relate, in writing, co-curricular activities as well as service to both the University and the community. The recipient receives a plaque and a cash stipend upon graduation. Riganti's name also will appear on a permanent plaque.
Riganti will graduate summa cum laude (4.0 GPA) with degrees in history (secondary education emphasis) and psychology and a minor in sociology. Riganti is a veteran of the U. S. Army, active from 2011-2013, a mother to a young child, and spouse of an active military service member, who has been deployed often during her time at CSU-Pueblo.  Heather devotes many volunteer hours to the Fort Carson community.  Most recently, she was awarded the Order of St. Joan D' Arc for her significant voluntary contributions to the morale, spirit, and welfare of the Calvary and Armor communities. She is as an active participant in the Student Veteran Association, Psi Chi National Honor Society, and Phi Alpha Theta. 
"I am so honored to receive this award. I have worked hard while attending CSU-Pueblo and being recognized with an award like this is something I will never forget," Riganti said. "This award is so symbolic of my life journey and all that I have accomplished in my non-traditional path to education. I am grateful for the education I received at CSU-Pueblo and the amazing faculty who advised and mentored me for the last three years.  I am proud that my little girl will be able to see me graduate on May 6th."
The 2017 finalists for the Threlkeld Award were:
Destiny Campa Meza, English, Pueblo
Shawn King, Engineering, Colorado Springs
Ursaline Paradiso, Liberal Studies, Pueblo
Other students and organizations honored at the April 19 awards event included:
INDIVIDUAL AWARDS
Diane Blackwell President's Leadership Award: Fredlina Atencio
Emerging Leader: Jordan Cushman
Campus Collaborator: Jim Wiley
Service Award: Mashayla Spillman
ThunderWolf Spirit: Tashara Lewis
Most Valuable ThunderWolf: Caleb Johnson
Champion for Diversity: Nicole Lunt
Student Employee of the Year: Keelan Bailey
Greek Leader of the Year: Angie Perez
ORGANIZATION AWARDS
Student Organization of the Year: Student Veterans of America of CSU-Pueblo
Advisor of the Year: Exercise Science Lecturer Karen Marley, advisor to Physical Education Club
Membership Achievement Award: Black Student Organization
Diversity at Work Award: Student Veterans of America of Colorado State University-Pueblo
Wolfpack Spirit Award: Associated Students' Government
Educational Event of the Year: DREAMer Conference – Latino Students Unidos
Event of the Year: Vulnerable – I AM THAT GIRL
Emerging Student Organization: Student Veterans of America of CSU-Pueblo
 Colorado State University - Pueblo is committed to excellence, setting the standard for regional comprehensive universities in teaching, research, and service by providing leadership and access for its region, while maintaining its commitment to diversity.
--CSU-Pueblo--