CSU-Pueblo honors Hughes with Threlkeld Prize as top senior
Release Date: April 25, 2016
Press Release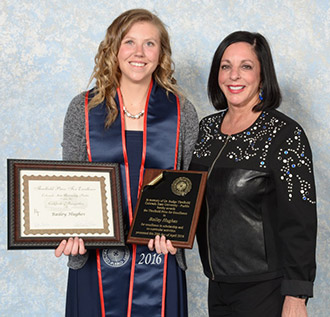 PUEBLO - A dedicated student, athlete, future teacher and active member of the campus community has been named the 2016 recipient of the Threlkeld Prize for Excellence at Colorado State University-Pueblo. As the Threlkeld recipient, Bailey Hughes will receive the first diploma of the ceremony when she graduates with a bachelor's degree in Liberal Studies (education), a minor in Elementary Education, and a teacher's license for grades K-6 on Saturday, May 7 at the Southwest Motors Events Center at the Colorado State Fair.
Named for the late Budge Threlkeld, a former administrator and professor, the award is presented to a graduating senior who demonstrates excellence in academic and co-curricular activities as well as in service to the University and to the community. Hughes was selected from six finalists for the Prize, and the winner was honored at the Student Involvement and Leadership Awards ceremony at CSU-Pueblo on Wednesday, April 20 in Hoag Recital Hall.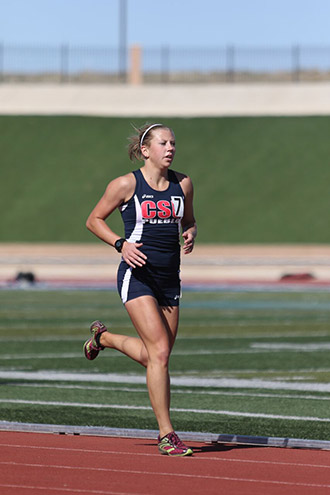 To be considered for the Threlkeld Prize for Excellence, nominees must be a graduating senior (fall 2015, spring 2016, or summer 2016) who will have completed at least four semesters at CSU-Pueblo; have at least a 3.7 grade point average for the three full-time semesters prior to nomination; and relate, in writing, co-curricular activities as well as service to both the University and the community. A selection committee consisting of representatives from each college, the library, a retiree, a professional, classified, and Foundation employee review the applications, then select and interview the finalists. The recipient receives a plaque and a cash stipend upon graduation. Hughes' name also will appear on a permanent plaque.
Hughes began her college career at Carroll College in Helena, Mont., and transferred to CSU-Pueblo when her cross country coach accepted a position with the ThunderWolves. Nominators say Hughes models a commitment to social justice in her community and excellence both in the classroom and on the track. She has maintained a 3.917 grade point average, was named team captain of the cross country team in just her second year, and holds school records in the 5K in cross country, 5K in track, 3K, mile, and distance medley relay. She has competed at two NCAA Div. II championship events and completed more than 800 hours of field experience in Pueblo elementary schools in addition to study groups and working with other athletes on her own time. In addition, she has dedicated hundreds of hours to various projects on campus, in the Pueblo community, and in her hometown from the Pueblo Diversified Industries Harvest Walk to the Student Athlete Advisory Committee. She will begin a master's degree in education at CSU-Pueblo next year as she uses her last year of running eligibility.
"During my years at CSU-Pueblo, I have learned how to be a leader and impact others to do their best," Hughes said. "I will carry these important skills into my teaching career and make sure that my students understand that hard work, putting others who need help before yourself, and studying as hard as possible will make you successful."
The 2016 finalists for the Threlkeld award, included:
Tyler Hobson, 3+2, Accounting/Business management major from Los Angeles, CA
Christopher Lay, computer information systems major from Monument, CO
Jose Lopez, marketing major from Campeche, Mexico
Erin Reiter, a nursing major from Colorado Springs, CO
Shelby Sweeney, an English major from Worland, WY
Doug Watterson, 3+2 Economics/Finance, Fort Collins, CO
Other students and organizations honored at the April 20 awards event included:
INDIVIDUAL AWARDS
Diane Blackwell President's Leadership Award: Jonothan Stephenson
Emerging Leader: Brianna Garza
Campus Collaborator: Meral Sarper
Service Award: Makenna Linn
ThunderWolf Spirit: Fredlina Atencio
Most Valuable ThunderWolf: Josh Smith
Champion for Diversity: Brenda Figueroa
Student Employee of the Year: Keelan Bailey
Greek Leader of the Year: Jassa Few
ORGANIZATION AWARDS
Student Organization of the Year: Fellowship of Christian Athletes
Advisor of the Year: Quatisha "Q" Franklin
Membership Achievement Award: The National Society of Leadership and Success
Diversity at Work Award: Diwali Festival Asian Student Association and CISA
Wolfpack Spirit Award: CSU-Pueblo MAES
Educational Event of the Year: Let's Talk: Mental Health, Alpha Kappa Alpha Sorority, Inc.
Event of the Year: General Harold "Pete" Todd Memorial Tournament, Forensics Team
Emerging Student Organization: I Am That Girl
Colorado State University - Pueblo is a regional, comprehensive university emphasizing professional, career-oriented, and applied programs. Displaying excellence in teaching, celebrating diversity, and engaging in service and outreach, CSU-Pueblo is distinguished by access, opportunity, and the overall quality of services provided to its students.