CSU-Pueblo Pueblo honors outstanding faculty and staff
Release Date: April 24, 2016
Press Release
PUEBLO - Outstanding faculty and staff leaders at Colorado State University - Pueblo were honored at a recognition luncheon held on Thursday, April 21. Disability Resource and Support Center Director Justin Hiniker was recognized as the 2016 Outstanding Professional Employee, while Payroll Accountant Vicki Becker was named the Outstanding Classified Employee. Richard Farrer, Associate Professor of Chemistry, earned the top faculty honor for Faculty Excellence in Teaching. The Facilities Management Team earned the Outstanding Team Award.
Also honored at the luncheon were recent retirees of the University and individuals who achieved a service milestone for employment during the past academic year from five to 35 years. A moment of silence also was observed for staff members and students who passed away within the last academic year.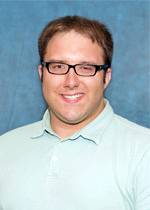 Outstanding Professional Staff
In just two years on campus, Justin Hiniker, Director of the Disability Resource and Support Center, has fully embraced being a ThunderWolf and has gone to extraordinary lengths to make his office an efficient, effective, and modern resource for students with disabilities. He has helped update institutional policy to be reflective of federal regulations and written manuals, pamphlets, and web pages as well as designed and conducted workshops to make the campus aware of academic accommodations and the importance of compliance with these federal regulations. Nominators say his footprint at the institution is large and growing with a long list of service activities and attendance at campus events.
Outstanding Classified Staff The Outstanding Classified Employees were selected from among 11 nominees by a panel of community leaders: Kate Adams, director of Human Resources, University Park Care Center; Patty Dunnington, assistant district manager at Colorado State Land Board, and Roger Stubenrouch, retired, former Director of Extended Studies at CSU-Pueblo.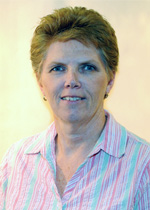 The Outstanding Classified Employee for 2016 was Vicki Becker Payroll Accountant in Business Financial Services. The lack of squeaky wheels thundering from Payroll is a testament to Becker's performance in what is typically a thankless position. She smoothly implements new programs into Payroll such as PERA's Roth 401 K and the tricky ObamaCare reporting. She has selflessly accepted additional responsibilities for the benefit of the University, including service on University Budget Board, Stronger as a Pack, Higher Learning Commission, and University Leadership Team as President of Classified Staff Council over the past two years. She carries her ThunderWolf pride to numerous University and even non-university events off campus, where she always represents in ThunderWolf clothing.
Students' Choice Awards
Representatives from Associated Students' Government, announced the recipients of the Students' Choice Awards. ASG accepted nominations by students for a faculty and staff member they felt contributed the most to their experiences at CSU-Pueblo. Alexis King, student organization assistant in Student Engagement and Leadership, earned the top staff honors, while Jim Satterfield, visiting lecturer in biology, was the students' choice as the top faculty member.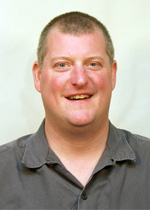 Faculty Awards
Nominators of Richard Farrer,Associate Professor of Chemistry for the Faculty Excellence Award in Teaching, laud his dedication to student success and his development of the next generation of scientists. They call him a model teacher-scholar who tirelessly advocates for student learning and note how he keeps abreast of the teaching literature and latest technologies in order to develop new methods to help struggling students succeed in chemistry. Students say his lectures and assignments are structured so they see the importance and practicality of what they read from the textbooks. Farrer challenges himself by teaching a range of courses, from chemistry for non-science majors, where scientific misunderstandings are commonplace, to Advanced Physical Chemistry, where he tailors the course to benefit the students and their career interests.
The recipient of the Faculty Excellence Award for Service is JoeFranta, Associate Professor and Interim Associate Dean in the School of Nursing. In addition to these roles, he has served as graduate coordinator of nursing responsible for administering all aspects of the program from budgets and scheduling to accreditation. He accepted a role as chair of the Graduate Studies Board, which was created following the elimination of the Dean of Graduate Studies, and has helped the group transition to an entity that now governs itself. He recently worked a deal with Sevocity, an electronics health records system, which saved the University $24,000 and allows students a free system to get real time access to learning patient charting and data collection. Beyond the University, he serves as deputy coroner to lend medical knowledge to Custer County in regards to death scene investigations and also participates in mission trips to high-need countries, where he has served up to 400 patients a week with a variety of needs and conditions.
The 2016 award for Faculty Excellence in Scholarship/Creative Activity went to Janet Barnett, Professor of Mathematics, for being a fine example and stimulator of scholarship. Her impressive array of scholarly activities over the last 3 years include a mixture of 8 peer-reviewed publications, grant activity, and connection with the students in all of these efforts, which exemplifies the teacher-scholar model and serves as a tremendous example to incoming faculty. Her work touches many areas of mathematics and its history, original languages sources, philosophy, and pedagogy. Throughout 2013-2015, Janet also has been the PI for the $1.26 million Noyce grant, which has received excellent reviews from the National Science Foundation officers.
The recipient of the award for Faculty Excellence in Advising/Mentoring goes to Dan Caprioglio, Professor of Biology, who also serves as the Faculty Athletic Representative, a position that allows him to use his advising and mentoring expertise to ensure the success of our student-athletes both on and off the field and in and out of the classroom. He also mentors students in undergraduate research accompanying Tri-Beta students to winning presentations at their regional conferences. He is graduate coordinator for the Master of Science in Biology as well as serves on the GPNS advisory board with oversight of the master's programs in biology, chemistry, and biochemistry.
Two new awards were added this year to bring attention to the work of the University's non-tenure track and adjunct faculty. The winner of the new Excellence in Non-Tenure Track Teaching, received a whopping eight nomination letters, which praised her involvement in the community, and promotion of real life experiences, and professional development with her students. Karen Marley, Lecturer in Exercise Science, Health Promotion, and Recreation, coordinated with departments across campus to use her students as help with many hands-on life experiences from football games to Discovery Days and the Let's Move program, which offers children in grades K-8 a day to experiment with various kinds of healthy activities. She consistently stays up to date on the latest research in her field and creates programs that significantly impact the health of Pueblo youth. As the events manager for USA Field Hockey for 30 years, she has used the position to take students around the country to view and participate in the organization's operations.
The second new award, Excellence in Adjunct Teaching, was presented to Charles Percival, Physics for being a "curious and energetic enthusiast for everything scientific." He has been an adjunct at the University for the past 15 years, teaching Physics 110 Astronomy and Lab, the best subscribed general education natural science course. He constantly searches for the newest developments in science to bring to his eager students and enrolls in various courses at his own expense to further his knowledge in the field. He hosts evening star watches, especially for special events like eclipses, meteor showers, comets, etc., writes a long-standing astronomy column in the Pueblo Chieftain, and serves as vice president of the Southern Colorado Astronomical Society.
The following faculty members were honored as the top faculty member(s) in their respective colleges for the 2015-16 academic year:
College of Education, Engineering, and Professionals Studies
Margie Massey, Associate Professor, Teacher Education
College of Humanities and Social Sciences
Juan Morales, Associate Professor, English and Foreign Languages
Hasan School of Business
Kevin Duncan, Professor, Economics
College of Science and Mathematics
Brian Vanden Heuvel, Associate Professor, Biology
University Library
Beverly Allen, Associate Professor, Library Services
Outstanding Team Award
The winner of this year's award was the Facilities Management team consisting of 44 employees who together see that the university's buildings and grounds are properly maintained and receive the necessary care and services. Throughout the year, facilities team members are on call 24 hours a day to address a variety of campus needs from a 3 a.m. broken water main in the residence halls to snow removal on days when the rest of campus is closed in an effort to prepare sidewalks and roads for when classes resume. These are but a few examples of the hard work, long hours, and dedication of the Facilities employees. The winning team receives a $500 stipend to use as they choose.
Service Awards
Twelve individuals received special notice for the longevity of their service to the University: Janet Barnett, Paul Chacon, Denise Cordova, Sam Ebersole, Theresa Jiminez, Patricia Levy, Ted Taylor, Jennifer Torres, and Jon Valdez for 25 years; and Ahmad Ahmadian for 30 years, and Judy Baca and Paul Wallace for 35 years of service.
Colorado State University - Pueblo is a regional, comprehensive university emphasizing professional, career-oriented, and applied programs. Displaying excellence in teaching, celebrating diversity, and engaging in service and outreach, CSU-Pueblo is distinguished by access, opportunity, and the overall quality of services provided to its students.