CSU-Pueblo to Honor Aragon as Distinguished Alum on May 14
Release Date: March 29, 2016
Press Release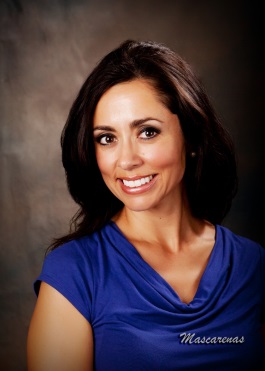 PUEBLO - The President and CEO of the United Way of Pueblo County and former president of the Latino Chamber of Commerce of Pueblo will receive the President's Medallion for Distinguished Alumni Achievement as part of the President's Gala on May 14. CSU-Pueblo graduate Andrea Aragon, A93, will join Barbara and the late Tony Fortino and Mark and Carol Rickman, A83, (Team Tundra) as President's Medallion recipients at the 2016 President's Gala on Saturday, May 14 in the Occhiato University Center (OUC) Ballroom. Donors underwrite the evening's expenses, guaranteeing that all proceeds directly benefit current and future CSU-Pueblo students through scholarships and programs.
A Rocky Ford native, Aragon earned a bachelor's degree in mass communications (double emphasis in public relations/TV/radio) with a minor in political science in 1993 at then University of Southern Colorado.
At the United Way, Aragon oversees the daily operations, including fundraising, finance and administration, resource development and grant writing, fund distribution, supervision of staff and recruitment of volunteers. Since assuming the United Way post in 2002, she has led the organization to 11 straight years of record fundraising, increased funding to worthy nonprofits and health and human service programs, decreased administrative and fundraising costs, and added special events and community outreach.
Greater Pueblo Chamber of Commerce President Rod Slyhoff said, "Andrea has demonstrated over the years her commitment to the betterment of the Pueblo community and the University. . .and enhanced the image of the Pueblo community through her exceptional leadership, civic involvement, and continuous focus on honesty, integrity, respect, quality services and sincere commitment to the citizens of Pueblo."
From 1998-02, she served as director of alumni relations and assistant director of alumni and development at CSU-Pueblo. In that role, she identified and provided support to securing and raising private dollars to fund university projects and scholarships and implemented and developed a variety of alumni programs. From 1994-97 as President and Chief Executive officer of the Latino Chamber of Commerce of Pueblo, she coordinated the daily operations, including extensive community involvement efforts in fundraising, economic development, civic improvement, and legislative issues. She helped double membership and increase staff through solid membership and revenue growth and supervised the purchase and renovation of a new chamber building.
She has given her time, energy, and expertise to numerous statewide civic organizations, including the El Pomar Board of Trustees, Colorado Nonprofit Association, and Caring for Colorado, as well as community boards including the CSU-Pueblo Alumni Association, CSU-Pueblo President's Advisory Board, U.S. Bank Community Advisory Board, Girl Scouts, El Pueblo Adolescent Treatment Center, Pueblo Hispanic Education Foundation, the Pueblo 2010 Commission, and the Historic Arkansas Riverwalk Project.
Aragon has been recognized for her efforts by several groups, including the 2015 Charles Crews Business Leader of the Year by the Greater Pueblo Chamber of Commerce, Excellence in Development Award by the Southern Colorado Press Club, a 2002 YWCA Anna Tausig Tribute to Women Award, and Outstanding Woman Award by the Pueblo City County Library District. Colorado Governor Bill Owens appointed her to the College Invest Board from 2000-2003.
The 2016 President's Gala will feature faculty pianist Zahari Metchkov with CSU-Pueblo faculty and students in a dueling musical performance of two pianos, plus a percussionist and a bass player. Tickets for the 2016 President's Gala are $125 per person or $1,500 for a corporate table of 8. Information on tickets, sponsorships, and corporate tables is available through the CSU-Pueblo Foundation, 719.549.2380 or at www.csupueblogala.com.
About the Award:
The CSU-Pueblo Alumni Association's President's Medallion for Distinguished Alumni Achievement recognizes the outstanding accomplishments of our alumni. Their outstanding service to their alma mater and professional achievements are considered in the nomination and selection process. Nominations are reviewed by the Distinguished Alumni Achievement Award Committee and recommendations are made to CSU-Pueblo President, Dr. Lesley Di Mare for her final approval.
For a list of past distinguished alumni award recipients: http://alumni.csupueblo.edu/Events/DistinguishedAlumniAwards/Pages/2000's.aspx
Colorado State University - Pueblo is a regional, comprehensive university emphasizing professional, career-oriented, and applied programs. Displaying excellence in teaching, celebrating diversity, and engaging in service and outreach, CSU-Pueblo is distinguished by access, opportunity, and the overall quality of services provided to its students.