CSU-Pueblo Wins Associated School of Construction Heavy Civil Competition
Release Date: February 15, 2016
Press Release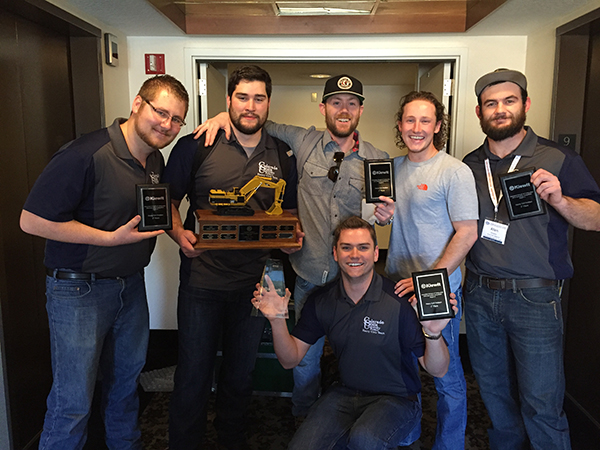 PUEBLO - Students from Colorado State University- Pueblo's Construction Management program took first place in the Heavy Civil Region 6 category of the Associated School of Construction competition in Sparks, Nevada, February 10-13.
For more than 30 years, colleges from all over the country have competed in the construction competition attended by nearly 1,000 professionals from major construction and engineering firms. More than 1300 students from 46 schools competed in 17 categories, including heavy civil, commercial, mechanical, and electrical.
Twelve colleges competed in the prestigious Heavy Civil Region 6 category, including Colorado State University-Pueblo, Colorado State University- Fort Collins, Utah Valley University, Arizona State University, University of Alaska, Boise State, Montana Tech, Montana State, Weber State, Colorado Mesa, New Mexico State, and Northern Arizona University. In addition to the Heavy Civil Team, the University took a team that competed in the Sustainable Construction and Alternates categories. Jordan Becker, a sophomore Civil Engineering Technology major from Colorado Springs, took third in the Alternates competition.
Heavy Civil teams were given instructions, plans, and specifications at 6 a.m. in order to formulate a responsive bid, risk analysis, and time schedule projection for the possible expansion of runways into the ocean of the Kodiak airport in Alaska. Faced with a 24-hour turnaround, the team navigated its way through the complicated scope of work as well as the proposed adverse conditions of completing construction operations in Alaska. The next morning at 6 a.m. the team presented its bid to panel of judges from Kiewit, the company sponsoring the project.
According to faculty coach Daniel Trujillo, the CSU-Pueblo team was up against 10 Division I schools and just one other Division II school. Boise State took second place with the University of Alaska coming in third.
"This is the third year our students competed at this conference, so to win was unbelievable," Trujillo said. "Our group was focused and intense from the time we left last year's competition. We are definitely on the map now with the industry and the other schools because of this team's efforts."
Trujillo expressed gratitude for the support of many local and national contractors for the donations of time and funding to the teams over the past three years including: Kiewit Infrastructure Company and Nathan Mares (CET grad), Schmueser & Associate, Inc. Industrial Constructors and Larry Schmueser II (CET grad), K.R. Swerdfeger Construction Inc and Ray Swerdfeger, Colorado Contractors Association and Terry Kish (CET grad), Colorado Asphalt and Pavement Association and Tom Clayton, GH Phipps and Gregg Behmer, The Propel Center and Tina Moore, HW Houston Construction and Ken West.
The winning Competing Construction Management and Civil Engineering Technology Team included:
Eli Mckinney, team captain, a senior civil engineering technology major from Elizabeth.
Allen Emmons, a senior civil engineering technology major from Placerville, Calif.
Brandon Houser, a senior construction management major from Pueblo West
Sam Elliot, a senior construction management major from Pueblo.
Trent Schaelling, a junior construction management major from Colorado Springs
Zach Stultz, a junior civil engineering technology major from Colorado Springs
For more information about the competition or the Construction Management program, contact Daniel Trujillo, assistant professor of construction management, at 719.549.2697 or daniel.trujillo@csupueblo.edu.
Colorado State University - Pueblo is a regional, comprehensive university emphasizing professional, career-oriented, and applied programs. Displaying excellence in teaching, celebrating diversity, and engaging in service and outreach, CSU-Pueblo is distinguished by access, opportunity, and the overall quality of services provided to its students.