Second City returns to bring laughs to CSU–Pueblo Feb. 16
Release Date: February 07, 2016
Press Release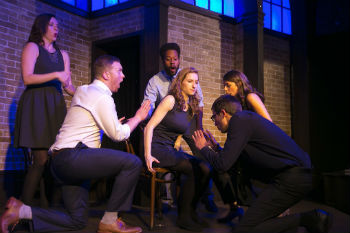 PUEBLO - Chicago's comedy and improvisational ensemble, The Second City, will provide a night of entertainment and laughs at 7 p.m. on February 16 in Colorado State University- Pueblo's Hoag Recital Hall, thanks to the Office of Student Engagement and Leadership.
Parental discretion is advised. Second City will poke fun at, joke about, and overturn any subject matter for the purpose of entertainment. The event is free and open to the public. For more information, call the Office of Student Engagement and Leadership at 719.549.2151.
The Second City has consistently produces award winning actors, directors, and other leaders of "show biz". Their alumni list reads like a who's who of American comedy, as it includes: Mike Nichols, Elaine May, Alan Arkin, Joan Rivers, Robert Klein, Peter Boyle, Harold Ramis, John Belushi, Dan Aykroyd, Bill Murray, Gilda Radner, George Wendt, Martin Short, John Candy, Bonnie Hunt, Tim Meadows, Chris Farley, Mike Myers, Tina Fey, Steve Carell, Stephen Colbert, Julia Louis-Dreyfus, Horatio Sanz, Ryan Stiles and countless others.
The initial establishment of the group in the 1950's was a small collection of writers and actors who were undergraduates from the University of Chicago. Meetings were held at Jimmy's Woodlawn Tap, a small bar on the campus, their dedication and success led to the opening the Second City Theatre in December of 1959. Today, the company has two major theatres in Chicago and Toronto, Canada; travelling nationally and internationally with groups of five to six actors/writers, and have produced television programs in both the United States and Canada. Their shows typically consist of short scenes ranging from 10 seconds to 10 minutes in length using improv, song, and more, to capture the audience. The style tends towards satire and commentary, often surrounding subjects of "social norms," political figures, and other well known and current events.
The Feb. 16 performance will feature members of the BlueCO traveling troupe that includes:
ALISON GATES is very excited to be performing for the Second City. She can also be seen with Virgin Daiquiri (iOChicago), Casual Encounters (iOChicago), Shinbone Alley (Chemically Imbalanced Comedy), and with her bud Garrett in The Fallen Elegant. Born and raised in Massachusetts, she too is small and historic.
ANDREW KNOX* is pumped to be touring with The Second City. Originally from Shelburne, Vermont, Andrew recently returned from New York where he performed in the Off‐Broadway production of BLANK! The Musical (New World Stages). In Chicago, he can be seen performing with The Improvised Shakespeare Company (iO Theater), Dogs (iO), and Baby Wants Candy. Follow him on twittergram @andrewgordonknox
GREG OTT is an actor, writer, comedian, and US Citizen. Originally a student of The Second City Detroit, he performs with The Second City Touring Company, creates videos and articles for The Second City Network, and previously toured with Second City Theatricals aboard Norwegian Cruise Lines. He's written and starred in several original works at The Annoyance Theatre, including I Approve This Message, the critically acclaimed Chris Gaines in... The Life of Garth Brooks, the forthcoming Big Sausage Pizza, and is an ensemble member of Trigger Happy longform improvisation show. His website, only available online, is greg‐ott.com.
MARIA RANDAZZO* is thrilled to tour with Second City's Mighty Mighty Blue Co. She is a native of Cleveland, Ohio and studied theater at Loyola University Chicago. She also performed with The Second City Theatricals aboard the Norwegian Epic. Past credits include shows at the iO Theater, The Annoyance Theater, The Playground Theater, Upstairs Gallery and The Public House Theater. Many thanks to The Second City and much love to Mom, Dad, friends and family. Follow her @MariaRandazzo
LIZ REUSS* is excited and honored to be a part of The Second City Touring Company. Originally from Louisville, Ky., Liz is a graduate of The Second City Conservatory Program and a former member of the The Second City Training Center House Ensemble. You can also see her around Chicago performing at iO with her team pants dot com and as part of the ensemble at ComedySportz.
JOHN THIBODEAUX* has performed in three Outreach and Diversity reviews at Second City; Eat Pray Lie, Rahm Wasn't Build in a Day, and Barackolypse Now. You also may have seen him understudy in the Mainstage revue South Side of Heaven. You can see him at the iO theater performing with Smokin Hot Dad and all around town with his good pals in the group 3Peat. Follow him on twitter; @john_thibodeaux
SCOTT FLORES‐DETER* (Stage Manager) is excited to be working with Second City. He has been a stage manager in the Chicagoland area for many, many years now. Some of his favorite productions include: Pinkalicious: The Musical (SM‐ Emerald City Theatre Company), The Nutcracker (SM ‐ Peoria Ballet), and Late Nite Catechism (SM‐ Nuns4Fun Entertainment). When he's not on the road touring with a show, he enjoys spending time with his wife and son.
DANE HALVORSON (Music Director) is thrilled to be joining BlueCO at The Second City. Dane is an actor and piano player who has worked at various Chicago theatres including Chicago Shakespeare Theater, Writers' Theatre, Provision Theater, Strawdog Theatre Company, Route 66 Theatre and the iO Theater. A graduate of the CCPA at Roosevelt University Dane comes from Big Sky country and now calls Chicago home.
JEN ELLISON (Director) has been performing, writing and directing all over Chicago with Trap Door Theatre, The Mammals, Collaboration, and The Neo‐Futurists. At the Second City, she directed the ETC revue Apes of Wrath and Life Hacks in the UP Comedy Club. In addition to teaching Ethics at DePaul University and Writing at The Second City Training Center, she is also a member of the Comedy Writing and Performance faculty at Columbia College Chicago.
* Indicates members of Actors' Equity Association, the professional union for actors and stage managers.
Colorado State University - Pueblo is a regional, comprehensive university emphasizing professional, career-oriented, and applied programs. Displaying excellence in teaching, celebrating diversity, and engaging in service and outreach, CSU-Pueblo is distinguished by access, opportunity, and the overall quality of services provided to its students.