Fall 2015 Distinguished Speaker Series line-up
Release Date: August 18, 2015
Press Release
PUEBLO
–
The Fall 2015-16 Distinguished Speakers Series at Colorado State University-Pueblo will feature a stand-up comedian and a cat daddy with additional speakers being scheduled for the Spring semester.  
The Distinguished Speakers Series features eminent national or international speakers who contribute to current thought in social or political activities, in the arts and sciences, or other realms of contemporary significance. The series is an opportunity to learn from scholars, politicians, and business people, who can inspire students and community members to think critically about current issues, trends, events, knowledge, diversity, and leadership. Events will be co-sponsored by the Office of Student Engagement and Leadership, Office of Diversity & Inclusion, Student Fee Governing Board, and the Office of Student Life. 
Admission is free to CSU-Pueblo students and the general public. All performances are made possible by activity fees paid by students.  Donations from community attendees will be accepted. 
For more information, contact the Office of Student Engagement and Leadership, 719.549.2151.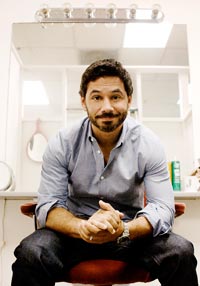 SEPTEMBER 22
Al Madrigal, 7 p.m., Hoag Recital Hall
The New York Times calls Madrigal's comedy "dynamic" and HBO's U.S. Comedy Arts Festival in Aspen named him "Best Stand-up Comedian." His unique, spontaneous, and fast-paced lyrical, story-telling style has made him a regular favorite on television. He is a regular contributor on the Emmy Award-winning The Daily Show with Jon Stewart on Comedy Central. His network credits include Welcome to the Captain with Jeffey Tambor and Gary Unmarried on CBS. He was the series lead in The Ortegas for FOX and starred opposite Martin Short in The Tax Men. In 2011, he appeared in the film Free Agents, about two co-workers who fall in love.
His late-night television appearances include Conan, The Tonight Show, Lopez Tonight, the Late Late Show, Chelsea Lately, and Jimmy Kimmel Live.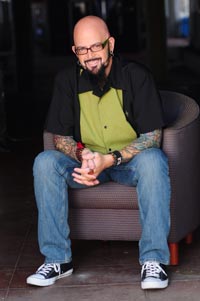 OCTOBER 14
Jackson Galaxy, 7 p.m., OUC Ballroom at universities and venues throughout the U.S.
A cat daddy by day and rock and roller by night, Jackson Galaxy, host of Animal Planet's My Cat from Hell, challenges the traditional cat lover person with his tattoo clad arms and guitar case filled with cat toys. With more than 15 years of experience with animals, Jackson has dedicated his career to promoting a compassionate world for all animals and is working toward his ultimate goal of instilling a "no-kill" policy in shelters throughout the country.
In its fifth season, My Cat from Hell involves Jackson going from home to home helping individuals whose out of control cats are turning their lives and homes upside down through a variety of holistic remedies and techniques. His fans also can tune in to his YouTube channel on Mondays to see his new online series, Cat Mojo, www.youtube.com/jacksongalaxy
His first book, Cat Daddy: What the World's Most Incorrigible Cat taught me about Life, Love, and Coming Clean, details how his work with animals helped him overcome drug addiction and personal hardships. His second book, Catification, published in 2014. He co-founded Little Big Cat, Inc., with holistic Veterinarian Dr. Jean Hofve, which provides mid-body consultations to cat guardians, focusing on the connection between physical and behavioral health. An animal activist by day, Jackson has been a dedicated musician for more than 30 years and plans to record new singles and play benefit shows to raise money for his foundation.​​​​​
Colorado State University - Pueblo is a regional, comprehensive university emphasizing professional, career-oriented, and applied programs. Displaying excellence in teaching, celebrating diversity, and engaging in service and outreach, CSU-Pueblo is distinguished by access, opportunity, and the overall quality of services provided to its students.