State passage of $1.8 million technology upgrade legislation
Release Date: May 12, 2015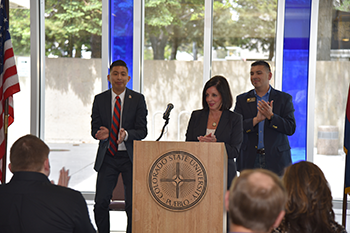 PUEBLO - Colorado State University-Pueblo today (May 13) celebrated the passage of a bill this Legislative session that allocates $1.8 million to upgrade the Information Technology datacenters and computing infrastructure on campus to accommodate the growing technological demands and changes in information technology services. This includes improvements to the Local Area Network (LAN), the wide area network (WAN), the wireless LAN (WLAN).
Championed by Senator Leroy Garcia and House Representative Daneya Esgar, the $1.8 million allocation was included in the Long Bill, which was signed on April 24 by Governor John Hickenlooper. The project will include installing a new containerized datacenter, a module that provides a self-contained environment for housing servers and other critical computer hardware. The unit includes lighting, fire suppression, monitoring power distribution, and critical cooling.
"This funding is long overdue, and I'm excited for the institution, for the students, and for Southern Colorado," said Senator Garcia. "It is gratifying that the Colorado General Assembly saw CSU-Pueblo's Information Technology needs as a priority, and I was privileged to be able to contribute to its passage."
The funding also will provide for a new containerized datacenter and new indoor and outdoor wireless access points. These improvements to the network infrastructure will decrease network downtime and prolong equipment life by providing an adequate physical environment for servers and other critical computer hardware. The bill also includes installation of 130 new network edge and distribution switches across campus. These switches connect the end user to the campus network backbone and will improve the network speed and completely reduce the data packets lost to the campus community.
This funding will support the strategic goals of the university, by providing a totally wired and wireless campus by 2020, through the replacement of old switches and installation of more wireless access points to the campus environment.
"Our Supportive Student Life goal states that the University will provide modern, comfortable, and safe campus facilities and technology to support student learning and one of the major goals is to provide a totally wired wireless campus for our students," said CSU-Pueblo President Lesley Di Mare.
Colorado State University - Pueblo is a regional, comprehensive university emphasizing professional, career-oriented, and applied programs. Displaying excellence in teaching, celebrating diversity, and engaging in service and outreach, CSU-Pueblo is distinguished by access, opportunity, and the overall quality of services provided to its students.