CSU–Pueblo honors Arwood with Threlkeld Prize as top senior
Release Date: April 21, 2015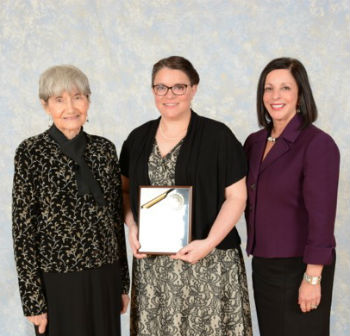 PUEBLO - A non-traditional student and aspiring accountant with a family ThunderWolf legacy has been named the 2015 recipient of the Threlkeld Prize for Excellence at Colorado State University-Pueblo. As the Threlkeld recipient, Robin Arwood will receive the first diploma of the ceremony when she graduates with a bachelor's degree in business administration (accounting) and a minor in finance through the Hasan School of Business (HSB) on Saturday, May 2 at the Colorado State Fair Events Center.
Named for the late Budge Threlkeld, a former administrator and professor, the award is presented to a graduating senior who demonstrates excellence in academic and co-curricular activities as well as in service to the University and to the community. Arwood was selected from six finalists for the Prize, and the winner was honored at the Student Leadership and Involvement Awards dinner at CSU-Pueblo on Tuesday, April 14 in the Occhiato University Center Ballroom.
To be considered for the Threlkeld Prize for Excellence, nominees must be a graduating senior (fall 2014, spring 2015, or summer 2015) who will have completed at least four semesters at CSU-Pueblo; have at least a 3.7 grade point average for the three full-time semesters prior to nomination; and relate, in writing, co-curricular activities as well as service to both the University and the community. A selection committee consisting of representatives from each college, the library, a retiree, and a professional and classified employee review the applications, then select and interview the finalists. The recipient receives a plaque and a substantial cash stipend upon graduation. Arwood's name also will appear on a permanent plaque.
Arwood follows a long list of family members to the Belmont campus, including her father, Charles Arwood, who was a member of a Pueblo Junior College championship tennis team. She began coming to campus at an early age to take piano lessons from music faculty member James Duncan. In addition to her father, who earned am applied science degree in 1964, other CSU-Pueblo graduates include an aunt, Linda Arwood Young, as well as her mother Kathie Arwood, A86, and brother Richard Fortner, A87. All except her brother were non-traditional students like herself.
She was working full time when she decided to enroll at Pueblo Community College and transfer to CSU-Pueblo. While at PCC, she volunteered with the Volunteer Income Tax (VITA) program preparing tax returns for low income people.
Currently, she volunteers with Habitat for Humanity Restore, serves as an HSB mentor to an incoming freshman transitioning to college life, HSB and TRIO tutor, and is treasurer of the Accounting Club. She was inducted into Beta Gamma Sigma, Phi Kappa Phi Honor Society and Golden Key Honor Society. Arwood has been introduced to higher education accounting as a student worker in the Business Financial Services office and may pursue a permanent position in that field. She also intends to take the Certified Public Accountants' exam and eventually pursue a master's degree in accounting.
Other students and organizations honored at the April 14 awards event included:
INDIVIDUAL AWARDS
Diane Blackwell President's Leadership Award: Freddy Correamanrique, senior, Mass Communications, Brooklyn
Service Award: Autumn Black, senior, Biology, Pueblo
Campus Collaborator Award: Anthony Schievelbein, junior, Chemistry/Psychology, Arvada
ThunderWolf Spirit Award: Sydney McIntyre, senior, Mass Communications, La Junta
Greek Leader of the Year: Guadalupe Zavala, senior, Sociology (criminology), Montrose
Champion for Diversity Award: Jonothan Stevenson, junior, Business Management, O Fallon, MO, and Adam Ward, senior, Social Work, Pueblo
Most Valuable ThunderWolf: Paul Browning, Mass Communications Graduate, Colorado Springs
Emerging Student Leader of the Year: Ashley Jones, Freshman, Nursing, Parker
Student Employee of the Year: Pratik Dasai, Graduate, Engineering, United Kingdom
Outstanding Student Organization Advisor: Katheryn Starkey, CSU-Pueblo Forensics Team
ORGANIZATION AWARDS
Membership Achievement Award: Fellowship of Christian Athletes
Emerging Student Organization: Latino Student Union
Wolf Pack Spirit Award: Psi Chi
Diversity at Work Award: "A Night with the Stars- 4th Annual Drag Show - Prizm
Educational Event of the Year: Transgender Awareness Week - Prizm
Event of the Year: Holi 2014 – CSU-Pueblo International Students' Association
Greek Organization of the Year: Lambda Theta Nu Sorority, Incorporated
Student Organization of the Year: Prizm
Colorado State University - Pueblo is a regional, comprehensive university emphasizing professional, career-oriented, and applied programs. Displaying excellence in teaching, celebrating diversity, and engaging in service and outreach, CSU-Pueblo is distinguished by access, opportunity, and the overall quality of services provided to its students.