CSU-Pueblo to Honor Kester as Distinguished Alum on May 15
Release Date: March 30, 2015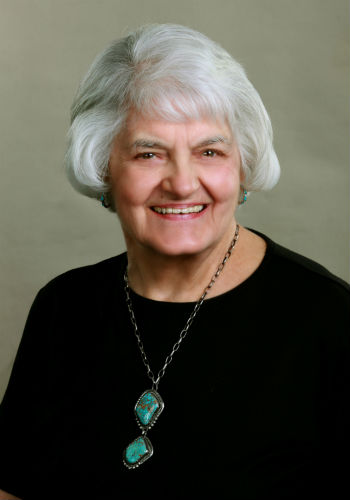 PUEBLO - A former teacher and long-time community volunteer will receive the President's Medallion for Distinguished Alumni Achievement as part of the President's Gala on May 15. Doris Kester, current executive director of the Southern Colorado Community Foundation, will join philanthropists Eddie and Neta DeRose, Jack Quinn, and former school superintendent Henry Roman at the 2015 President's Gala on Friday, May 15 in the Occhiato University Center (OUC) Ballroom. Donors underwrite the evening's expenses, guaranteeing that all proceeds directly benefit current and future CSU-Pueblo students through scholarships and programs.
A lifelong Puebloan and Centennial High graduate, Kester earned a bachelor's degree in social studies in 1969 at then Southern Colorado State Colorado and began her teaching career at Keating Junior High. She retired from teaching in 1989 after 20 years in Pueblo middle and junior high schools. Later, as an adjunct instructor for the University, she supervised student teachers and taught education classes for five years.
"Doris is an absolutely amazing individual," said CSU-Pueblo President Lesley Di Mare. "Her continued contributions to her alma mater and to our community as a whole completely personify who our graduates are - successful, caring individuals who appreciate and value their degree and significantly contribute to the betterment of our community by continuing to pay it forward."
She currently raises funds, manages the office, and prepares grants in her current role with the Southern Colorado Community Foundation. She has become legendary for the comprehensive email database she compiled through which she keeps the nonprofit community abreast of events, job openings, workshops and other news.
She has given of her time, energy, and expertise to an astounding number of civic and community organizations. Her most active role has been with the Girl Scouts, where she has served in every volunteer leadership position from local troop leader to a the National Operational Volunteer from 2001-2007, during which time she visited councils throughout the country, evaluating their adherence to the standards set forth by the national organization. She has traveled throughout the country and abroad as a goodwill ambassador sharing the Girl Scout message. She twice received the THANKS badge, the highest award given to adults in Girl Scouts.
Her lifetime of commitment to volunteerism and community service has found her as a board member and officer for numerous local organizations, including KTSC-TV, Pueblo City County Library District, Mental Health Association, Pueblo League of Women's Voters, Pueblo Education Association, our own Alumni Association, Pueblo Symphony, Pueblo Human Relations Commission, and Central Christian Church among others.
For many of these organizations she has either written or revised bylaws and is regularly called upon by local nonprofits to train boards on parliamentary procedure and responsibilities of board members.
Kester was honored by the Southern Colorado Press Club in 2010 and earned the Anna Tausig Tribute to Women Award from the Pueblo YWCA in 2006. In 2011, she was inducted into the Pueblo Hall of Fame.
The 2015 President's Gala, "A Legendary Evening," will feature the sounds of the University's students and faculty musicians. Tickets for the 2015 President's Gala are $125 per person or $1,500 for a corporate table of 8. Information on tickets, sponsorships, and corporate tables is available through the CSU-Pueblo Foundation, 719.549.2380 or at www.csupueblogala.com.
About the Award:
The CSU-Pueblo Alumni Association's President's Medallion for Distinguished Alumni Achievement recognizes the outstanding accomplishments of our alumni. Their outstanding service to their alma mater and professional achievements are considered in the nomination and selection process. Nominations are reviewed by the Distinguished Alumni Achievement Award Committee and recommendations are made to CSU-Pueblo President, Dr. Lesley Di Mare for her final approval.
For a list of past distinguished alumni award recipients: https://www.csupueblo.edu/alumni/events/distinguished-alumni-awards.html
Colorado State University - Pueblo is a regional, comprehensive university emphasizing professional, career-oriented, and applied programs. Displaying excellence in teaching, celebrating diversity, and engaging in service and outreach, CSU-Pueblo is distinguished by access, opportunity, and the overall quality of services provided to its students.