Chicago's famed Second City returns to CSU-Pueblo
Release Date: January 25, 2015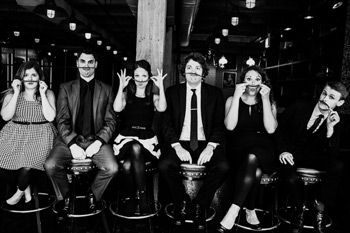 PUEBLO -Chicago's legendary comedy theatre The Second City will appear at Colorado State University- Pueblo's Hoag Recital Hall at 7 p.m. on Thursday, Jan. 29 thanks to the Office of Student Engagement and Leadership
Second City, the world's premier comedy theatre and school of improvisation, specializes in sketch comedy and has been delighting audiences for more than 50 years. The Second City has resident companies in Chicago and Toronto consisting of six actors/writers each and three National Touring Companies with five actors each. Shows consist of short scenes, songs, and improvisations ranging anywhere from 10 seconds to 10 minutes long.
Founded in Chicago in 1959, The Second City has become the premier training ground for the comedy world's best and brightest. Their alumni list reads like a who's who of American comedy, as it includes: Mike Nichols, Elaine May, Alan Arkin, Joan Rivers, Robert Klein, Peter Boyle, Harold Ramis, John Belushi, Dan Aykroyd, Bill Murray, Gilda Radner, George Wendt, Martin Short, John Candy, Bonnie Hunt, Tim Meadows, Chris Farley, Mike Myers, Tina Fey, Steve Carell, Stephen Colbert, Julia Louis-Dreyfus, Horatio Sanz, Ryan Stiles and countless others. The Second City has been called "A Comedy Empire" by the New York Times
No topic or subject matter is off limits for The Second City. If your parents asked you not to speak about it at the dinner table, chances are it will be made fun of in an evening with The Second City. Parental discretion is advised.
The event is free and open to the public. For more information, call the Office of Student Engagement and Leadership at 719.549.2151.
The Jan. 29 performance will feature members of the GreenCO traveling troupe that includes:
LISA BARBER
Lisa Barber is a small town girl who couldn't be happier to be living in the big city of Chicago working with these talented folks. A proud graduate of The Second City's Conservatory and Writing programs, she has sailed the high seas with Second City Theatricals and recently performed as an understudy in The Second City's Incomplete Guide to Everything. Check out her web series Growing Alice, recently nominated at LA WebFest for Outstanding Comedy Series, Outstanding Writing, and Outstanding Ensemble Cast, at lisakbarber.com. When not performing, Lisa can be found frolicking about town with her poodle, Sophie, who is always stirring up trouble.
JO FELDMAN grew up in Detroit and went to college in Israel and Chicago. Her first job with the Second City was as an intern at age 19. Jo has worked for NPR, toured with The Second City aboard Norwegian Cruise Line, and performed in the great state of Maine with ImprovAcadia. In Chicago she performs with Sears Tower at the iO Theater and her best friend Mike Marunowski in Feldmanowski at the Upstairs Gallery. Endless thank yous to my family, best buds, Elissa, and Andy for the constant love and snacks. Follow @hellojofeldman on twitter for her opinions on what exactly constitutes a hummus.
JULIE MARCHIANO is thrilled to be working with The Second City Tour ing Company. Previously, Julie has performed in Go, Improv, Go! at UP Comedy Club, with Second City Theatricals aboard the NCL Dawn and NCL Epic, and with Moxie, an official House Ensemble of The Second City Training Center. She performs regularly with Storytown (Stage 773), American Standard (iO), That Just Happened (CIC), and as one half of the sketch duo GUNNER.www.juliemarchiano.com.
CHUCHO PÉREZ is honored to be touring with The Second City. When he isn't on the road, you can most often see him performing solo shows, with his rap group Handsome Naked or with PimprovFriday nights. Hailing (Go Blue) from Michigan. Chucho would like to thank The Second City for providing this experience, Dionna Griffin-Irons for all she has done, and, most importantly, his parents for being supportive of him wasting his college education by pursuing an acting career.
NICK REES was raised in Iowa and drove a tractor during the summers. After earning a degree in creative writing that took him back to Iowa and a job at a gas station, he moved to Chicago to try improv. Nick's girlfriend convinced him to move to Chicago, so she gets some of the blame for all of this. In addition to the University of Missouri, he is also a graduate of the Second City Conservatory and iO. Nick has performed with the Second City Training Center House Ensembles as well as with several groups at iO and The Playground.
ADAM SCHRECK is absolutely thrilled to perform with The Second City. Originally from Pittsburgh, Adam graduated from Denison University and moved to Chicago after falling in love with the windy city while enrolled in the Second City's Comedy Studies Program. In addition to the Touring Company, Adam is also an ensemble member of The Second City Improv All-Stars and the improvised children's show Go, Improv, Go!. Adam also regularly performs at iO, The Playground, the Upstairs Gallery, and a ll around Chicago with his sketch/improv duo, Sweethearts. Adam would very much like to thank The Second City for this opportunity and his family and friends, especially Caitlin, for all their support.
FERNANDO ALVAREZ, JR.
(Stage Manager) graduated with his Bachelors in Theatre Education from University of Texas at El Paso where he stage managed numerous shows such as A Midsummer Nights Dream and The Threepenny Opera. In Chicago, he completed a stage management internship at the Goodman Theatre for their production of Chinglish, stage managed Family Devotions (Halceyon), Assisted Living (Profiles), L-Vis Live! (Victory Gardens), The Diary of Anne Frank (Metropolis Performing Arts Center), Hedwig and the Angry Inch (Haven Theatre), and assistant stage managed Be a Good Little Widow (Collaboractions), Reefer Madness and Pippin: A Bollywood Spectacular (Circle).
NICK GAGE
(Music Director) is thrilled to once more be working with The Second City. He's worked with The SecondCity before as a Music Director aboard the NCL Star in the inglorious winter of '14. He's also music directed several shows with Chicago's internet sensation Team StarKid, including two successful runs at The Second City's UP Comedy Club. Other credits include writing the music for Team StarKid's 2012 internet musical Holy Musical B@man!,and featured as an actor in 2013's Twisted: Story of a Royal Vizier.
PIERO PROCACCINI
(Director) is excited to be working with such a talented ensemble. Many thanks to his family and friends for their constant support.
Colorado State University - Pueblo is a regional, comprehensive university emphasizing professional, career-oriented, and applied programs. Displaying excellence in teaching, celebrating diversity, and engaging in service and outreach, CSU-Pueblo is distinguished by access, opportunity, and the overall quality of services provided to its students.