CSU-Pueblo journalism intern gains valuable experience in D.C.
Release Date: November 18, 2014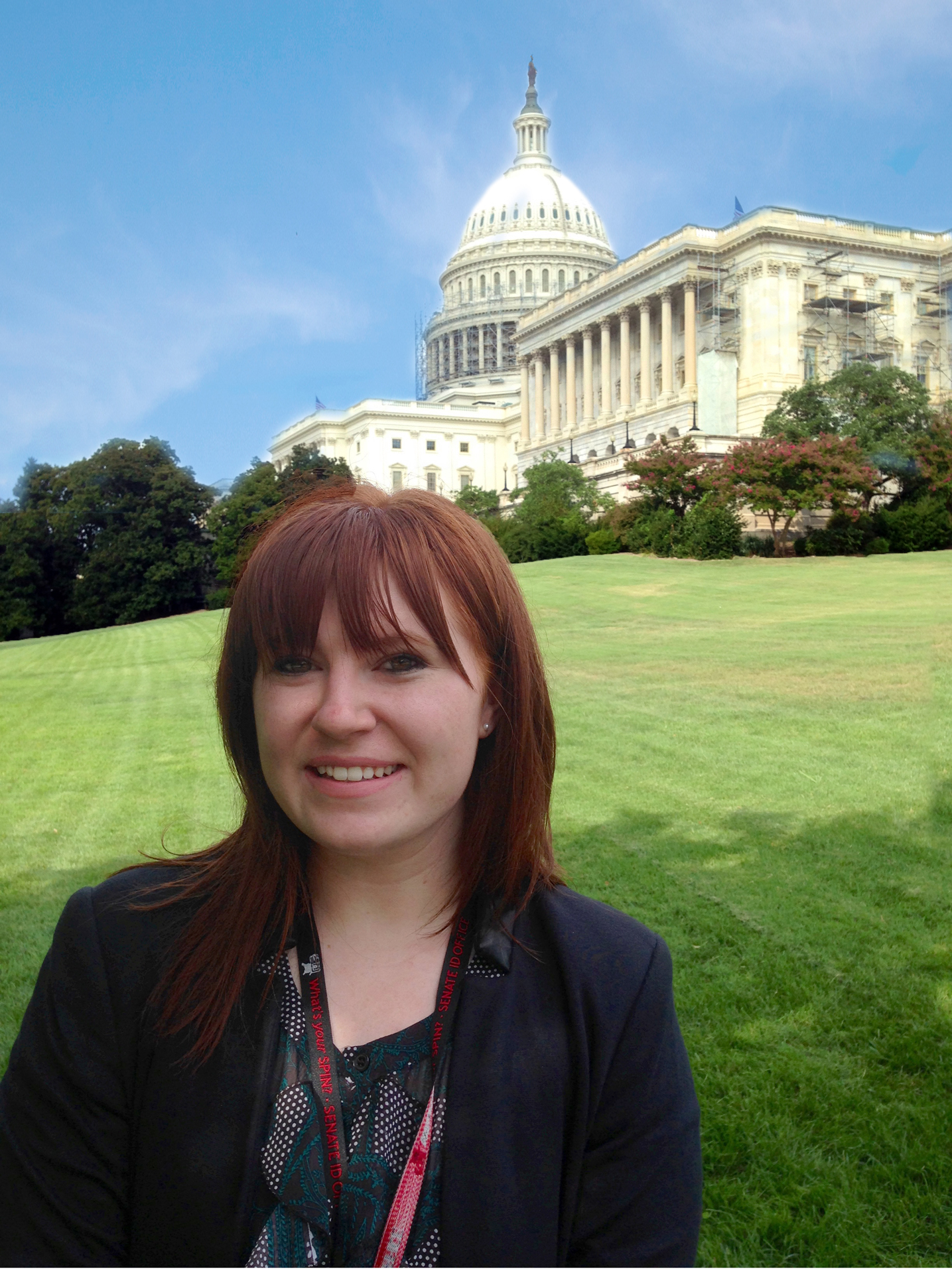 Press Release
PUEBLO – How does an aspiring journalist get into the Supreme Court chambers and on a background call with the nation's top news outlets for the latest ISIS updates?  Kara Mason, a senior mass communications major at Colorado State University-Pueblo, has done just that as an intern with the Scripps Howard Foundation this fall in Washington, D.C.  

The Pueblo West native said she relishes the hands-on experiences she's receiving. Since her arrival in D.C. in mid-September, she has been assigned to cover news at the White House, Supreme Court, and Congress as well as other events in the nation's capital. 

"The Supreme Court is definitely my favorite, and I've found I love that sort of reporting," she said. "I've been three times and have written two stories about cases argued there, both of which were criminal (Heien v. North Carolina and Yates v. U.S.)." 

Because of election season, Congress hasn't been in session for the majority of her stay, but she hopes to cover more of those hearings now that Congress is getting back to business. 

All of the stories she has written to date are published at shfwire.com, while others have been picked up by the national desk of Scripps, like one she wrote on global warming.   

"That means it's placed on every property Scripps owns, which is about 30 newspapers and TV stations," she said. 

She appreciates being able to learn more about reporting on a national level and "getting to play with the big kids." 

"One of the highlights was a story I did on ISIS where I was on a background call with White House officials," Mason said. "Every major news outlet you can think of had reporters on this call: CNN, The New York Times, Wall Street Journal, MSNBC, The Washington Post. . .and then there was me." 

The internship has given Mason a new perspective about journalism and an increased confidence in her abilities, both of which make her excited about returning to Pueblo to put her new skills to work. 

"I have complete confidence in my ability now," she said. "If I can make it Washington with a Congressional press pass and press seats at the Supreme Court, I think I can make it just about anywhere." 

Mason would encourage her classmates to get as much experience any way they can. In fact, she said transferring to CSU-Pueblo (from Kansas State University and then University of Colorado-Colorado Springs) was the best thing she could have done because of the small classes that are more like round table discussions than lectures. 

"The best way to learn in journalism is by doing, and everything at CSU-Pueblo has been pretty hands-on," she said. 

Mason said she was worried she wouldn't be prepared for the internship, especially after seeing the impressive resumes of the other interns.  

"But I hit the ground running (The White House was my first assignment), and after the first couple of articles, I knew my professors (Richard Joyce and Leticia Steffen) had prepared me for this," she said. "They've had my back from the minute I stepped foot on campus." 

Mason won't dismiss returning to national reporting later in her career and also has a Pulitzer and a book deal on her bucket list. But for now, she has a more short-term goal in mind. 

"I have this tremendous motivation to change my community through journalism work," she said.
Colorado State University - Pueblo is a regional, comprehensive university emphasizing professional, career-oriented, and applied programs. Displaying excellence in teaching, celebrating diversity, and engaging in service and outreach, CSU-Pueblo is distinguished by access, opportunity, and the overall quality of services provided to its students.