CSU–Pueblo Celebrates National Hispanic Heritage Month
Release Date: September 02, 2014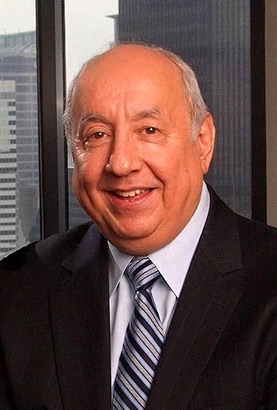 Press Release
PUEBLO – Colorado State University-Pueblo will celebrate Hispanic Heritage Month from Sept. 9 to Oct. 31, with an assortment of musical performances, food, films, service, and speakers. The month's activities will be sponsored by CSU-Pueblo's Chicano Studies Program, Diversity Resource Center, SOCO Reading Series, Student Engagement and Leadership, Alumni Association, Library and Academic Resources Center (LARC), Foreign Language Department (Spanish), College Assistance Migrant Program (CAMP), International Programs, and the Rawlings Library.

In association with the University's Distinguished Speaker Series, September activities will kick off at 7 p.m. on Tuesday, Sept. 9 in the Occhiato University Center Ballroom (OUC) 
with a presentation by one of the most highly decorated Latino leaders in the nation, Dr. Juan Andrade. Andrade received the Presidential Citizens Medal from President Bill Clinton at the White House for "the performance of exemplary deeds of service for the nation" and "for extraordinary accomplishments in promoting civic participation and leadership development." In 2011, he received the National Ohtli Award, the highest honor presented by the people and government of Mexico for distinguished service to the Mexican and Mexican American community in the United States.  

He was a political commentator on ABC for six years in Chicago and WGN radio and a columnist for the Chicago Sun-Times, the only national Latino leader featured regularly as a commentator on English language radio or television and as a columnist in a major publication. He has worked and participated in the democratization of Mexico, Guatemala, Nicaragua, Panama, Colombia, Paraguay, Bolivia, Guyana, Suriname, and Haiti. 

Two films, one about migrant workers and another about Chicano music, will be featured during the month. On Wednesday, Sept. 10, the film La Cosecha will follow a 5:30 p.m. discussion of the challenges overcome by a panel of current CSU-Pueblo students in the Diversity Resource Center. On Monday, Sept. 15, a noon lunch discussion by John Valadez and Daniel Valdez, John is the producer of the film Chicano Wave, which will precede the showing of the film at 6:30 p.m. in LARC 109. The film chronicles the music of Mexican-Americans in CA, TX and across the Southwest during the second half of the 20th century. Their music would play an important role in the struggle for Chicano civil rights and ultimately propel them from the barrio to the national stage. Daniel Valdez, an accomplished recognized artist will also give his perspective on the importance of Chicano music and Chicano artists in the Southwest.

The SoCo Reading Series will present a free reading by John Chávez and Sheryl Luna at 7 p.m. on Oct. 8 in LARC 109. Chávez is author of a chapbook Heterotopia, and co-author of a collaborative chapbook, I, NE: Iterations of the Junco. In 2009, he was the recipient of the Letras Latinas Residency Fellowship, a literary fellowship supported by the Institute for Latino Studies at the University of Notre Dame and The Anderson Center for Interdisciplinary Studies in Redwing, MN. His collection,  City of Slow Dissolve, was published by University of New Mexico Press' Mary Burritt Christiansen Poetry Series in 2012. He teaches at the University of Colorado-Boulder, and lives in Denver. Luna is the author of Pity the Drowned Horses (University of Notre Dame Press, 2005), which was selected by Robert Vasquez as the inaugural winner of the Andrés Montoya Poetry Prize. Her second poetry collection, Seven, was published by 3: A Taos Press in 2013. Luna's poetry has appeared in Georgia Review, Prairie Schooner, Poetry Northwest, Puerto del Sol, Kalliope, and the Notre Dame Review.

The complete Hispanic Heritage Month schedule follows: 

SEPTEMBER
Tuesday, September 9 – Distinguished Speaker Series: Dr. Juan Andrade, 7 p.m., OUC Ballroom. 

Wednesday, September 10 – Migrant Student Panel/Multicultural Movie Night, 5:30 pm, DRC.
Migrant Students are children and youth whose families work in the agricultural industries and who often move following the crop season. It is not unusual for Migrant students to also work in the fields alongside their families. Come learn from your peers on the challenges and barriers they have overcome to be a successful student at CSU-Pueblo. Following the discussion, stay to watch the film La Cosecha.

Monday, September 15 – Lunch Discussion with John Valadez and Daniel Valdez, Noon, DRC.

Monday, September 15 – Screening of Chicano Wave and Q & A with Director John Valadez and Daniel Valdez, 6:30 p.m., LARC 109
Mexican-Americans in CA, TX and across the Southwest create their own distinct musical voices during the second half of the 20th century. Their music would play an important role in the struggle for Chicano civil rights and ultimately propel them from the barrio to the national stage.

Tuesday, September 16 – Writing the Hispanic Experience, 12:30-1:10 p.m., PSY 220.
Hear readings from this year's Hispanic Experience Literary Magazine and launch a new call for submissions. Come listen to some of the best readings, and then try your hand at relating your own Hispanic Experience! You might be featured in next year's edition!

Wednesday, September 17 – HHM Opening Reception, 2-4 p.m., Hearthwell Lounge. 
Come celebrate the opening reception of Hispanic Heritage Month with the unveiling of the Dia De Los Muertos display. Aztec Dancers will perform and explain the meaning of culture within their performance.
Thursday, September 18 – Latinas in the West, 7 p.m., Rawlings Library. 100 E. Abriendo.
Presented by Duke University Professor Dr. Sarah Deutsch.   Mexican descent women negotiated a changing landscape in southern Colorado in the early years of the 20th century. They took a more central role in their villages as men migrated out for work, moved into coal mining towns, and ran boarding houses. They taught school, demanded their rights, and voted.

Friday-Saturday, September 19-20 – 2nd Rocky Mountain Mexican Folkloric Dance Competition, 7 p.m., Memorial Hall, presented by Omawari Mexican Folkloric Dance group.

Wednesday, September 24 – Re-Thinking Diversity Lunch Discussion, noon, DRC.

Wednesday, September 24 – Local Community Immigration Panel, 6 p.m., Hearthwell Lounge.
A discussion of current immigration legislation as well as information on the Colorado ASSET Bill and how it differs from the DACA Program. Panelists include: Blanca Trejo, Outreach and Access Coordinator: Statewide Parent Engagement and ASSET Education, Yesenia Beascochea, South Regional Organizer, Colorado Immigrant Rights Coalition, Adriana Fernandez  Ruffer, Immigration program coordinator and Immigration counselor at Catholic Charities, and current CSU-Pueblo students. Light refreshments will be served.

Monday, September 29 – Ballet Folklorico Workshop, 6 p.m., Student Recreation Center.
Ballet Folklorico is a collective term for traditional Mexican Folkloric dances that emphasize local folk culture with ballet characteristics - pointed toes, exaggerated movements, highly choreographed. Instruction on how to dance some traditional Mexican Folkloric dances from your peers in the Ballet Folkloric de CSU-Pueblo. Refreshments, music, and fun.

Tuesday, September 30 – "Barrio De Salado: Community Unification and Improvement," Exhibit and Reception 6 p.m. (LARC Lobby); Presentation & Discussion, 7 p.m., LARC 109.
Presented by Jose Ortega, a junior history major from Pueblo West.  

Tuesday, September 30, 2014 – Distinguished Speaker Series: Cirque Zuma Zuma, 7 p.m., Hoag Recital Hall.

OCTOBERThursday, October 2
 – Spanglish Day, 1-5 p.m., PSY 220
Show off your Spanglish! Celebrate Spanglish, an ever evolving language that results from our lives between Spanish and English. Could it be the language of the future? Dr. Alegría Ribadeneira, associate professor of English/Foreign Languages, will present some of the history, research, and usage of Spanglish. 
Saturday, October 4 –
 Day of Service - Los Pobres, 214 E US Highway 50 , Avondale, CO.
CSU-Pueblo will participate in a day of service at Los Pobres. This will be an opportunity for you to give back and have fun with your peers. Light lunch will be served. To sign up go to the following link: 
Volunteer Form
.
Monday, October 6 –
 History of Latino Muslims and EID Celebration, 6 p.m., OUC Ballroom.
Wednesday, October 8
 – Hispanic Heritage Month Celebration Reading, John Chávez and Sheryl Luna (part of the SOCO Reading Series), LARC 109.

Friday, October 10 – Hispanic Movie Night, 5 p.m., Belmont Residence Hall.
Come join the DRC Staff for a night of movie watching and popcorn.

Wednesday, October 15 – End of HHM Event,  Noon,  DRC
Latina/o alumni lunch dialogue event. 

Wednesday, October 29 – Dia de los Muertos Workshop, Greenhorn Hall.
Come begin to build your altars for Dia De Los Muertos on October 31. Altar supplies will be available as well as a sugar skull-making workshop.

Friday, October 31 – Dia de los Muertos Celebration, 3 p.m, LARC Lobby.
Come celebrate Dia de los Muertos and enjoy building altars and sugar skulls while learning about this traditional day in Latin America.
Colorado State University - Pueblo is a regional, comprehensive university emphasizing professional, career-oriented, and applied programs. Displaying excellence in teaching, celebrating diversity, and engaging in service and outreach, CSU-Pueblo is distinguished by access, opportunity, and the overall quality of services provided to its students.