CSU-Pueblo honors Gatchel with Threlkeld Prize as top senior
Release Date: April 18, 2014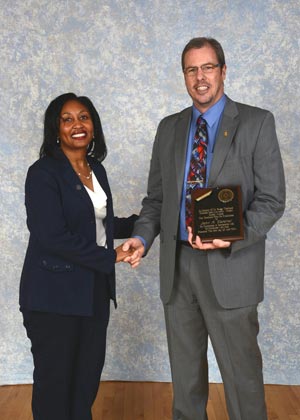 Press Release
PUEBLO – A former truck driver who will graduate with two degrees and a job as an engineer has been named the 2014 recipient of the Threlkeld Prize for Excellence at Colorado State University-Pueblo. As the Threlkeld recipient, John Gatchel will receive the first diploma of the ceremony when he graduates with both a bachelor's and master's degree in business through the Hasan School of Business' 3+2 program on Saturday, May 3 at the Colorado State Fair Events Center.

Named for the late Budge Threlkeld, a former administrator and professor, the award is presented to a graduating senior who demonstrates excellence in academic and co-curricular activities as well as in service to the University and to the community. Gatchel was selected from six finalists for the Prize, and the winner was honored at the Student Leadership and Involvement Awards dinner at CSU-Pueblo on Wednesday, April 16 in the Occhiato University Center Ballroom.
 
To be considered for the Threlkeld Prize for Excellence, nominees must be a graduating senior (fall 2013, spring 2014, or summer 2014) who will have completed at least four semesters at CSU-Pueblo; have at least a 3.7 grade point average for the three full-time semesters prior to nomination; and relate, in writing, co-curricular activities as well as service to both the University and the community. A selection committee consisting of representatives from each college, the library, a retiree, and a professional and classified employee review the applications, then select and interview the finalists. The recipient receives a plaque and a substantial cash stipend upon graduation. Gatchel's name also will appear on a permanent plaque.

After exiting the transportation industry as a former truck driver, Gatchel overcame adversity before enrolling at Pueblo Community College and later transferring to CSU-Pueblo to pursue his dream of becoming a small business owner. He has been a graduate assistant for several HSB professors, gathering statistics and creating graphs for a Major Field Test in order to help HSB retain its accreditation with the Association to Accredit Schools of Business. He also began giving back to the college community by assisting struggling students as a tutor for all HSB core subjects, as well as Spanish classes. As an intern at Power Credit Union, he has been developing a financial literacy education course for middle and high school students. He has been actively involved with the Greater Pueblo Chamber of Commerce, International Public Management Association for Human Resources, YMCA, YWCA, and Neighborhood Watch. 
 
GATCHEL IS TOP SENIOR 


 "I have known adversity in my life, and it has been this adversity that has made me stronger by teaching me perseverance," John said. "I found college to be inspiring, and I began to achieve almost immediate success in my academic courses by utilizing the discipline I had learned in the transportation industry." 

He already has accepted a position as a RapidServe Engineer in the Warranty Department of Cummins Inc.  in Columbus, IN. Within the next 10 years, he still hopes to one day open his own trucking business. 

Five other students were named finalists for the award:

OMAR CANCEL-RIOS (Fountain) will graduate in May with three bachelor's degrees, in social work, political science, and Spanish, along with a minor in history. After serving six years as a logistics specialist in the US Army and being honorably discharged for injuries suffered serving in Iraq, Cancel-Rios has set an example both for his two school-aged children and his fellow classmates about the importance of education and active community involvement. He has served as an intern both for Colorado Senator Mark Udall and Puerto Rican Senator Rosa, where he analyzed the possibilities of establishing an electronic counting system for the Puerto Rican elections. His aspirations have been based on the words of former San Juan Mayor Hector Luis Acevedo, "Justice makes sense when it changes lives and shapes new realities." Cancel-Rios dreams of influencing social policy, particularly related to educational inequalities, and developing programs that improve retention and college enrollment within communities with lower socioeconomic status. He has been accepted both to master's programs in social work at the University of Michigan and Washington University in St. Louis. 

Non-traditional student and father of two sons, DANIEL COX (Pueblo West) will earn a bachelor's degree in Exercise Science, Health Promotion, and Recreation next month. After eight years as an Army Medic with multiple tours in the Middle East, Cox left the service to pursue his dream of a Doctor of Physical Therapy degree and a career in rehabilitative medicine with patients who have received prosthetic assistive devices. He already has received multiple acceptance letters to graduate programs. According to faculty, he has been the student to whom others look for guidance and organization of study/review sessions, to mentor fellow students, and to assist with faculty in ongoing research projects. In service to the community, he has performed more than 300 hours of volunteer service in many physical therapy settings. He operated the ticket booth for CSU-Pueblo athletics and was the lead on the logistics committee for the 2013 Cup Stacking Guiness Book of World Record event. 

Pueblo native WILLIAM GONZALES has maintained a 3.84 grade point average while pursuing a unique double major in biology and accounting and a minor in chemistry. His pursuit of an accounting degree has always puzzled his professors because of his intentions of attending medical school and becoming a physician. Gonzales saw this accomplishment as setting him apart from other medical school candidates and proving that he was a well-rounded applicant.

GATCHEL IS TOP SENIOR
Working 40 nearly hours a week off campus and as an on-campus tutor, he still managed to be an active member of the Medical Science Society, Accounting Club, and Biology Club as well as a volunteer at the local Veterans' Administration nursing home. He also shadowed several local physicians, furthering cementing his desire to become a physician and to give back to his community.   

DAVID MOORE (Pueblo) will graduate in May with a 3.916 grade point average and music education degree with the goal of becoming a music teacher and pursuing master's degrees both in performance and music education. Faculty nominators describe him as having a "natural inclination to succeed both as a classroom and studio teacher as well as a performer and conductor on stage." As early as middle school, he demonstrated exceptional musical ability with selections to all-city and all-state honor bands. He has applied to graduate school at one of the premier music schools in the nation, Florida State University. Moore has had a profound impact on fellow music students and the music department through involvement with the student chapter of the National Association for Music Education, leadership positions in the ThunderWolves Marching Band, and participation as a trombonist in the Wind Ensemble, Brass Ensemble, and Jazz Ensemble.                                                 

Non-traditional student ADRIA STAUFFER (Pueblo) wanted to be a role model to her three children when she enrolled in college to improve her employment opportunities. She will graduate with a perfect 4.0 grade point average and a degree in business with hopes of a career in human resources management.  In addition to her job in the Career Center on campus, where she works both with fellow students and employers seeking to hire them, she has served on the Hasan School of Business Dean's Advisory Council, been an Associated Students' Government senator, as well as an HSB mentor. She has been able to do all this in spite of an autoimmune disease that sometimes takes its toll on her health and causes her to adapt her lifestyle to combat the symptoms and maintain her schedule as well as those of her children.  

Other students and organizations honored at the April 16 awards event included: 

INDIVIDUAL AWARDS
Diane Blackwell President's Leadership Award: Tim Zercher, junior, pre-business, Beulah
Service Award: April Vickey, senior, art, Pueblo
Campus Collaborator Award: Angelica Harvey, senior, biology Pueblo
ThunderWolf Spirit Award: Mario Ruiz, junior, foreign language (Spanish), Fountain
Greek Leader of the Year: Vanessa Emerson, senior, business mgmt., Aurora
Champion for Diversity Award: Talha Qureshi, junior, mass comm, Pakistan
Most Valuable ThunderWolf:  Sydni Riley, Sophomore, undeclared, Florissant
Emerging Student Leader of the Year: Ashley Baker, freshman, pre-business, Grand Junction
Student Employee of the Year: Freddy Correamanrique, junior, mass comm, Colorado Springs
Outstanding Student Organization Advisor: Jessica Boynton

GATCHEL IS TOP SENIOR
ORGANIZATION AWARDS
Membership Achievement Award: Residence Hall Association
Emerging Student Organization: Veteran and Military Support Club
Wolf Pack Spirit Award: Seeking Ourselves to Unite Leaders (S.O.U.L.)
Diversity at Work Award: Movimiento Estudiantil Chicano@ de Aztlan (M.E.Ch.A.)
Educational Event of the Year: World AIDS Day - Prizm
Event of the Year: A Night on Bourbon Street Annul Drag Show – Prizm
Greek Organization of the Year: Lambda Theta Nu Sorority, Incorporated
Student Organization of the Year: CSU-Pueblo Forensic Team
Colorado State University - Pueblo is a regional, comprehensive university emphasizing professional, career-oriented, and applied programs. Displaying excellence in teaching, celebrating diversity, and engaging in service and outreach, CSU-Pueblo is distinguished by access, opportunity, and the overall quality of services provided to its students.