Department of Media & Entertainment

Part of the School of Creativity and Practice
The Department of Media & Entertainment is where technological innovation meets traditional humanities and social sciences. We offer a pragmatic and professionally oriented undergraduate program designed to prepare majors for successful careers in the media and related areas and to prepare students for graduate study.
The department offers a proactive student-faculty advising experience. We have a collaborative department culture, where we like to recognize our student accomplishments and outstanding performance.
About the Department
Undergraduate Offerings

Gaming & Immersive Media, BFA

Media & Entertainment, BS
Media & Entertainment Minor
Resources
Our Labs: Through the adoption of cutting-edge technology, we offer an applied learning environment with media laboratory opportunities for our students.
Internships: The Department of Media & Entertainment offers a full range of internships at the junior and senior levels.
Courses: Our courses are interactive, applied, and project-oriented.
Reputation of Excellence
When you enroll in our academic offerings, you gain a network of mentors and role models through our strong alumni community. We maintain alumni relationships through an online database, guest speakers, and professional networking.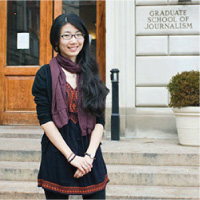 Ye Charlotte Ming
Content Editor - Getty Images
"My name is Ye Charlotte Ming, from Qingdao, China. I graduated from CSU Pueblo's Department of Media & Entertainment in 2012 and received my master's degree from Columbia University Graduate School of Journalism in 2014. I am currently based in New York, where I work as a content editor for Getty Images, the world's largest photo agency. I am also a frequent contributor to National Geographic, TIME.com, Chinafile.com and the Chinese-language news site Tencent. My writing and photography focus on telling complex social issues through human stories. CSU Pueblo is where my passion for journalism began, and the skills I learned there will always stay with me for the rest of my career."