Colorado State University Pueblo to Observe the Life and Legacy of Dr. Martin Luther King, Jr. with a Week of Service and Learning Events
Release Date: January 13, 2023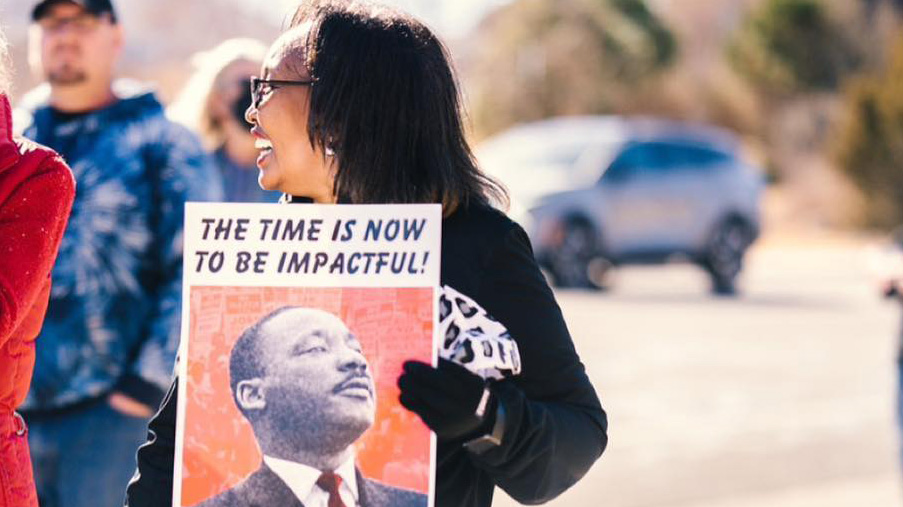 Colorado State University Pueblo will observe Martin Luther King, Jr. Day with a week of service and learning events to celebrate his life and legacy.

"In celebration of the life and legacy of Dr. Martin Luther King, Jr., our campus is engaging in service and community," Vice President of Student Affairs and Dean of Students Dr. Marie Humphrey said. "For CSU Pueblo, Dr. Martin Luther King, Jr. Day is an opportunity to live out his legacy by serving others."

In observance of the federal holiday, all but essential offices will be closed on Monday, January 16. On Monday, many CSU Pueblo employees and students will join the City of Pueblo and the NAACP Pueblo Branch for the annual "Dr. Martin Luther King, Jr. Day CommUnity March" beginning at 11:45 a.m. at the Rawlings Library. The march will be followed by speakers and a two-hour service opportunity.

"CSU Pueblo leadership is proud to join the City of Pueblo and the NAACP Pueblo Branch to celebrate Dr. King's message of civic duty and service to humankind," CSU Pueblo President Dr. Timothy Mottet shared with campus.

Spring semester classes begin on Tuesday, January 17. CSU Pueblo will welcome students back to campus with donuts and drinks in the Occhiato Student Center (OSC) as part of the theme, "Serving our Community in Honor of Dr. Martin Luther King, Jr." Student Engagement and Leadership, in partnership with the Center for International Programs and Inclusive Excellence, will provide an opportunity to learn about the legacy of Dr. Martin Luther King, Jr. and the importance of serving others from 9 to 11 a.m.

On Wednesday, January 18, a "Roundtable Lunch at the Pack Cafe" is scheduled from 11:30 a.m. to 1 p.m. The community is invited to join in and engage in conversation about volunteerism and services available in the Pueblo Community while enjoying and learning about some of Dr. King's favorite foods. CSU Pueblo will provide free lunches for the first 100 students who pick up a voucher from The Center, located in OSC 201. Vouchers may be picked up at Tuesday morning's event or before 11:30 a.m. on Wednesday. Faculty and staff may attend lunch at no cost with a current CSU Pueblo employee ID. The cost of the all-you-can-eat lunch for the public is $10.22.

Finally, on Thursday, January 19, the CSU Pueblo Black Students Union, NAACP Pueblo Branch, and representatives from CSU Pueblo and the community will discuss social justice during a public panel discussion titled, "Social Justice and the Status of America Today." The panel is scheduled from 5:30 to 7:30 p.m. at the OSC Fireplace. Heavy hors d'oeuvres will be served, and a cash bar will be available. The event is free and open to the public.