Women's Cross-Country Team Finishes 6th at NCAA Championships, Two Runners Receive All-American Honors
Release Date: December 06, 2022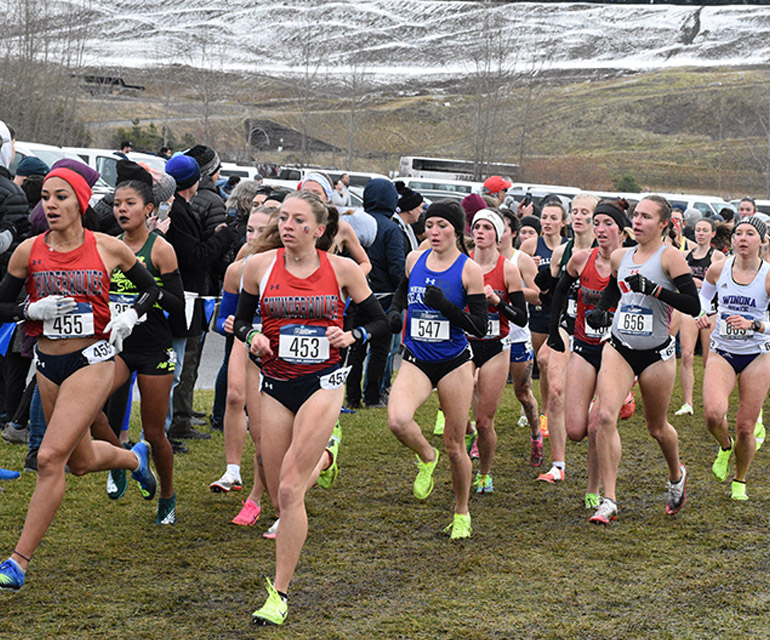 University Place, Wash. - CSU Pueblo women's cross-country team finished sixth at nationals this weekend. After being ranked 23rd at the start of the season, the team fought their way to the NCAA Division II Championships. Sophomore Helen Braybrook and Graduate Student Yasmine Hernandez both earned All-American honors following their performance at the meet. This is the highest finish for women's outdoor cross-country in the program's history.
"I will never take for granted how special it is to see student-athletes compete at the highest level of their sport," Vice President for Athletics and Strategic Partnerships Dr. Paul Plinske said. "This season, we had five out of six fall sports competing at the NCAA Division II Championship events. I am proud of our women's cross-country team and the work that they put in to achieve this historic accomplishment for our program."
The seven-person team at the NCAA Division II National Championships Festival included Helen Braybrook (Soph.), Yasmine Hernandez (Sr.+), Margot Thomas-Gatel (Jr.), Bethany Donnelly (Fresh.), Claire Pauley (Sr.) and Taylor Holland (Jr.). "This was the best field in Division II history," Head Coach Matt Morris said. "As I was standing there watching the team compete, it was going so fast, but I reflected on how special of a moment this is for our team and our program," Coach Matt Morris said. "This year marked the 50th anniversary of Title IX, and I was thinking of Jesse Banks and all the women that have gone before that fought and paved the way for future generations to make this moment possible for our team today."
The women's team finished in the top 30 at the NCAA South Central Regional Championships earlier in November, allowing them to qualify for the national championship competition. Hernandez, Thomas-Gatel, Donnelly,  Baybrook, and Pauley all finished in the top 30 during the 6k race.
"I am incredibly proud of all that this team has accomplished, both athletically and academically," President Timothy Mottet said. "I know the personal sacrifices the team has made to get to this level of competition. Special thanks to Coach Morris for all that he has done and for all the hours and weekends he has committed to his amazing team."
The women's and men's teams earned fifth and sixth place, respectively, at the RMAC Championships in Durango earlier last month.