Reflect, Rejuvenate, Celebrate; in Honor of WORLD AIDS Day
Release Date: December 01, 2022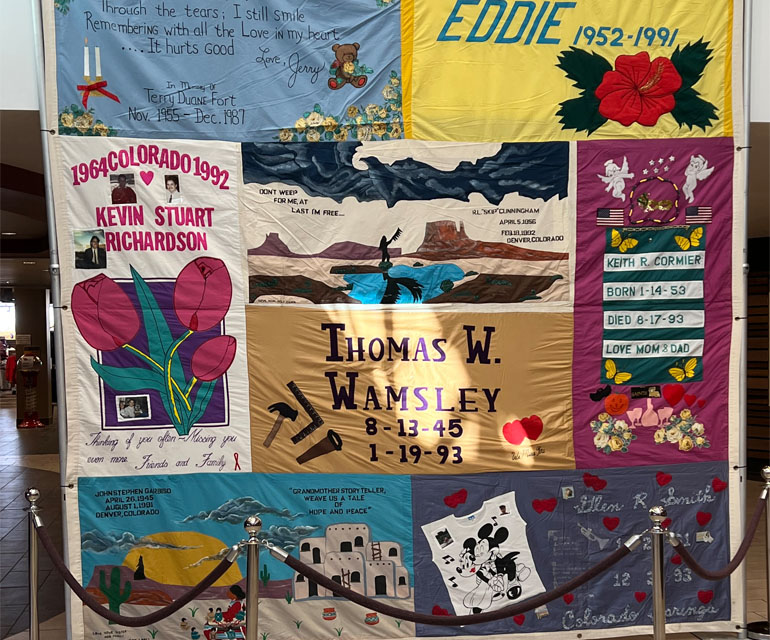 This week, in observation of World AIDS Day, CSU Pueblo is hosting events to raise awareness to the day and disease and remember those that have been lost to AIDS-related illnesses. Events include an online forum, onsite STD and HIV testing, as well as performances and visual representations of the impact of the disease.
The 2022 national theme for World AIDS Day is "Putting Ourselves to the Test: Achieving Equity to End HIV." It encourages people to unite globally to eliminate the disparities and inequities that create barriers to HIV testing, prevention, and access to HIV care. First observed in 1988, World AIDS Day is a day to unite to help end HIV and remember those lost to AIDS-related illnesses.
On Wednesday, November 30, a virtual forum was held and included presentations by Dr. Katherine Frasca, the Medical Director of the PrEP Program at CU Anschutz, and Auston Carlson, the PrEP Navigator for Colorado Health Network. The PrEP forum centers on a medicine that helps prevent HIV.
On Thursday, December 1, the Pueblo Community Health Center will host Reflect, Rejuvenate, Celebrate, featuring a variety of speakers, the CSU Pueblo Combined Choir, the CSU Pueblo Ballet Folklorico, and Native American Drummers, the event begins at 5 p.m. in the Occhiato Student Center. 
Block panels from the National AIDS Memorial Quilt are also on display in the OSC. The quilt is a 54-ton tapestry, featuring 50,000 panels, dedicated to more than 110,000 individuals who have been affected by AIDS-related illnesses.
On Friday, December 2, the Wolfpack Wellness Center will offer free, walk-in, STD and HIV testing. The testing takes less than 30 minutes and is located in the Wolfpack Wellness Center, room 172, in the Center for Integrated Health and Human Inquiry.