CSU Pueblo Homecoming Royal Announced
Release Date: October 11, 2022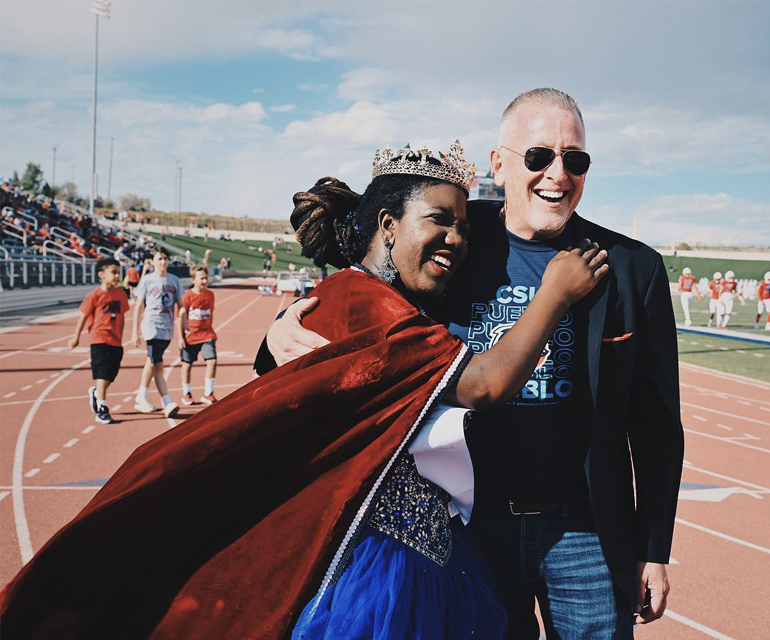 Colorado State University Pueblo hosted its annual homecoming game Saturday, October 1st against Fort Lewis. During the halftime break, Student Engagement, Events and Leadership presented the coronation ceremony for the 2022 Homecoming Royal and Homecoming Court. The crown is awarded to the nominee who receives the most popular votes, as decided by the campus community.
This year, there were eight candidates for Homecoming Royal. On-hand to crown this year's winner was the 2021 Homecoming Royal, Sonia Caban. She presented Myracle Wade with the honors. Wade is an active member of the CSU Pueblo campus community and is pursuing a major in K-12 music education. She was escorted by Pack Women's basketball guard, Ro Dominguez.
"Winning homecoming royalty has truly meant a lot to me, more than you know. Having this title shows that I am a positive influence and representative for this school, as well as being a big figure on campus. I felt special. It brought up my self-esteem, as it has recently got lower," said Wade.
Baylee Mee received the honor of the first attendant. Mee is a junior pursuing a bachelor's degree in criminology and was escorted by Caira Lessick and Logan Naves.
Jill Bishop was named the second attendant. Bishop is a senior mathematics major and was escorted by the Pack Softball team.
The other five Homecoming Royal candidates included Brianna Sammons, Michelle Wells, Scout Koch, Margot Thomas-Gatel, and Gabriela Peraza.
CSU Pueblo hosted several successful events during the Homecoming and Family Weekend and welcomed alumni from the last 60 years to campus. Festivities officially kicked-off Friday evening with the dedication ceremony of the newly installed Iconic Image, located on the grassy area near the Library and Academic Resource Center, followed by the Athletics' Department annual Hall of Fame banquet and induction ceremony of the 1996/1997 Volleyball Team, Darius Allen, Jessee Hillhouse, Mike Massaro, Kelly Nogare Reji Pollard, and Jim von Loh. On Saturday, over 300 people attended the alumni tailgate. The marching band and the department of art and creative media hosted events celebrating and reminiscing with their alumni base.