CSU Pueblo names Gena Alfonso as the new Public Information Officer and Director of University Marketing, Communications, and Community Relations
Release Date: September 22, 2022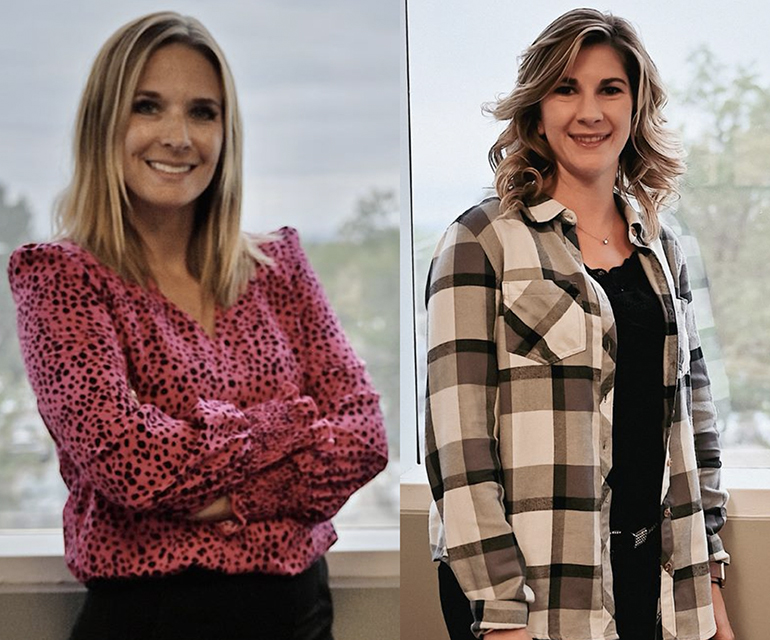 Top left to right: Gena Alfonso, Jenna Lovato
Pueblo – CSU Pueblo names Gena Alfonso as the new Public Information Officer and Director of University Marketing, Communications, and Community Relations. The move comes following the announced December 2022 retirement of Greg Hoye, who has served as the Executive Director of Marketing, Communications and Community Relations since 2018. Hoye was instrumental in professionalizing university marketing and communications and aligning our campus with our CSU System. He also led the university's rebranding efforts and instituted digital marketing into the marketing mix.
"I am extremely grateful for the opportunity to end my 30-year career in higher education at CSU Pueblo," said Hoye. "There are so many talented people I have been fortunate to work with and come to respect, including Gena. I have no doubt she will do an amazing job leading MCCR to new heights. I wish her all the best in her new adventure."
Alfonso has worked at CSU Pueblo since 2009, beginning her career in Student Affairs where she assisted the division with marketing, events, and logistics for five years before being promoted to the Director of Student Engagement and Leadership in 2014, where she has led the creation of annual events such as PackFest and coordinated the return of Commencement to the CSU Pueblo campus. She was named as the Assistant Dean of Student Engagement, Events and Leadership in May 2020. Alfonso earned a Master of Professional Studies with an emphasis in Marketing and Communication from the University of Denver in 2015 and is a proud alumna of CSU Pueblo, where she earned her bachelor's degree in mass communications.
"As a Pueblo native, CSU Pueblo has always held a special place in my heart and I am excited to be a part of the innovative changes that are taking place on our campus. I look forward to telling the stories of our amazing students, faculty, and staff and building on the foundation built by my predecessors," said Alfonso.
Alfonso has produced several high-profile events on and off campus during her tenure at CSU Pueblo and has extensive experience in graphic design, external communication, event planning and management, budget management, student affairs, and higher education administration.
As part of the university's commitment to the guiding principles of developing people and engaging place, the Department of Marketing, Communications and Community Relations Is expanding. Under the leadership of Dr. Donna Souder Hodge, who serves as the Vice President of Operations and Advancement, the MCCR department will work in tandem with Dr. Souder Hodge and her team to continue providing excellent customer service to the public and support campus initiatives to fulfill Vision 2028 and become the People's University of the Southwestern United States. 
 "I am thrilled to have a marketing, communications, and community relations office staffed with experienced employees who have a demonstrated commitment to our institution," said Dr. Souder Hodge. "These changes fulfill our guiding principles of developing people and impacting society through our work with internal and external communications."
Jenna Lovato, who has worked at the university for nearly a decade managing the award winning student-led radio station, has accepted the Director of University Event Sales and Marketing position. Lovato will be responsible for managing external events, maximizing opportunities between the public and the campus and marketing efforts for Aladdin Campus Dining.
According to Vice President of Student Affairs, Dr. Marie Humphrey, Dr. Lucie Menjivar will act as the Interim Assistant Dean of Student Engagement, Events and Leadership. "Dr. Menjivar has extensive experience working at larger institutions and brings a new perspective on how to implement ideas from larger schools to our tight-knit campus. I have full confidence in her ability to make a positive difference in the lives of students and provide support for professional staff, while building on the work Alfonso has established at SEAL."
For more information on CSU Pueblo's Marketing, Communications, and Community Relations team, please contact Kelsey Herman, administrative assistant, at kelsey.herman@csupueblo.edu. For additional information on booking your next event or meeting, contact Jenna Lovato at jenna.lovato@csupueblo.edu or at 719-549-2484.