CSU Pueblo Professor Earns Prestigious Fulbright Scholar Award to Represent MSW Program in Vietnam
Release Date: September 01, 2022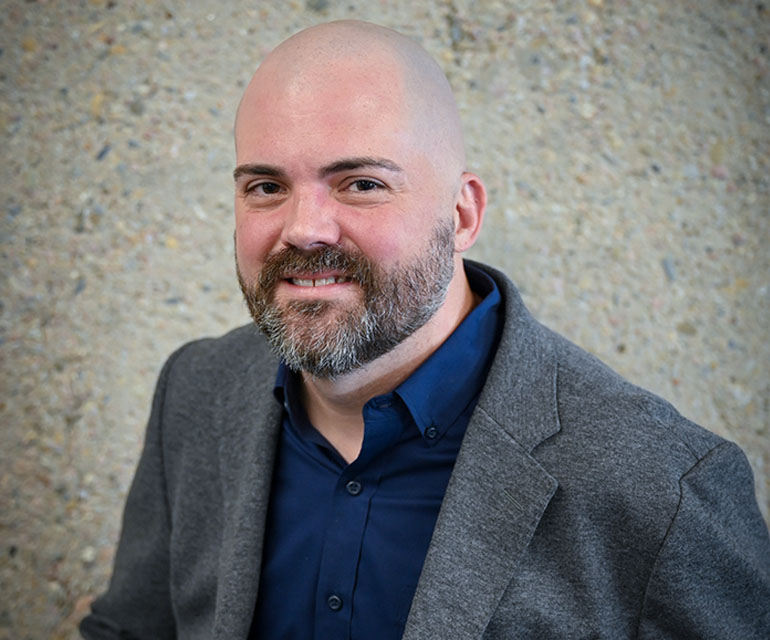 Colorado State University Pueblo is pleased to announce that Trevor G. Gates Ph.D., Assistant Professor in Social Work in the College of Humanities, Arts, and Social Sciences at CSU Pueblo has received a Core Fulbright U.S. Scholar Program award for the 2022-2023 academic year from the U.S. Department of State and the Fulbright Foreign Scholarship Board.
Gates is among over 800 U.S. citizens who will conduct research and/or teach abroad for the 2022-2023 academic year through the Fulbright U.S. Scholar Program. Fulbrighters engage in innovative research and expand their professional networks, often continuing research collaborations started abroad and laying the groundwork for forging future partnerships between institutions. Upon returning to their home countries, institutions, labs, and classrooms, they share their stories and often become active supporters of international exchange, inviting foreign scholars to campus, and encouraging colleagues and students to go abroad. 
"We are pleased and proud of Dr. Gates' prestigious Fulbright Scholar award," said Chad Kinney, Interim Provost, and Executive Vice President of Academic Affairs. "It is a testament to his commitment to his work, the social work program and his teaching of gender, sexual, and cultural diversity issues around the world," said Kinney.
As a Fulbright Scholar, Gates will be leading a team of faculty and community members, and others to revitalize the curriculum on gender and sexuality issues in social work in the Thai Nguyen region in North Vietnam. He will also teach an interdisciplinary seminar called 'Sexual, Gender, and Cultural Diversities,' as well as work with the international office to facilitate exchanges to and from Vietnam. 
"I am excited to represent CSU Pueblo's Masters of Social Work program as a Fulbright Scholar and will work on a project for teaching gender, sexual, and cultural diversity issues in regional Vietnam," said Gates. "Our social work programs prepare students for working with people in need to help address social issues, including practice with lesbian, gay, bisexual, transgender, and queer+ (LGBTQ+) people. I am looking forward to bringing my knowledge of LGBTQ+ affirming practice to North Vietnam and to strengthen our commitment to international social work practice," said Gates.
As an internationally recognized scholar in the field of social sciences and sexual, gender, and cultural diversity issues, international travel and education are nothing new to Gates. He co-facilitated a biannual two-week study abroad course in Germany for social work students; served as an international guest lecturer on social work and diversity at Danang University, Vietnam; facilitated one-on-one tutoring with adults who had recently migrated to the United States from South Korea; and taught conversational English to primary/secondary students in South Korea. 
"Dr. Gates is a consummate professional representing the very best of social work values to include an emphasis on service, social justice, the importance of human relationships, and the dignity and worth of a person," said Pam Richmond, Ph.D. Social Work Chair. "These values are demonstrated by his passion and devotion to understand and teach gender and sexual diversity both nationally and internationally. The rich experiences Dr. Gates gleans from the opportunities afforded him as Fulbright Scholar will ultimately benefit students and colleagues in the Department of Social Work and the CSU Pueblo Community," said Richmond.
In addition to his Fulbright Scholar Award, Gates has published numerous pieces, nationally and internationally, relating to teaching cultural humility for social workers serving LGBTQI Aboriginal communities in Australia, teaching mental health and wellbeing online in a crisis, exploration of lesbian, gay, bisexual, transgender, and queer volunteerism in North American social service organizations, and human rights and education for Gambian young women during COVID-19, to name a few. 
In addition to his teaching and writing, Gates is a much sought-after speaker, presenting on assorted topics at numerous conferences around the world, including gender and student customer service expectations in Taipei, Taiwan, preparing human service students for lesbian, gay, bisexual, transgender, and queer affirmative practice in online classroom settings in Bangkok, Thailand, and other socially diverse topics in the Philippines, South Korea, and numerous conferences in the United States.  
Prior to coming to CSU Pueblo in 2021, Gates was a Senior Lecturer in Social Work in the School of Law and Society at the University of the Sunshine Coast, Australia, from 2017-2021, and an Assistant Professor in Social Work in the College of Education and Human Services at the College at Brockport, State University of New York from 2012-2017.
Fulbright Scholar awards are prestigious and competitive fellowships that provide unique opportunities for scholars to teach and conduct research abroad. Fulbright scholars also play a critical role in U.S. public diplomacy, establishing long-term relationships between people and nations. Gates has been granted a Core Fulbright U.S. Scholar award., which provides short-term study and travel seminars abroad for U.S. educators for the purpose of improving their understanding and knowledge of the peoples and cultures of other countries.
"In the one year that Dr. Gates has been at CSU Pueblo, he has established himself as an advocate and leader in gender, sexuality and diversity issues," said Leticia Steffen, Dean of the College of Humanities, Arts and Social Sciences at CSU Pueblo. "His selection into the prestigious Fulbright Scholar Program speaks to his expertise in these areas. I look forward to hearing what he learns during his time in North Vietnam, and I am confident that he'll bring back some valuable perspectives to share with his CSU Pueblo colleagues. We're very fortunate to have him among our faculty," added Steffen.
For over 75 years, the Fulbright Program has provided more than 400,000 participants - chosen for their academic merit and leadership potential - with the opportunity to exchange ideas and contribute to finding solutions to challenges facing our communities and our world. 
Gates will also be joining the ranks of many distinguished program participants. Fulbright alumni have become heads of state, judges, ambassadors, cabinet ministers, CEOs, and university presidents, as well as leading journalists, artists, scientists, and teachers. Their ranks include 61 Nobel Laureates, 89 Pulitzer Prize winners, 76 MacArthur Fellows and thousands of leaders across the private, public, and non-profit sectors. 
Gates is one of 10 faculty members at CSU Pueblo to receive a Fulbright award, and the first since 2008.