Institute of Cannabis Research Announces Research Grantees
Release Date: August 10, 2022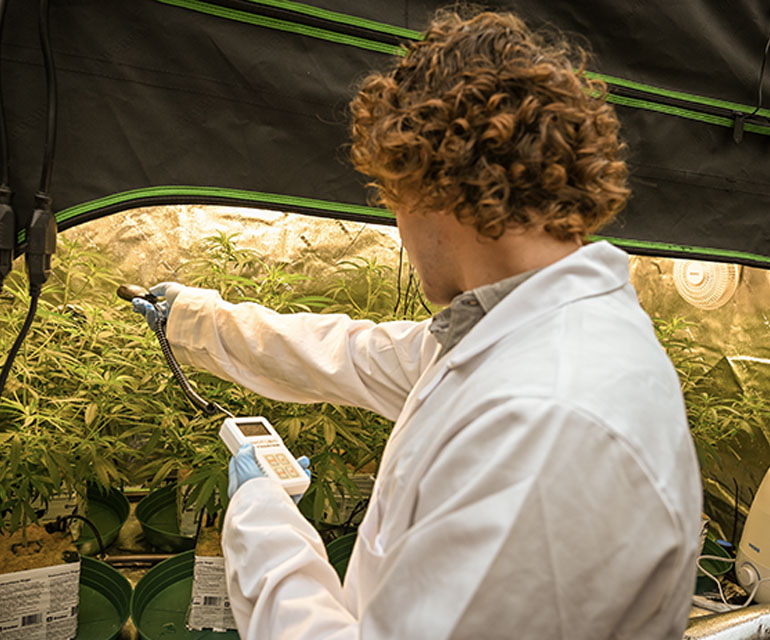 Pueblo— The Institute of Cannabis Research (ICR), located at Colorado State University Pueblo, recently completed its second statewide competition for cannabis research funding, and awarded nearly $1 million in grant dollars for the coming year. The projects include research into the potential therapeutic effects of widely available cannabinoid products on traumatic brain injury-related deficits in cognitive function and self-reported anxiety, depression, sleep and pain; a study of the impact cannabis can have on Autism spectrum disorder-related seizures; and a deep dive into the impact that substances called secondary metabolites have on key hemp pests.
The FY23 Cannabis Research Award Opportunity received research funding requests in excess of $10.5 million. The applicant researchers represented five institutions of higher education, one nonprofit research organization and one private entity holding required state licensing.
After extensive review by leading experts, five projects were selected to receive a collective $930,000 this year. These projects have an anticipated start date of Oct. 1 and will be conducting research for the next three years.
"The ICR leads Colorado, and in fact our nation, in taking the social responsibility to objectively investigate the most important positive and negative human impacts of cannabis on society," said Jeff Smith, interim director of the institute. "The ICR employs national best practices in scientific inquiry, and actively disseminates the results of its research in a variety of formats with an aim to guide best possible outcomes, and to limit potential harms, caused by cannabis use."
Applicants proposed a wide range of research projects covering medical and clinical research; public health and social impact research; and biology, chemistry, and agronomic research. Proposals were evaluated by scientific review panels comprised of subject-matter experts from around the United States and Canada.
The five projects recommended for funding will be led by researchers from three universities and one private company. Project titles and lead investigators include:
"Cannabinoids and traumatic brain injury: A randomized, placebo controlled trial" – Dr. Kent Hutchison, University of Colorado Boulder
"Preventative and treatment effects of broad-spectrum cannabidiol (CBD) in a rat model of comorbid autism and epilepsy: A mechanistic study" – Dr. Christopher Lowry, University of Colorado Boulder
"Isolation and pharmacological evaluation of phytocannabinoids for Alzheimer's disease" – Dr. Duncan Mackie, MedPharm Holdings and Dr. Cinnamon Bidwell, University of Colorado Boulder
"Examining the adaptive roles of plant defensive chemistry on pest resistance in cannabis sativa" – Dr. Punya Nachappa, Colorado State University
"Potential health effects of heavy metals in cannabis flower, concentrates, vape devices, and vape emissions" – Dr. Mike Van Dyke, University of Colorado Anschutz Medical Campus
Grant amounts range from $152,406 to $217,101. Projects could request up to three years of funding for as much as $500,000 per year over the project period. Information about these funded projects, other currently funded projects, and previously supported research can be found on the ICR website.
"Colorado, through its implementation of the ICR, is a leader in providing resources to support this essential and important research. However, much more research will be needed in the years to come, so that we can keep pace with the rapidly growing industry surrounding cannabis production and implementation of its various uses," Smith said "ICR support for this new round of research will add to our continuing projects, and will further support the production of truthful, real knowledge about critical aspects of cannabis use which are important to the people of Colorado, and far beyond."
For further information about, or to support the ICR, visit the Institute of Cannabis Research.