Colorado Governor Jared Polis Was On the Colorado State University Pueblo Campus on Friday, May 27th to Sign Two Bills
Release Date: May 27, 2022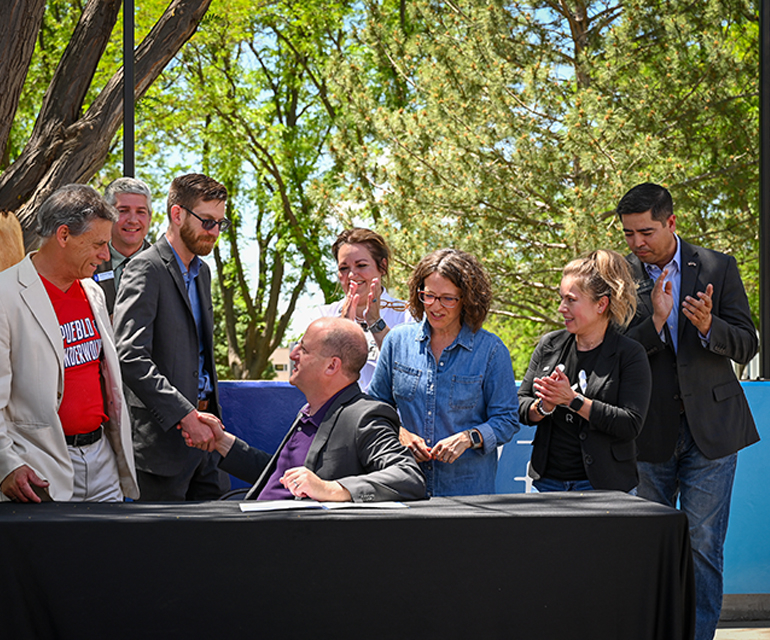 Pueblo— Colorado Gov. Jared Polis was on the Colorado State University Pueblo campus Friday, May 27th to sign two bills that will create a new institution of transportation technology on campus and to help make higher education more accessible for military veterans.
House Bills 22-1365 and 22-1407 have "huge implications for CSU Pueblo, but (also) for Southern and this entire region," said Dr. Donna Souder Hodge, Vice President of Operations and Advancement at CSU Pueblo. "The university has been the beneficiary of so much support from our state and Gov. Polis in particular."
Having the Governor and his team on hand to sign the bills, she said, was "A great sort of closing of the circle for CSU Pueblo, our students, and our faculty and staff."
The first bill to receive the governor's signature, HB22-1407, allows veterans to audit courses – which is to say they may attend a class without receiving academic credit – for a reduced rate. The newly minted law caps a veteran's audit costs at $10 per class, for up to three classes per semester.
"We want to be the very best state for veterans to make their home and part of that is of course making sure they can get the skills and knowledge they need to thrive," Polis said. "You really can't beat that for under $10, many campuses are free, a veteran can audit a course and see if it's for them."
HB22-1365, meanwhile, pushed the campus to a leading role in surface transportation research and development.
"This bill creates the Southern Colorado Institute of Transportation Technology right here at CSU Pueblo," the governor said. "What an exciting time for transportation: New technologies, electric, train, cars, coupled with an unprecedented federal and partisan investment in infrastructure. We also, thanks to the work of our legislators here in Colorado, passed a state bipartisan infrastructure bill last session.
"We really want Pueblo to be front and center on the research related to efficiency, safety and security of railroad and ground and intermodal, new forms of transportation. We want to lead the way."
Transportation impacts everybody, the governor said, and the goal is to have CSU Pueblo be a leader for "our transportation revolution in the next century."
The new institute, the full details of which are slated to be released later this summer, is charged with conducting research related to the safety, security and innovation of railroad, ground and intermodal transportation, as well as general issues related to the state's surface transportation. It must also support government and academic surface transportation research, under the language of the bill, and act as a competitive funding resource for Colorado businesses that are developing and testing surface transportation technologies.
State Rep. and CSU Pueblo Alumna Daneya Esgar (D-Pueblo) spearheaded the bill in the House, while Pueblo Freshman Sen. Nick Hinrichsen served as its lead advocate in the Senate.
"We know that CSU Pueblo isn't just about Pueblo," Esgar said, "it's about an entire state.
"This is a great way to move forward and help students here, in this area, really get an education and learn, through on-the-ground training, exactly what we need to further the transportation mechanisms that we have in place and hopefully move forward in the future."
Hinrichsen said establishing the institution here made sense, given the city's history of building the West.
"When we're looking at the transportation of the future, it's not at all the transportation of the past," Hinrichsen said. "We're talking about moving people, we're talking goods and services, but it's so critical to environmental equity and economic mobility, and being able to have … that next chapter."
The Governor's signature came on the same day that President Joe Biden approved $450 million in funding for the creation of such institutions across the nation.
The ceremony took place on the new Patio at the Occhiato Student Center. After his campus visit, the governor signed bills related to collective bargaining and funding for the State Fair Master Plan at the County Courthouse and State Fairgrounds, respectively.