Commencement Celebrates 700 Graduates with a Pack of 8,000 in Attendance
Release Date: May 09, 2022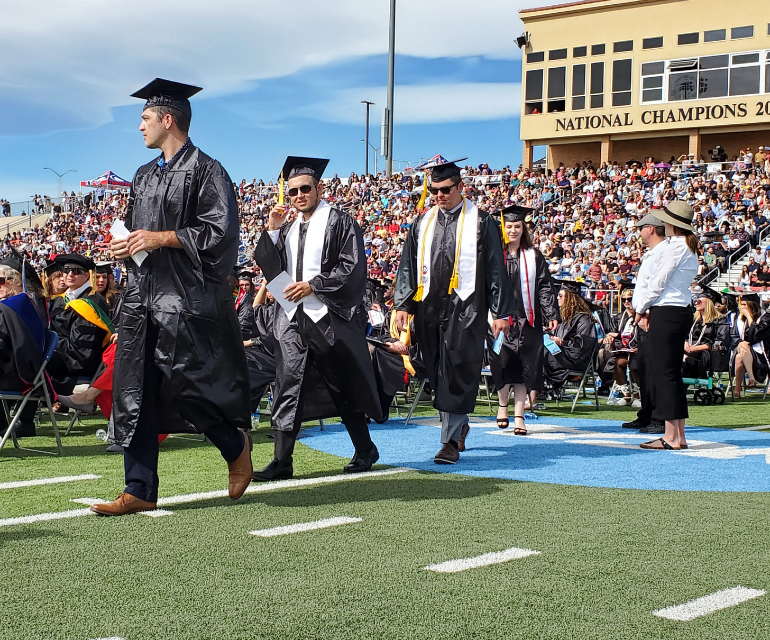 Pueblo— Colorado State University Pueblo and nearly 8,000 attendees celebrated approximately 700 graduates on Saturday, May 7. Commencement was held at the ThunderBowl and included graduation ceremonies at 8:30 a.m. and noon.
"Saturday's commencement was a wonderful day for our campus, as we celebrated the success of our graduating students," said CSU Pueblo President Timothy Mottet. "The entire CSU Pueblo community comes together in support of this milestone, and the ceremonies were meaningful recognitions of the hard work and determination that led our students to graduation."
The cheers and praise rolled through the ThunderBowl as parents, family members, friends, and the CSU Pueblo community gathered in support of graduates receiving their degrees.
During the first ceremony, the graduates of the College of Humanities, Arts and Social Sciences, the College of Science, Technology, Engineering and Math, and the Division of Extended Studies were honored. The second ceremony recognized the graduates from the College of Health, Education and Nursing and the Hasan School of Business.
CSU Pueblo alumna and Chief Operating Officer of the Space Foundation Shelli Brunswick served as the commencement speaker for both ceremonies. Brunswick's message to students centered on three essential lessons she learned throughout her career: taking advantage of every opportunity, trying anyway, and not fearing the unknown. She shared stories of failure, resilience, and ambition through personal anecdotes and student testimonials that came from the time she spent interviewing some of this year's graduates. Brunswick also spoke about her U.S. Air Force experience, which eventually led to her current space-centered career.
"Today, you are closing one chapter in your journey and starting to write the next. Thanks to CSU Pueblo, you have the knowledge, skills and ability to navigate the unknown future. And just like SpaceX and your fellow graduates, you have key insight on lessons learned," said Brunswick. "Take advantage of every opportunity, try anyway – even when the odds are against you, and don't fear the unknown."
This message is especially powerful for CSU Pueblo's newest degree programs and their cohorts. In 2020, the School of Nursing awarded the first Master of Science (MS) to Doctor of Nursing Practice (DNP) degrees. This commencement ceremony saw the second cohort of MS to DNP degrees awarded with the newest graduates hooded by their predecessors.
At the end of both ceremonies and much like the alumni who came before them, the graduates were welcomed by the signature Alumni Association tent to commemorate their next chapter with CSU Pueblo.