Colorado State University Pueblo Welcomes Kappa Alpha Psi Chapter to Campus
Release Date: February 21, 2022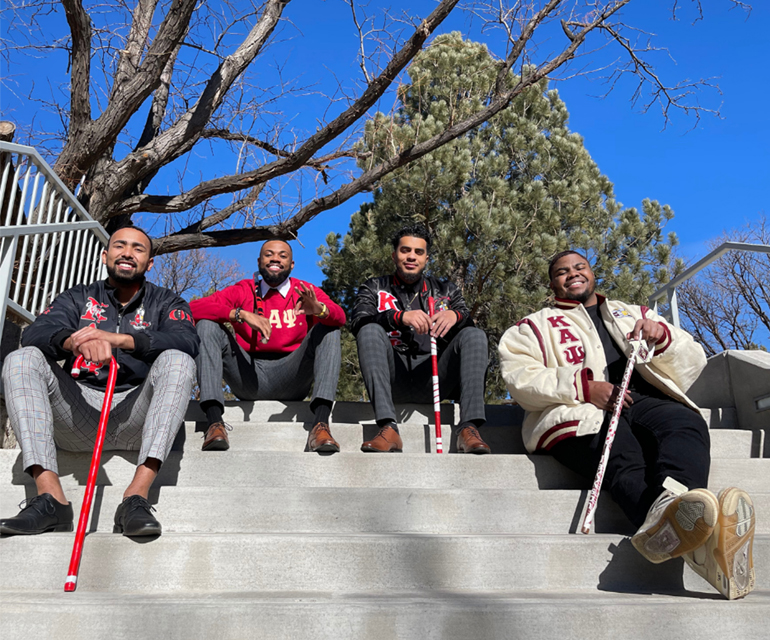 Pueblo— Colorado State University Pueblo welcomes the addition of Kappa Alpha Psi, the 2nd oldest existing historically Black Greek Letter Fraternity and the first intercollegiate fraternity to be nationally incorporated, to campus. CSU Pueblo will be part of the Omicron Pi chapter which includes the University of Colorado Colorado Springs, the Air Force Academy and Colorado College.
"We are very excited to have the presence of Kappa Alpha Psi at CSU Pueblo," said Assistant Dean of Student Engagement and Leadership, Gena Alfonso. "The organization will provide rich opportunities for our students to network, serve the community, and provide mentorship to the youth in our community. We look forward to seeing the organization grow in membership at CSU Pueblo."
Keshon Jackson, a senior biology major became the first CSU Pueblo student to successfully inaugurate the fraternity. "Although being a historically black organization, Kappa Alpha Psi doesn't restrict membership based on race or ethnicity," said Jackson. "While members understand the main purpose of 'achievement in every field of human endeavor,' the brothers of Kappa Alpha Psi also focus on 'inspiring service in the public's interest.'"
Kappa Alpha Psi was founded on Jan. 5, 1911, with the goal of cultivating role models for younger generations. Among its many alumni, members of the fraternity include activist Ralph Abernathy, former president and CEO of the NAACP, Benjamin Jealous, head coach for the Pittsburgh Steelers, Mike Tomlin, and activist and former quarterback, Colin Kaepernick.
The fraternity has over 50,000 members nationwide that work to promote community service and often work to increase youth literacy. National programs partnered with the organization include the Hands-on-Books program from Room to Read, an organization that supports children's literacy and education across Asia and Africa, and the Guide Right program that connects students to mentorship and services like tutoring and college readiness.
Jackson and Kappa Alpha Psi work to embed these values into every local community they serve. "On a local level, the Omicron Pi chapter recently passed out turkeys for the holidays and organized a book drive in hopes of aiding Pueblo's youth with their reading skills," said Jackson. "We, the Omicron Pi chapter, will continue to proudly assist the Southern Colorado community."
Aside from serving the community, Jackson says the fraternity will also work to cultivate an improved college experience for students on campus. "Having Kappa Alpha Psi on campus interacting with students and the surrounding community has significance," said Jackson. "It means the brothers of Omicron Pi can provide CSU Pueblo with additional events centered around improving students' college experience. More importantly, it means young men like me - a minority coming from an underserved community, can have positive role models around them."
Kappa Alpha Psi joins CSU Pueblo's rich greek life on campus and is looking to become its own chapter by 2023. If you would like more information on how to become a member, contact Student Engagement and Leadership at 719.549.2151 or in the Occhiato Student Center room 102.
For Jackson, bringing the fraternity to campus solidifies his gratitude and eagerness to guide the next generation of members. "Having the opportunity to help others with similar backgrounds as myself is priceless," said Jackson. "I've needed guidance to get where I am today and have been blessed enough to receive it. For that, I am ever grateful and eager to help the next."