Adam Ward CSU Pueblo Distinguished Young Alumni from the College of Humanities, Arts and Social Sciences
Release Date: February 15, 2022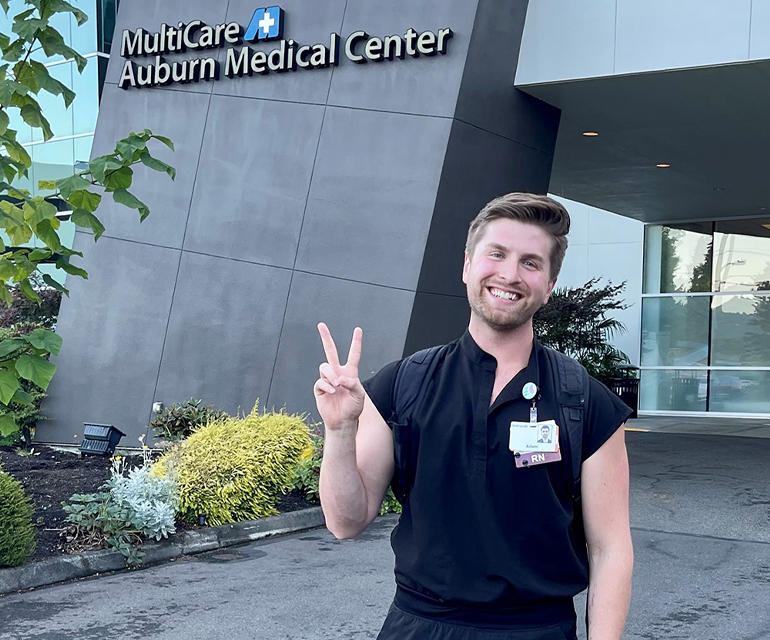 PUEBLO – The Colorado State University Pueblo Foundation and Alumni Association are pleased to announce the 2021 Distinguished Young Alumni awards bestowed upon alumni from each college who are under the age of 40. These individuals have enhanced the reputation of the University and their respective colleges through outstanding professional achievement, personal accomplishment and service to CSU Pueblo and their community.
"Our young alumni are making a significant impact in their community and continually express their gratitude for their education at CSU Pueblo," said CSU Pueblo Director of Alumni and Community Relations, Tracy Samora. "We are proud to honor their achievements and continued success. It's an honor to have been part of their journey."
The College of Humanities, Arts and Social Sciences' 2021 Distinguished Young Alumni recipient is Adam Ward, A15. Adam graduated magna cum laude with a Bachelor of Science in Social Work (BSW) and went on to earn a Bachelor of Science in Nursing (BSN) in 2019. Adam was nominated by Dr. Arlene Reilly-Sandoval, associate professor and chair in the College of Humanities, Arts and Social Sciences at CSU Pueblo.
After earning his BSW, Ward spent the next two years conducting research at Fort Carson, examining various methods of training for clinicians to provide better trauma therapy to service members. Ward quickly realized he could be most effective in a hospital setting and pursued his nursing degree. Once he had his BSN, he immediately passed his registered nurse licensing exam and began training at Parkview Health System in their Intensive Care Unit – which quickly turned into the COVID ICU – where he provided critical care to patients. In spring 2021, Ward embarked on a travel nursing career adventure in the upper North West United States providing COVID nursing support.
"Adam's professional career can be summed up in one word: Service" said Dr. Arlene Reilly-Sandoval. "Adam's career exemplifies service to the individual, community and nation. He represents the aspiring attitude and commitment to community that is typical of Colorado State University Pueblo alumni."
Born in Maryland to active-duty service members in the US Army, Adam spent much of his childhood in Mannheim, Germany, where he attended middle school and high school. After graduating from high school, Adam returned to the United States and enrolled at CSU Pueblo. In his free time, Adam enjoys hiking, paddle boarding, catching up on much-needed sleep and exploring local foods at his latest assignment.
For more information, please call the Director of Communications, Events and Annual Giving for the CSU Pueblo Foundation, Amber Shipley, at (719) 549-2380 or (719) 251-6117.