Athletic Training Student Huerta Gains Experience at Hula Bowl
Release Date: February 04, 2022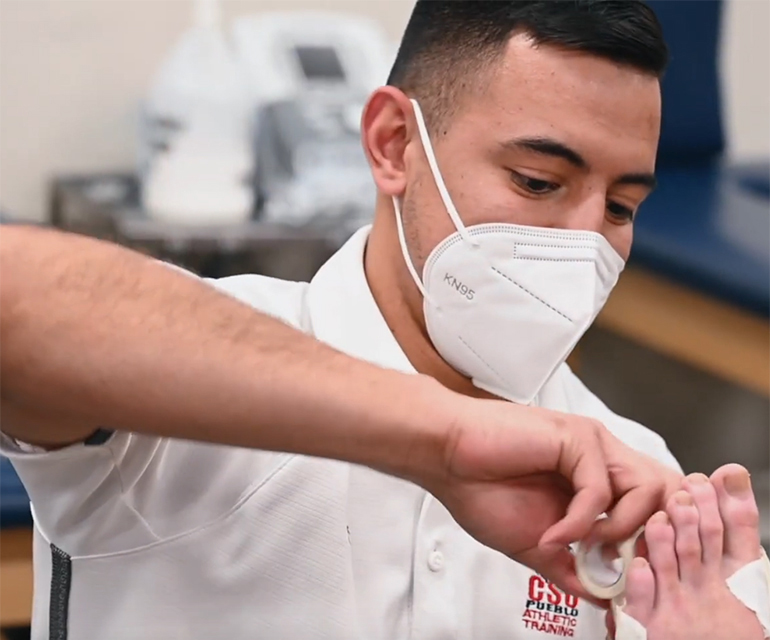 PUEBLO – Jaime Huerta, a student in Colorado State University Pueblo's (CSU Pueblo) Athletic Training 3+2 program, helped keep athletes safe and treated their injuries at the 2022 Hula Bowl, held Jan. 15 in Orlando, Fla. 
"I'm just excited for the moment," Huerta said. "I want to show that CSU Pueblo is teaching us correctly with its experience-based learning. I just want to instill that trust that CSU Pueblo is developing great athletic trainers."
The Hula Bowl showcases NFL draft prospects in an annual all-star game that highlights some of college football's best student-athletes. In addition to working the Hula Bowl, Huerta will practice as an athletic trainer with the Knights Football and Track & Field teams. Huerta credits the CSU Pueblo faculty for preparing him for this opportunity.
"The groundwork definitely started with CSU Pueblo Associate Professor and Director Athletic Training Program, Roger Clark," Huerta said. "He just motivates me to keep going. Having a professor understand your goals and help you go to them is the best foundation that CSU Pueblo has. We have great professors who want to see students succeed." 
This internship marks the final phase of Huerta's education at CSU Pueblo before graduation. As part of their practicum, CSU Pueblo Athletic Training students spend their final semester working under preceptors. These preceptors can be practicing athletic trainers at the high school, collegiate, and professional sports levels.
When it came time for Huerta to find his preceptor he reached out to CSU Pueblo alumnus, Ed Woodley, who graduated from the program in 2004 and is currently in his 11th year working with the UCF Football team. He has also worked as an athletic trainer for the Jacksonville Jaguars.
"He told me, 'Jaime, somebody gave me the chance, so I'm going to give you that chance,'" Huerta said. "It's amazing that I can use an alumnus as a resource. Just that connection to give back to the university is amazing and hopefully one day I can do the same."
Over the past year, Huerta worked with the CSU Pueblo Volleyball team last spring and the ThunderWolves Women's Soccer, Women's Lacrosse and Men's and Women's Golf teams this fall. This hands-on experience prepared Huerta to make a difference for athletes at events like the Hula Bowl.
"Just having those hands-on experiences is what has prepared me for this internship," Huerta said. "You get a lot of tips and knowledge that you can't learn from a textbook. It's from experience."
CSU Pueblo's Athletic Training program will offer five $1,000 scholarships to new graduate students who apply by May. How these scholarships will be distributed has yet to be announced. Check csupueblo.edu regularly for more information on this scholarship.