Colorado State University Pueblo Experiences Enrollment Growth with New Students in Fall 2021
Release Date: September 29, 2021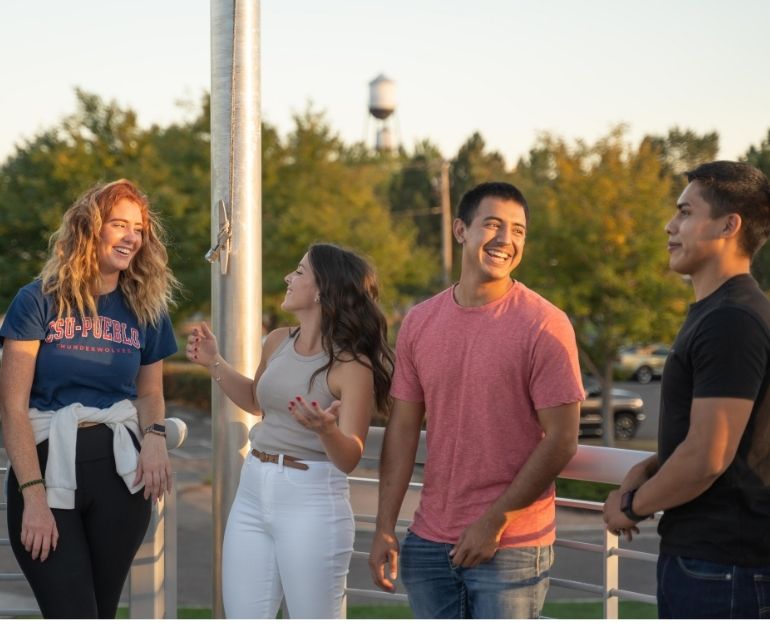 PUEBLO—Colorado State University Pueblo welcomed its largest total of new students overall to campus in a number of years, despite enrollment concerns across the nation in higher education. Success in enrollment efforts for the 2021-2022 academic year focused on affordability, growth in specific program areas, flexibility of scheduling and bolstering of graduate degree programs.
A preliminary enrollment report was presented to the CSU System Board of Governors Wednesday, and a final report will be provided in December, after numbers are finalized. According to the preliminary report, CSU Pueblo saw a four and a half percent increase in new student enrollment, including a two percent increase in new undergraduate enrollment. The campus also saw more than 18 percent growth in graduate students in response to enhanced graduate programs. New student enrollment grew from all major geographic areas – in-state, out-of-state and internationally.
"We are pleased with the growth we saw in new students who decided CSU Pueblo is the right place to call home, and the fact that growth came from traditional and adult students, undergraduate and graduate, from Colorado and beyond," said Chrissy Holliday, vice president of Enrollment Management, Communication and Student Affairs. "Many institutions across the state and the nation have struggled to attract new students in these uncertain times, and this growth indicates that we are offering an experience that is inviting for those considering a college education," said Holliday.
Although overall headcount at CSU Pueblo totaled 3,633 with a little more than a two percent decrease from fall of 2020, key growth areas provide a solid foundation for the campus to continue future growth and see students through completion of their degree program. The university has a second round of late start classes that begin Oct. 19, and it's anticipated CSU Pueblo will see increased enrollment in those courses that reduce the fall enrollment decline to about one percent down from last year.
The pandemic strongly affected students' decisions regarding their pursuit of a college degree and whether or not they could re-enroll this fall, with some needing to step away to pursue expanded work hours, family care, and address similar concerns.
CSU Pueblo's average annual price of tuition is 14 percent less expensive than the national average of a public four year institution and 59 percent less expensive than the average Colorado tuition for a four year college using national IPEDS data. 
CSU Pueblo's pandemic enrollment efforts are focused on meeting students' needs, recognizing the impact of the last 18 months on the college-going experience. Students continue to ask for flexibility in class schedule, which works well for those who work, raise families and manage a hectic schedule. Hybrid and online options continue to be in demand as students build their schedules, and this fall's enrollment showed an increase in online and hybrid enrollment.
"We always work hard to retain our current students, though that has proven to be a challenge for students who have lived through this COVID era," said Holliday. "The realities of their lives have made it necessary for them to make difficult decisions regarding their education, but we look forward to welcoming them back when the time is right."
CSU Pueblo provided many scholarship offerings for students. In addition to the institutional and foundation aid traditionally provided to students, the Pueblo County Commissioners partnered with the CSU Pueblo Foundation to provide $1 million in scholarships through the Marijuana Excise Tax Scholarship Funds, which are supporting student enrollment throughout this academic year. These dollars put college within reach for Pueblo County residents.
Coronavirus Aid, Relief and Economic Security (CARES) funding has been provided directly to students, allowing them to focus on academic success. Almost $4 million dollars have been spent over the past 18 months to provide direct economic relief to students, and another $6.8 million is being paid to students throughout this academic year, to assist with their tuition, fees, and other expenses. Enrolled students will receive CARES payments in the fall, spring and summer semesters, with amounts based on their hours of enrollment and financial need.
With a focus on affordability, the university continues to implement and refine strategies geared towards welcoming more students from Southern Colorado and beyond to the campus, particularly those who may not have been considering college. The recent launch of CSU Pueblo Academy, which provides an affordable and self-paced opportunity for students to earn admission to CSU Pueblo is one example.
"In our quest to become the people's university, we have placed a renewed focus on providing additional pathways to college, and making them affordable," said Holliday. "We know that many of the reasons students are stepping away from higher education amidst the pandemic are financial in nature, or related to issues around care for others in their families. Our institution understands the challenges of working students with significant family obligations, and we are built to support those students just as well as we support the 18-year-old looking for the traditional college experience. This semester's growth is only the beginning for us, as we continue to align the student experience on this campus with the needs of our communities."
New student enrollment increased this fall at Colorado State University's Fort Collins and Pueblo campuses, reflecting student desire to return to on-campus learning despite the ongoing challenges of attending college during a pandemic. At the same time, the CSU System also saw jumps in the number of students attending online through CSU Global, CSU Fort Collins, and CSU Pueblo. Read more about CSU Fort Collins and CSU Global fall enrollment.