New Podcast Brings in Big Names With Ties to CSU Spur
Release Date: September 28, 2021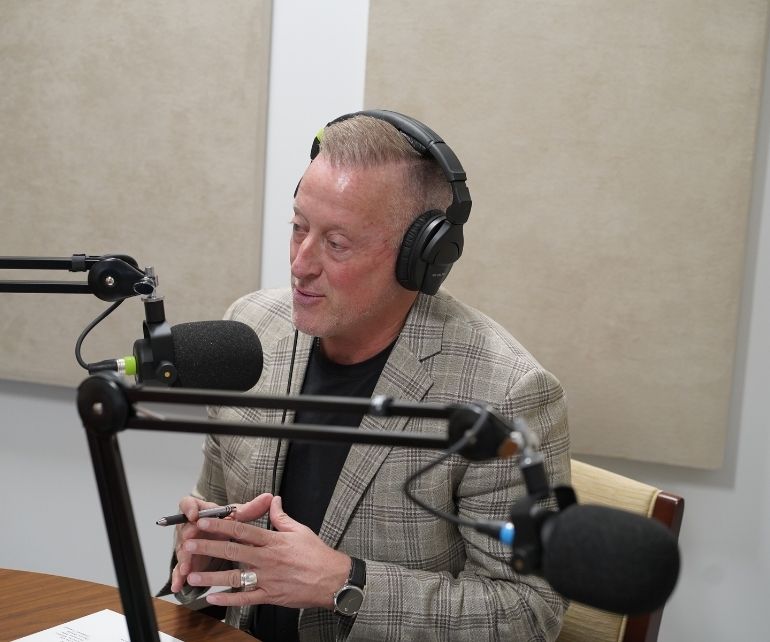 The CSU Spur campus opens its first building in Denver this January, but it's already making waves … airwaves that is!
The campus' new podcast titled "CSU Spur of the Moment" launched in late August and welcomes guests that are connected with the campus in some way to tell their personal story, reflect on their area of work, and tackle big issues in their respective spaces.
"It's an honor to sit down with leaders in food, water, health, sustainability, art and more," said Jocelyn Hittle, assistant vice chancellor of CSU Spur and podcast host. "The insights that our guests are sharing about how to make impact, about their own journeys, and about where we need to go next are inspiring. We hope that our audiences, particularly younger listeners, will find something in each episode that resonates with their own unique paths and interests."
The podcast launched:
Episode 1: features Secretary of Agriculture Tom Vilsack, who recently returned for his second appointment at Secretary of Agriculture, after serving for eight years under President Obama. Sec. Vilsack was a key advisor for CSU Spur for three years between running the United States Department of Agriculture. In the episode, Sec. Vilsack discusses his top priorities, including equity for people of color in agriculture, nutrition security for all Americans, and using land wisely to combat climate change.
Episode 2: features Dr. Apryl Steele, president and CEO of the Dumb Friends League. In the episode, Dr. Steele discusses her belief that all should have access to the joy of pet ownership. The Dumb Friends League will open a community-centric veterinary hospital to care for sick pets at CSU Spur. The hospital will be available to families who face financial barriers to veterinary care for their companion animals.
Episode 3: features Kristin Kirkpatrick, executive director of Together We Grow, a nonprofit consortium of universities, nonprofits, and agribusinesses focused on increasing diversity in the agriculture workforce pipeline — will be headquartered at CSU Spur. Kirkpatrick discusses innovative solutions to growing food sustainably to feed the planet, and the importance of making sure all voices and cultures are at the table to get the job done.
Episode 4: features Jason Bruges as he discusses his work, which sits at the intersection of art, architecture, and technology. Bruges designs art pieces at an architectural scale that respond to the movements of people around them, and he is one of eight artists commissioned to create art installations at Spur; his work will be featured on the glass bridge connecting Hydro and Terra.
New episodes of "CSU Spur of the Moment" will be released every other Tuesday, and is available on all podcast platforms. 
Coming in 2022: CSU System will open CSU Spur, where innovative ideas and unforgettable experiences come to life at the National Western Center. CSU Spur's three buildings at the center of the landmark project in north Denver will ignite and fuel new ideas around water, food and health and their impact on our lives and our world. CSU Spur is where learning is open and accessible to all. Learn more at www.csuspur.org.