Colorado State University Pueblo and Pueblo Community College Open Transfer Center on Community College Campus
Release Date: September 22, 2021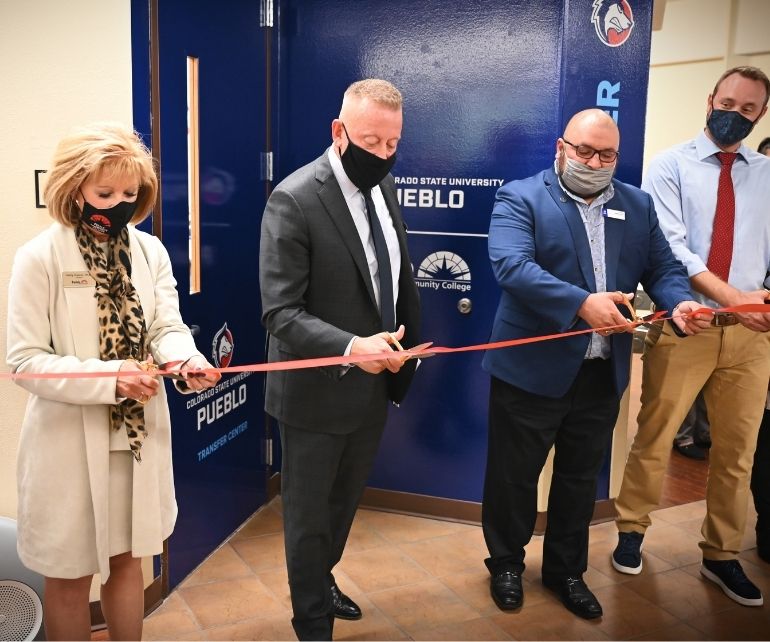 PUEBLO—The dream of helping place a college diploma on the wall of every local home is one step closer to reality, thanks to the partnership of Colorado State University Pueblo and Pueblo Community College with a new transfer center location on the campus of PCC. A ribbon cutting and grand opening ceremony were held on Wednesday, Sept. 22 at PCC in the Michael Davis Academic Building in Room 124 at the CSU Pueblo Transfer Center at PCC.
The CSU Pueblo Transfer Center at PCC allows for personalized transfer advising and academic success coaching by CSU Pueblo staff to ensure an accurate and holistic support for a student's transfer and academic journey from PCC to CSU Pueblo. This onsite transfer center also gives students direct access to scholarship opportunities and assists them with the admissions process.
"This new CSU Pueblo Transfer Center, hosted at the PCC campus, will help provide PCC students with a seamless transition to CSU Pueblo," said President of CSU Pueblo, Timothy Mottet. "Dr. Erjavec and I are committed to working together to strategically develop a 21st century workforce that impacts the economic development of our community and region. Together, we can continue to increase access to higher education through our collaborative efforts," said Mottet.
PCC and CSU Pueblo have long partnered to make higher education more accessible for students, this CSU Pueblo Transfer Center at PCC simply allows for a more hands on approach to make the transfer process easier. Students can follow a transfer guide during their time at PCC which allows for access to 42 different programs at CSU Pueblo. Students then are encouraged and given the opportunity to meet with a success coach from the PACK Center at CSU Pueblo to plan their next steps, all which can be done without leaving the Orman campus at the CSU Pueblo Transfer Center at PCC. Students will have access to various CSU Pueblo offices through the Center, ranging from admissions and the PACK Center to Financial Aid, military and veteran services and TRiO programs.
"PCC is pleased to provide a permanent home to a CSU Pueblo advising center," said PCC President, Patty Erjavec. "This is yet another wonderful opportunity to ensure that access, affordability and ease of transfer remain priorities when collaborating with our four-year partner on important aspects of student success such as military and veteran services, advising and financial aid."
Planning for the new CSU Pueblo Transfer Center at PCC began earlier this year, when both institutions announces their collaboration through the Bridge to Bachelor's Program. The Bridge to Bachelor's Degree Program ensures first-time students attending any Colorado College Community System (CCCS) school are guaranteed admission to CSU Pueblo upon completion of an associate degree. This Center takes it a step further, by making it simple for PCC students to explore their transfer options between classes on the Orman campus. Initially, the Center will be open Monday through Thursday from 9:00 a.m. until 2:00 p.m. though CSU Pueblo will extend hours as needed to meet student interest.
Funding for the CSU Pueblo Transfer Center at PCC was made possible by Title V grant dollars as a part of Vision 2028 strategic planning.
PCC and CSU Pueblo have united with the goal of a degree in every home in the Pueblo community, knowing that for some that means an associate's degree from PCC, and for others that means a bachelor's, masters or doctorate from CSU Pueblo.  The CSU Pueblo Transfer Center at PCC is another way to guarantee success for students and the Pueblo community regardless of their academic goals.