Colorado State University Pueblo Becomes First University in Colorado to Reach Net Zero Efficiency with Solar Power
Release Date: August 19, 2021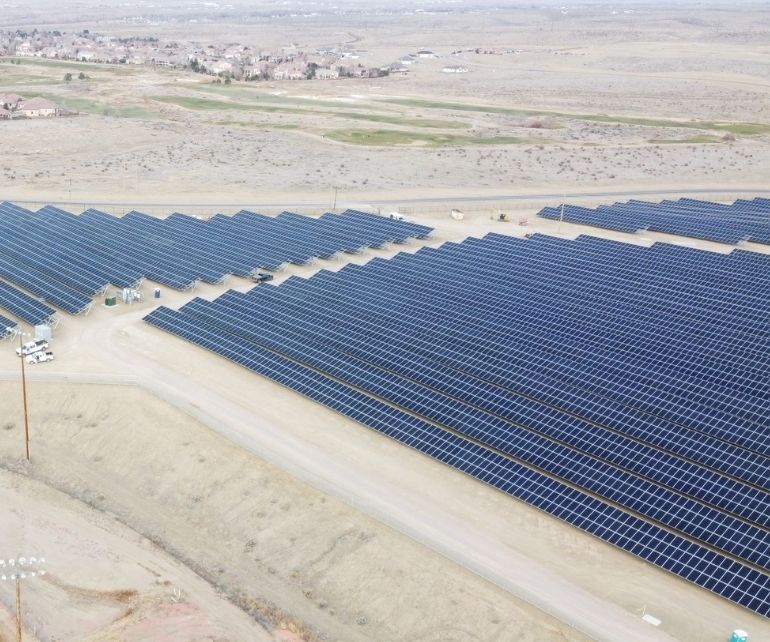 PUEBLO—On Thursday, Aug. 19, Colorado State University Pueblo announced the 23-acre solar array project on the north side of campus, had been completed and the university has officially switched all academic buildings to solar power. CSU Pueblo is the first campus in the state of Colorado to reach net zero efficiency. The solar project launched as a 25-year power purchase agreement with Johnson Controls and allows CSU Pueblo to become a higher education leader in sustainability and energy consumption.
"Controlling energy costs is not only sustainable and the right thing to do, but it also allows us to keep higher education affordable for our students," said President of CSU Pueblo, Timothy Mottet. "Our solar project as well as other campus-wide energy savings programs that Johnson Controls made possible will allow us to minimize energy costs for the next two decades allowing us to pass on these savings to our students. We are working hard to keep higher education affordable and within reach for the people of Pueblo and Southern Colorado," said Mottet.
CSU Pueblo's solar project began in February 2019 and included a partnership with Johnson Controls, Capital Dynamics and Black Hills Energy in Pueblo. This solar project allows the campus to generate excess energy and put the energy back on the grid.
Nate Manning, President of Building Solutions North America at Johnson Controls shared his excitement for the project.
"To become the first campus in Colorado to reach net zero efficiency is a remarkable achievement and we commend the University's leadership for its vision and determination to reach this milestone," said Manning. "This achievement is a beacon of what we can accomplish together. We are proud to have partnered with CSU Pueblo for more than 20 years and, working alongside Capital Dynamics and Black Hills Energy, create sustainable, energy efficient and healthy environments at the University and across Pueblo."
CSU Pueblo's guiding principles of live sustainably, impact society and engage place are all found throughout the project with the commitment to the health and well-being of the campus and greater Pueblo community. The CSU System Board of Governors approved the solar power project due to the forethought and feasibility study that guaranteed savings for CSU Pueblo along with the benefits of being more energy efficient and a leader in the higher education space.
According to CSU Pueblo's Craig Cason, Associate Vice President for Facilities, and the project lead, "We are proud to have partnered with Johnson Controls and Capital Dynamics, with support from Black Hills Energy, to develop a project that includes the installation of a photovoltaic system using solar panels and a rechargeable battery system.  CSU Pueblo will become the first university to reach 'net-zero' electricity for all the academic facilities on campus. The project is possible with a long-term power purchase agreement (PPA) and a long-term lease agreement on approximately 23 acres on the north side of campus," said Cason.
Governor Jared Polis mandated a move toward energy efficiency across the state of Colorado by 2040, while CSU Pueblo already had this project in the works. CSU Pueblo has exceeded three of the four goals in greening executive order including greenhouse gas emission reduction, energy management, and renewable energy. This solar project was heavily supported by the governor with support from the Colorado Energy Office.