CSU Pueblo's Rev 89 Receives International 2021 Spirit of College Radio Award
Release Date: December 22, 2021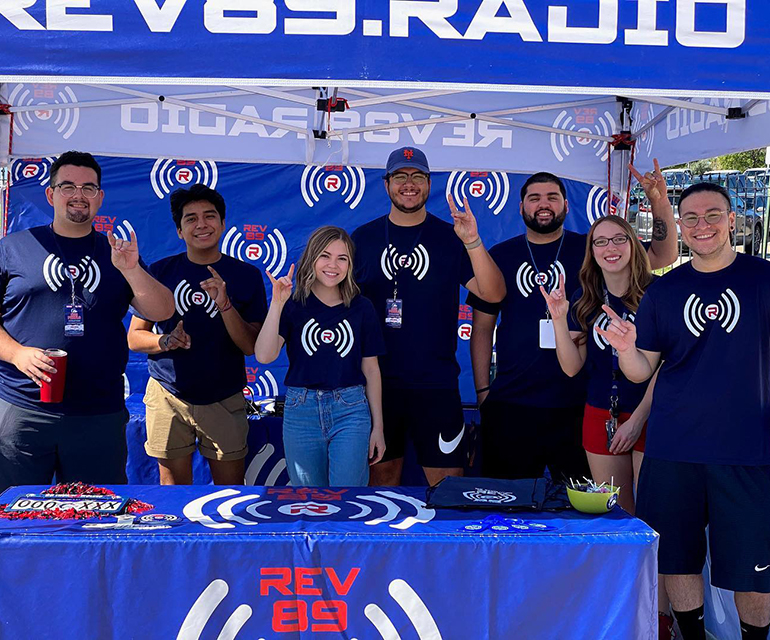 PUEBLO —Colorado State University Pueblo's student-operated radio station, KTSC-FM, REV 89, was one of just 10 radio stations worldwide to earn the international Spirit of College Radio award.
Over 600 schools participated in World College Radio Day with only seven stations in the U.S. claiming a Spirit of College Radio Award. The College Radio Foundation also bestowed this honor to stations in Costa Rica, Greece and the Philippines.
"We are so honored to receive the Spirit of College Radio Awards for 2021," said Station Manager, Jenna Lovato. "I'm incredibly proud of our student broadcasters for being a living representation of 'In Tough Times, We Thrive', this year's theme for World College Radio Day."
In its 13th year, Spirit of College Radio Awards recognize truly outstanding and spirited efforts made by college radio stations on World College Radio Day. World College Radio Day was held on Oct. 1.
The College Radio Foundation and the organizers of World College Radio Day vote on the Spirit of College Radio Awards every year. They recognize universities and colleges that not only go above and beyond to celebrate the annual World College Radio Day event but also embody the passion and mission of college radio.
"Every day is a day to celebrate college radio, but these stations took it to the next level," said founder of College Radio Day, Rob Quickle. "These stations are to be congratulated for doing brilliant work in the most challenging of circumstances."
Rev 89 adds this Spirit of College Radio Award to its ever-growing trophy case. In 2020, Rev 89 earned a Broadcast Education Association's Dr. Marjorie Yambor National Signature Station Award.
In 2021, Rev 89 celebrated 10,000 podcast downloads. It gives students experience a variety of experiences in news, sports and entertainment broadcasting, while also providing students audio engineering experience. 
"Our broadcasters have been a constant driving force at the station," said Lovato "I'm grateful to see their hard work being recognized on a global level."