CSU Pueblo Develops People and Welcomes Staff to New Roles on Campus
Release Date: November 30, 2021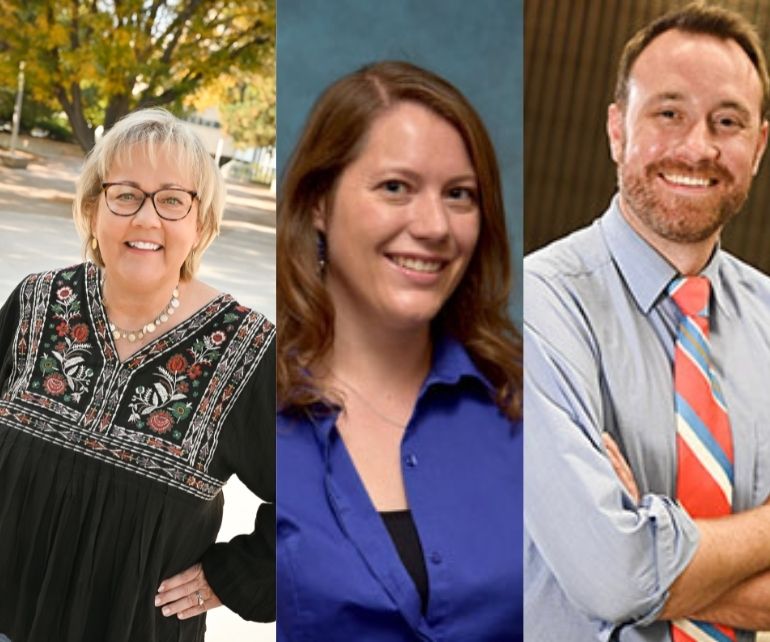 PUEBLO—Colorado State University announced the advancement of three current employees at the university to begin new roles on campus. CSU Pueblo welcomes a new Registrar, Executive Director of Enrollment Strategy and Compliance and an Executive Director of Enrollment Engagement and Student Experience.
"It is my belief we have talent at CSU Pueblo capable of filling these roles and this is part of our commitment to developing our people and providing upward mobility within the university," said Vice President of Enrollment Management, Communication and Student Affairs Chrissy Holliday. "I am excited about this opportunity to leverage significant internal talent in a manner that will multiply our campus' ability to continue our strategic enrollment growth."
Carol Larson is the new CSU Pueblo Registrar, effective December 1 as a result of a promotional search process. Larson has been a member of the CSU Pueblo Registrar's Office team since 2014, when she joined as a Transfer Counselor. She has held other positions since then including Degree Analyst, Lead Degree Analyst, Associate Registrar and Senior Associate Registrar. Larson brings excellent leadership skills with her previous experience in advising and communication which contribute greatly to her role in the Registrar's Office.
Larson shared her vision and strengths for her new role. "I am looking forward to my new role as Registrar and believe the transition to Banner has helped me understand this position and allowed me to develop a good working relationship with my counterpart at CSU Fort Collins," said Larson. "Relationships on and off campus here at CSU Pueblo will be important as we continue to align policies amongst the campuses and I'm looking forward to continuing to foster those for the benefit of the university."
Larson's position resides within Holliday's division of Enrollment Management, Communication and Student Affairs. Holliday also promoted two other individuals within the division.
Tiffany Kingrey has been announced as the new Executive Director of Enrollment Strategy and Compliance which is effective January 1. The Registrar's Office, Military and Veteran Success Center and the Student Financial Service offices will all report through Kingrey given the significant compliance requirements. She has a history of progressive leadership and experience within Admissions, including policy development and compliance, which adds to her understanding of history of working closely with each of these offices. Kingrey is an alumna of CSU Pueblo and has continued to advance through the Admissions Office prior to this role.
"I'm thrilled for this opportunity to collaborate with my colleagues in a new way here at CSU Pueblo," said Kingrey. "I have an incredible passion for our students and the university and am looking forward to continuing to explore ways to increase our enrollment while make the college going experience more accessible and affordable for our students. I know the talent we have here in the Registrar's Office, the Military and Veteran Success Center and Student Financial Services all center around putting our students first and I am excited to continue that vision."
Kingrey will work with Vice President Holliday for enrollment strategy, analysis and implementation.
Lee Saunders has been announced as the Executive Director of Enrollment Engagement and the Student Experience which is effective January 1. This position combines portions of the previous Associate Vice President role and the current Admissions Director role. Saunders will directly oversee Admissions operations in partnership with the Assistant Directors currently part of that ream. He will partner both with Holliday and Kingrey in development of broad enrollment strategy. Saunders will also work closely with Holliday to engage the campus community with enrollment work across the institution to connect students with the Pathways project and the first steps towards student success. He is a former Director of Admissions at a secondary institution and most recently was the Assistant Director of the PACK Center at CSU Pueblo.
Saunders shared his enthusiasm for the new promotion. "I am absolutely thrilled to be given this opportunity to effect positive change at CSU Pueblo, in our community, and around the entire southern Colorado region," said Saunders. "My experience growing enrollment and my indefatigable positive energy are some things I am excited to put to a greater purpose in this new role. I am adamant that CSU Pueblo and this city are phenomenal places, and I look forward to working together with our community supporters and our entire university faculty and staff to bring more students and make their experience here unquestionably excellent," Saunders said.
CSU Pueblo's budget remains neutral in the hiring of all three individuals, pulling funding from the former positions and the two amended salaries of Senior Associate Registrar and Admissions Director.