New Testing Center Opened to Assist with Nationally Recognized Exams
Release Date: November 02, 2021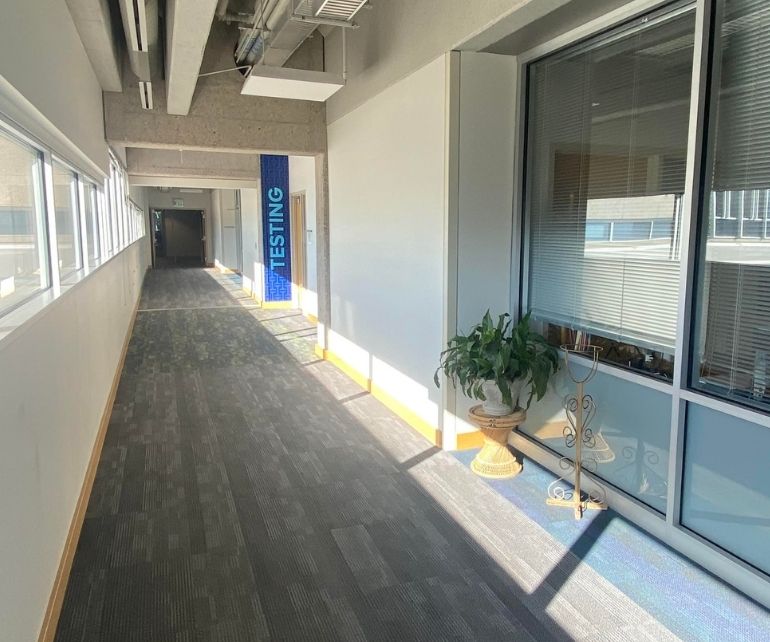 PUEBLO—Colorado State University Pueblo recently opened a brand new Testing Center in the Library and Academic Resource Center (LARC) to administers tests and nationally recognized exams for both CSU Pueblo students and the broader community. CSU Pueblo has administered tests previously, however without a designated location. An official ribbon cutting takes place Wednesday, November 3 at 11:00 a.m.
"The Testing Center has only been open for two months, but in October we already administered over 103 tests which only includes SAT, Accuplacer and accommodated testing on campus," said Testing Center Manger, Strider Swope.
The full service Testing Center hosts three private testing rooms and 37 computers available for students to complete exams for accommodated testing, proctored testing, ACT, SAT, Praxis, Accuplacer, TOEFL iBT, LSAT and other standardized tests. CSU Pueblo students can email to make an appointment and SAT, ACT and LSAT registration must be completed online with the respective publisher.
The new Testing Center located in LARC 251 is overseen by Swope who is a subject matter expert in standardized test administration. Swope previously serves as the chair of the Rocky Mountain College Testing Association from 2009 to 2013 and has been a member of the National College Testing Association since 2008.
"Prior to opening the Testing Center, there wasn't a centralized location on campus so each department coordinated their own testing," said Swope. "This has been much needed on the campus and has the potential to expand already. This was a need many people didn't even realize and it's already being utilized in the short time since we opened."
Currently students are able to schedule a testing accommodation need directly with the Testing Center and then update professors or faculty of any other testing needs. Swope shared the Testing Center will hire a coordinator in November to assist with scheduling and outreach.
The Testing Center also plans to be National College Testing Certified within the next calendar year to offer additional testing. Swope explained the need to expand to the Graduate Record Examination (GRE) to assist current CSU Pueblo students who plan to attend graduate school upon completing their degree. The Testing Center also looks to offer the NCLEX exam to assist the CSU Pueblo School of Nursing with certifying nursing graduates.
John Sandoval, director of the Professional Academic and Career Knowledge (PACK) Center share his excitement for the Testing Center opening.
"The opening of the Testing Center is an incredible asset to campus, especially with the services we offer within the PACK Center," said Sandoval. "We work with our own CSU Pueblo students, but this is also a great service to the greater community with their testing needs for things like SAT, ACT, GRE, LSAT and other nationally recognized exams.  We're excited with the expansion of this center so we can better serve the needs of Southern Colorado and beyond."
For more information about the Testing Center at CSU Pueblo, contact Testing Manger, Strider Swope at strider.swope@csupueblo.edu or visit the center in LARC 251.