Technological Assistance Grant to Provide Low-Income Students Laptops and Hotspots
Release Date: November 17, 2021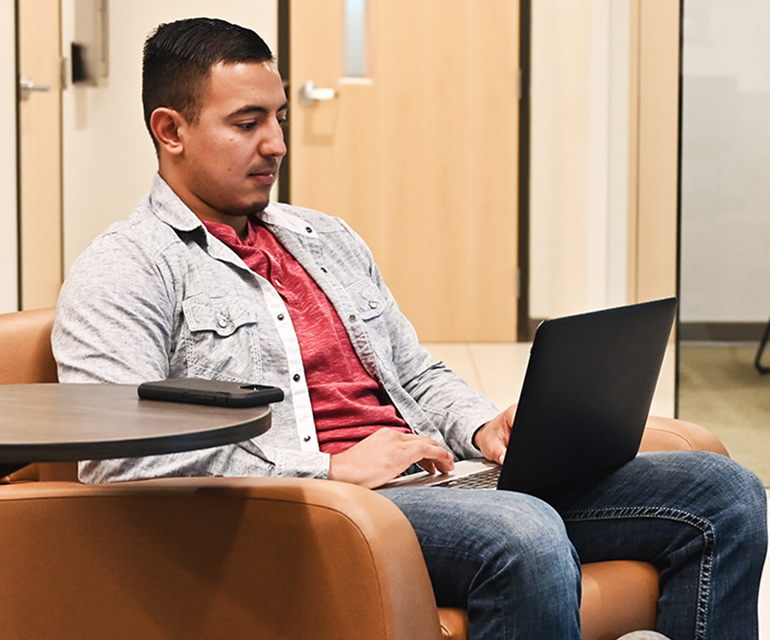 PUEBLO — Colorado State University Pueblo has partnered with the University of Colorado Boulder to create the Technology Assistance for Student Success program.
This program will provide laptops and hotspots to low-income and veteran students on both campuses. The Institute of Museum and Library Services funded this project through a grant to both universities.
With the grant, CSU Pueblo received $14,286 to fund laptops and hotspots for students. In addition, the CSU Pueblo Library will contribute an extra $1,000 to hotspots for students.
Over the course of this program, 35 laptops will be loaned to low-income and veteran students between the two institutions for the duration of their undergraduate studies. The goal of this program is to increase retention among this student group.
"We are excited for the opportunity to partner with CU Boulder on this initiative," said Dean of Library Sciences Rhonda Gonzales. "Through this grant we will be able to study the impact of access to reliable technology on our underrepresented students."
The partnership between the two schools began when Project Director and Assistant Dean for Research and Innovation at the CU Boulder Libraries, Jamie Wittenberg reached out to Gonzales to cooperate on the grant. CU Boulder wanted to include a regional comprehensive, Hispanic Serving Institution in her research on the effects of this program on a variety of different students.
"Providing personal computers to undergraduate students who are otherwise unable to afford them levels inequity in access to technology," Wittenberg said. "Because textbooks are increasingly electronic, coursework must be completed online, research requires access to the internet and classes are now held virtually, being unable to afford a functional, updated computer puts students who are already vulnerable at risk of attrition." 
As a regional comprehensive Hispanic Serving Institution, CSU Pueblo eagerly participated in this program and the chance to provide technology assistance to its students. Nearly 50 percent of CSU Pueblo students identify as part of a historically underrepresented demographic and grants like this can help these students succeed at the collegiate level.
In the past, students have been able to check out laptops from the CSU Pueblo Library and Academic Resource Center (LARC). However, this project affords students the opportunity to use new laptops without having to worry about returning them at the end of each semester.
"What's unique about this grant is that it's a pilot study," Gonzales said. "We will be giving these laptops to students to keep throughout the four years they are here. They will check in with us every six months, which will allow us to get data as to whether it makes a long-term impact on their success to have access to this technology." 
Both institutions hope to examine the students who receive this technological assistance and study their retention and graduation rates against similar students who are not awarded laptops. These students will be studied over the next four years. Should the students who received technological assistance prove to be more successful, both schools will seek additional grants for this endeavor in the future.
During the pandemic, students were forced to rely more heavily on technology like laptops and hotspots to adapt to a hybrid model of learning that has been such an integral part of university instruction. These aspects could continue to be a major part of college education moving forward and this grant gives low-income and veteran students a chance to thrive in this hybrid education environment.
Students can begin receiving these laptops in the spring 2022 semester. The process for distributing these laptops to students and the selection process for eligible students has yet to be determined.